If you're dipping your toe into men's shoes for the first time, it can be a little overwhelming. All those Oxfords and Brogues and Derbies and moccasins and loafers, the 'vamps' and the 'welts', the different kinds of leather. We haven't even put on pants yet and already there are 72 different options.

One confusing category that pops up all the time is men's casual leather shoes, specifically the different between loafers, boat shoes and driving shoes. At the end of the day, you should wear what you like and what you find comfortable – that's the golden rule. Who cares about the technical specs. But if you'd like to learn a bit more about these three key styles, and how to wear them, well this article's for you.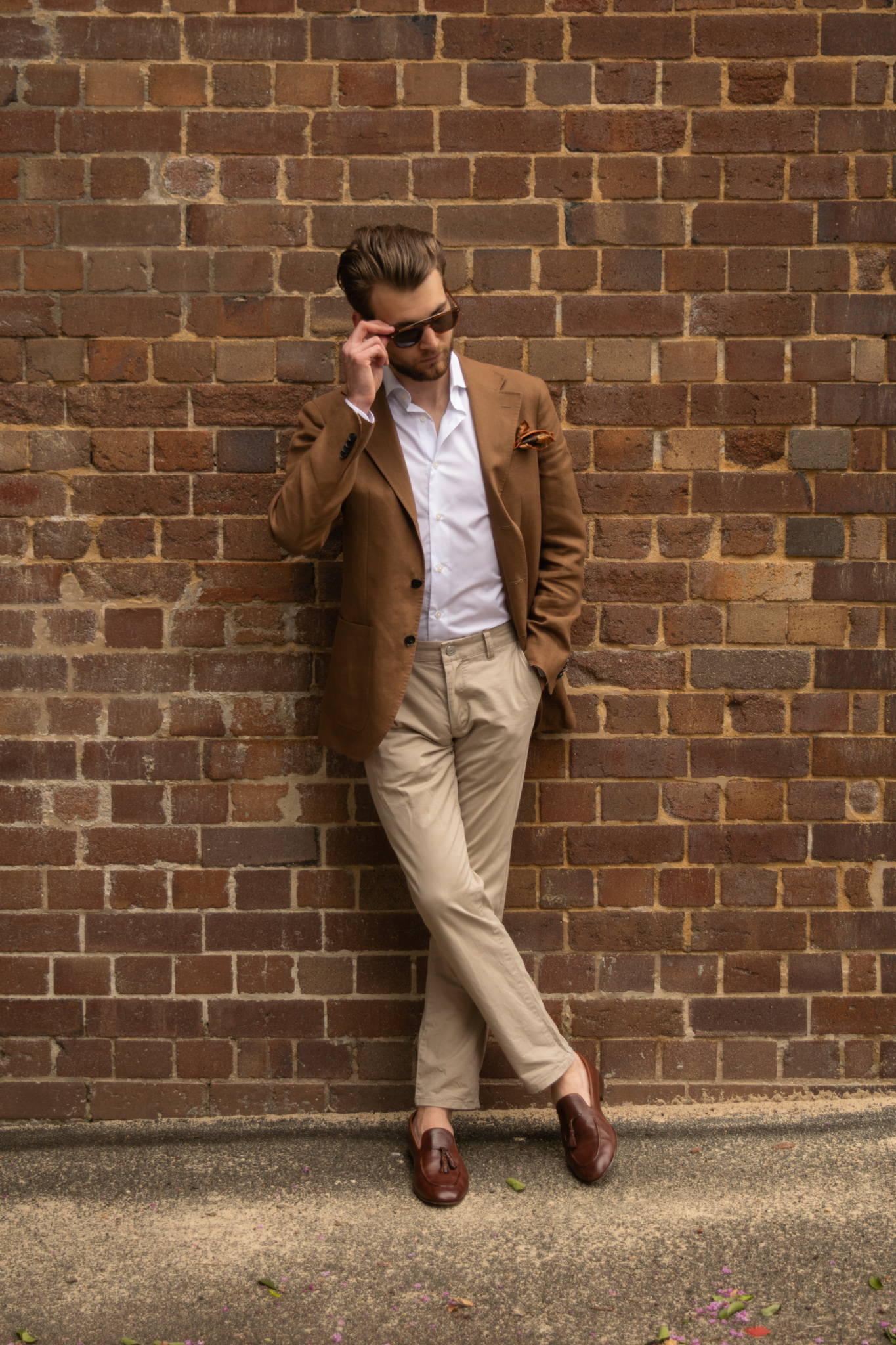 Men's loafers hark back all the way to the 1930s and they're arguably the most flexible shoe going around. Loafers have a broad, flat heel and no laces or buckles. They're designed to easily slip on and off your feet. In terms of fanciness, they sit somewhere between a lace-up dress shoe (like an Oxford) and a leather driving shoe, but to be honest, loafers are such a broad, versatile category that you can almost wear them anywhere. Black or brown, leather soles or rubber soles, tassels or no tassels; there's a loafer for every guy and every occasion.
We've already written a whole loafer style guide, but here are the basics. Styling a men's loafer really depends on the occasion and context. Slim-fit selvedge denim with a sharp cuff and classic brown loafers is a no-brainer smart casual look, and black penny loafers under a business suit can really mix things up around the office. Loafers also match well with cotton chino shorts: just pair some navy shorts with suede loafers or tan tassel loafers and throw on a linen shirt. When it comes to loafers and socks, you definitely want an invisible ankle sock, unless you're attending a formal event (in which case some simple black dress socks should be fine).
---
Boat shoes are a cousin of the men's loafer, but with one big difference: laces. Boat shoes, also known as deck shoes, top-siders or sailor shoes, often have 360-degree laces, where the laces actually thread around the heel of the shoe. These guys also come from the 1930s, and were originally designed to help sailors grip a ship's deck. That's why most boat shoes feature stitched rubber soles and an oil-treater leather upper. You can find boat shoes in natural leather, suede and Nubuck, and in every colour of the rainbow. They're a versatile, smart casual summer shoe.
You don't necessary need a boat to wear boat shoes, but with their nautical vibe they do lend themselves to lazy seaside afternoons. First things first, ditch the socks – or at least wear invisible ankle socks. For a clean summer look, match some navy boat shoes with cotton shorts or high-cuffed chinos and a simple button-up shirt. If you're looking for a business casual ensemble, try brown leather boat shoes with dress chinos, a matching leather belt and knit blazer. Boat shoes tend to look best with light layers, textured fabrics (linen is a classic combo) and minimal styling. Let your top-siders do most of the talking.
---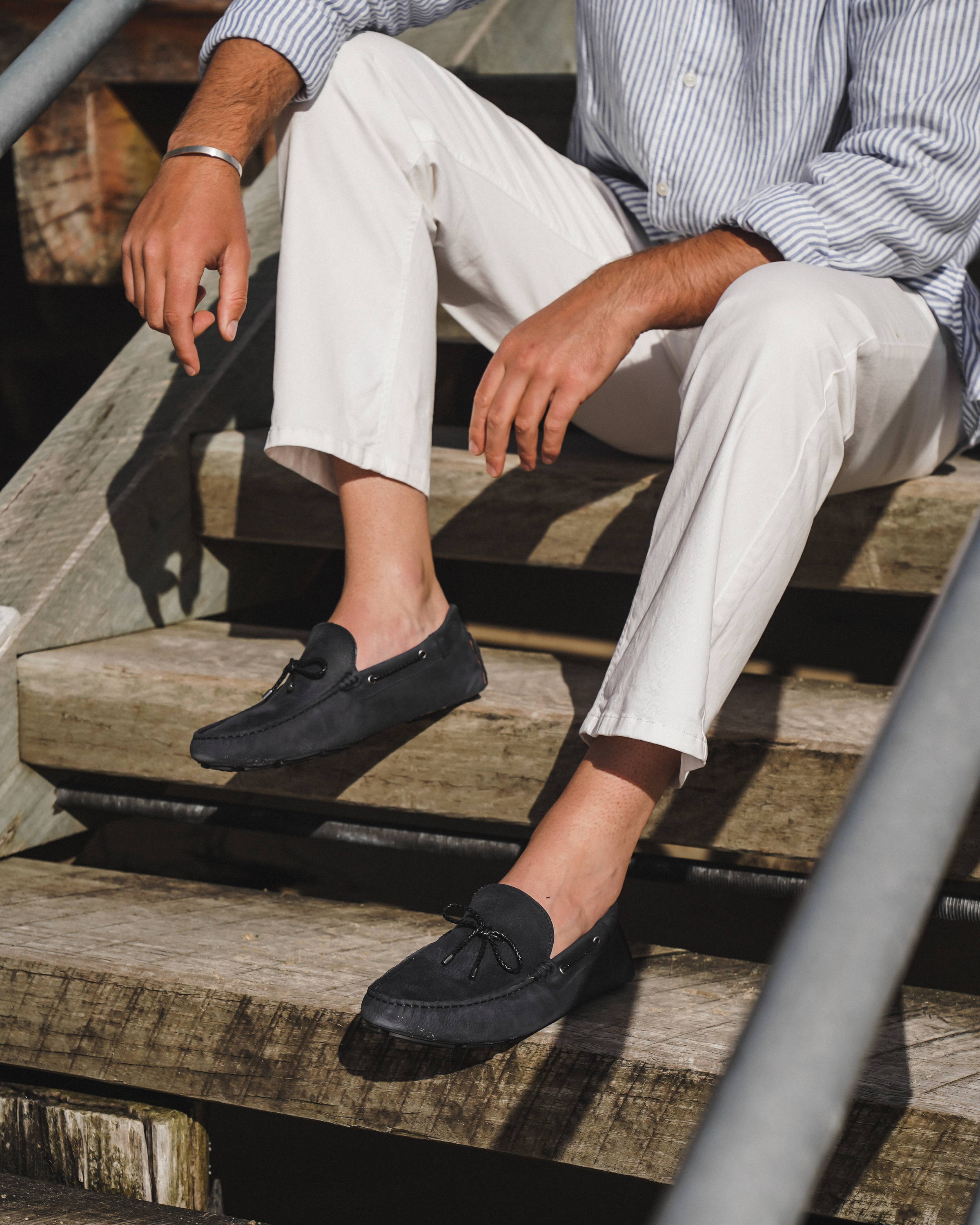 Don't let the name mislead you: driving shoes are great for driving, but the Italian sports car is definitely optional. These guys might have been developed in the 1960s to give rich European guys better grip on their pedals, but they've evolved over the years into a classic men's casual shoe. A distant cousin of the loafer, driving shoes usually don't have laces. They slip on and slip off with ease. What sets them apart is their grippy, trademark rubber-grommet sole (which usually wraps all the way up the back of the heal). You might hear these guys described as moccasins – that usually means the same thing.
Shorts and cuffed pants are the go here. Slim-fit jeans with no socks and a loose, crew neck tee all work brilliantly with driving shoes. They're great for long-haul flights, barbecues, smart casual offices or al fresco dinners. Just keep a couple of rules in mind. Like loafers and boat shoes, you want no socks or invisible socks. Avoid pants that are too baggy or too tight – that means no bootcut or skinny jeans. And as the name suggests, driving shoes make a very practical, comfy and stylish choice for long car trips: the grommet soles really do grip the pedals better, and you can slip them off easily when you get to the beach.
---