To cuff or not to cuff? That's the big question. Cuffing your pants is one of the best ways to show off men's shoes, but it's a bit of a minefield. The wrong cuff with the wrong jeans can make you look heavy, short, or just plain weird. Some guys cuff too high and look like they're about to Hulk right out of their pants. Others let the fabric flap around their ankles, which hasn't really been a good idea since 1997. And then there are the different kinds of cuffs: pin-roll cuffs, single and double cuffs, deep cuffs, skinny leg stacks, the list goes on and on.
Today we're breaking down the common cuffs for men's shoes and men's boots, and giving you some simple style advice. Remember, we've suggested one cuff for each shoe below, but that's not a hard-and-fast rule. Chelsea boots, for example, can work with a double cuff, cropped hems, or a stack. Play around until you find something that feels good to you.
This is Aquila's guide on how to cuff jeans.
Why cuff in the first place?
There are a few reasons you might want to cuff your jeans. The first is obvious: it draws attention to your shoes. Cuffing creates a neat hemline, usually high above the shoe itself, so people can get an eyeful of that Italian leather upper. If you have really long legs, cuffing can also balance out your proportions and break up the flow. Finally, cuffing shows off the inside weave of your jeans. Most guys won't think too much about that one, but if you've gone to the trouble of wearing something like selvedge denim (which is woven on an old-fashioned shuttle loom) you want people to know about it.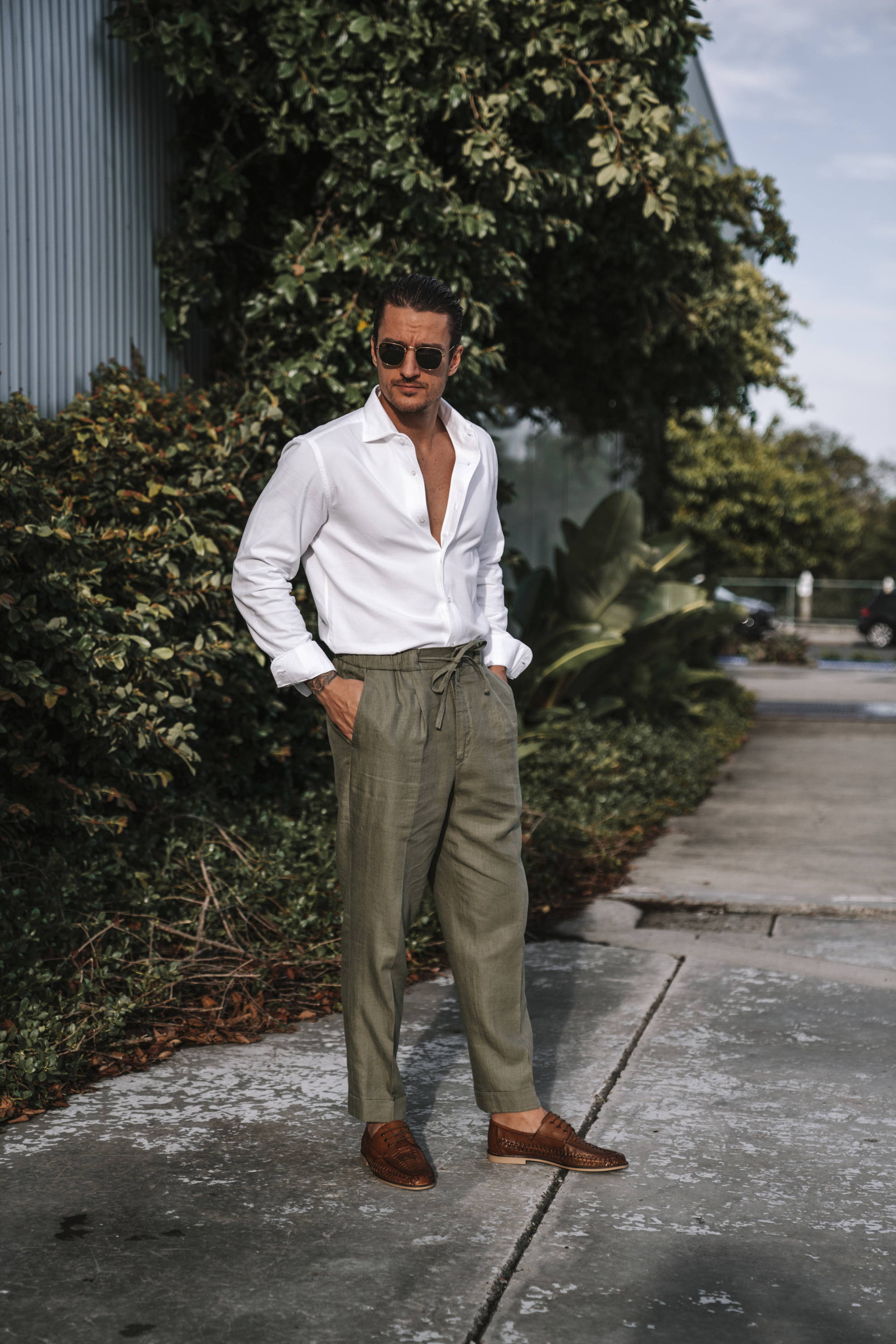 Chelsea boots | The Double Cuff
Chelsea boots are close-fitting, ankle-high boots with an elasticated side panel. They're arguably the most versatile boot on the planet, able to go from weekend casual all the way to corporate suit and tie, and they tend to look best when cuffed. For Chelsea boots, you generally want a strong double cuff (although, as mentioned above, stacks and cropped hems can both work with the right jeans). Simply roll your pants once (a little less than an inch), and then once over again. The final cuff should be about 1.5 inches wide and the hemline should sit an inch or so above your ankle, showing off most of the upper. You can wear this cuff down the shops, or to a cocktail party. It's a great way to make your Chelsea boots pop.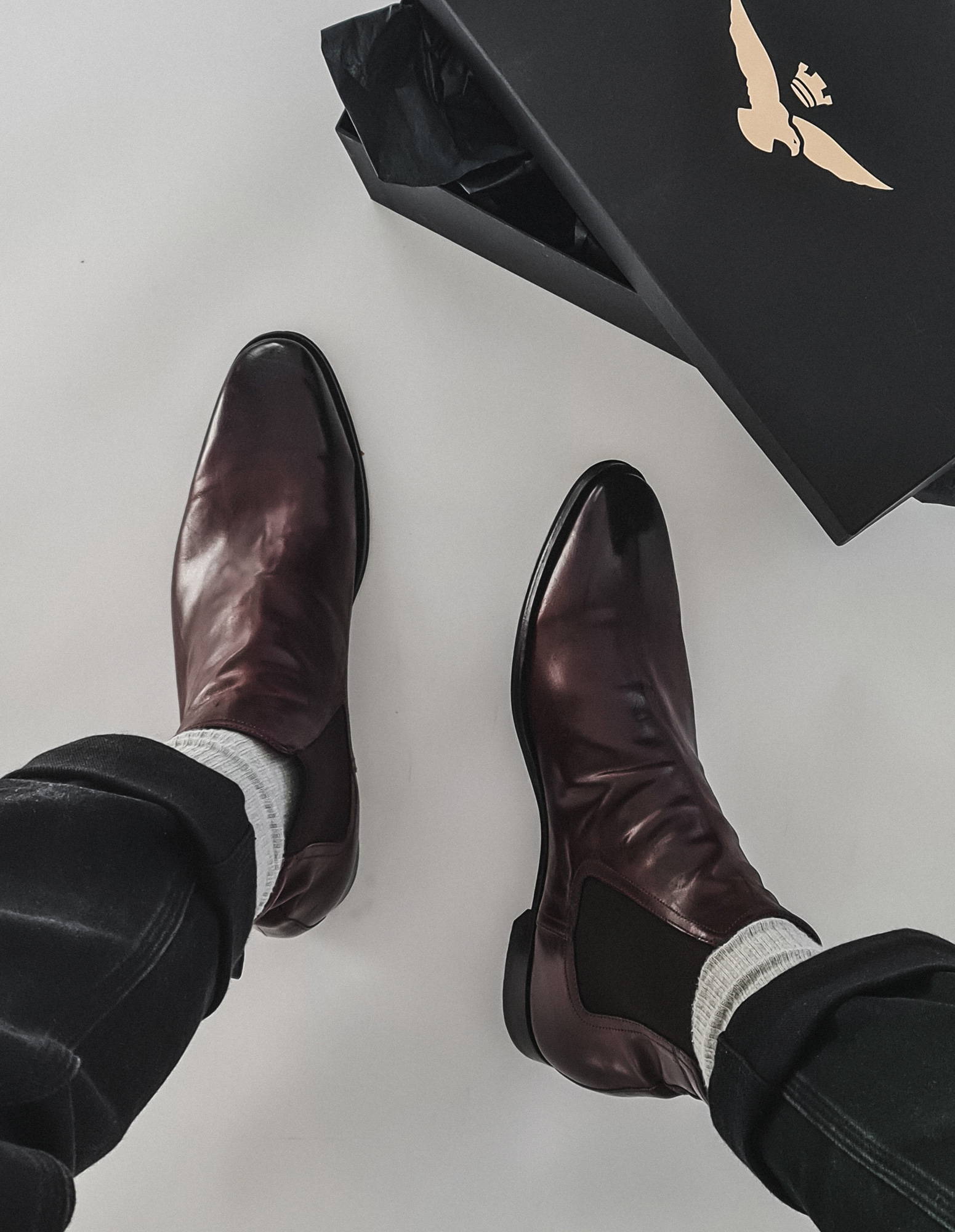 Low-top Sneakers | The Pin-roll Cuff
For low-top sneakers, we like a clean, high pin-roll cuff. This cuff works well with jeans or chinos, and it shows off plenty of ankle (you can either wear invisible socks, to flash some skin, or lean into the retro trend with colourful crew socks). The pin-roll cuff is one of the higher cuffs, and it hugs your leg quite tightly. To make one, simply pinch your hemline horizontally, so the jeans feels snug against your ankle. Take that bit of loose fabric and fold it back towards your heel. Now roll the cuff twice over—about 1 to 2 inches is usually the sweet spot. If you're wearing low-tops, the hemline should finish about 1.5 inches above your ankle bone. You might need to roll it three times to get there.
---
Military Boots | The Stack
Military boots are quite heavy on your feet, so you need a cuff that balances things out. Depending on your jeans, that's going to be a double cuff or a simple stack. For straighter leg jeans, go the double (you probably won't clear the entire military boot, especially if they're high-tops, but that's totally fine). For slim-fit jeans, simply let the fabric bunch naturally at the top of the boot. That's called a stack. This only works with slim-fit or painted-on skinny jeans (although you shouldn't really wear pencil jeans with military boots). The advantage of the stack is that it's easy, you don't have to think too much about it, and it naturally elongates the leg. Military boots with stacked black jeans is a very rockstar, north London kind of vibe.
When you're wearing Oxford or Derbies with suit pants, you should hem the pants so that the fabric just rests on top of the shoe, creating a gentle fold. That's called a natural 'break'. That's still a pretty good rule with jeans and chinos. A tailored hem is going to be the most formal and conservative approach for dress shoes. But it's not the only way to go. Some Oxblood leather Derbies with slim-fit jeans and a single cuff can look good. Suede loafers beneath a strong double cuff can also work from time to time. Cuffing jeans with dress shoes is a riskier play (and you need to give some thought to your sock choice), but it can really add some personality and punch to your basic 'smart casual' outfit.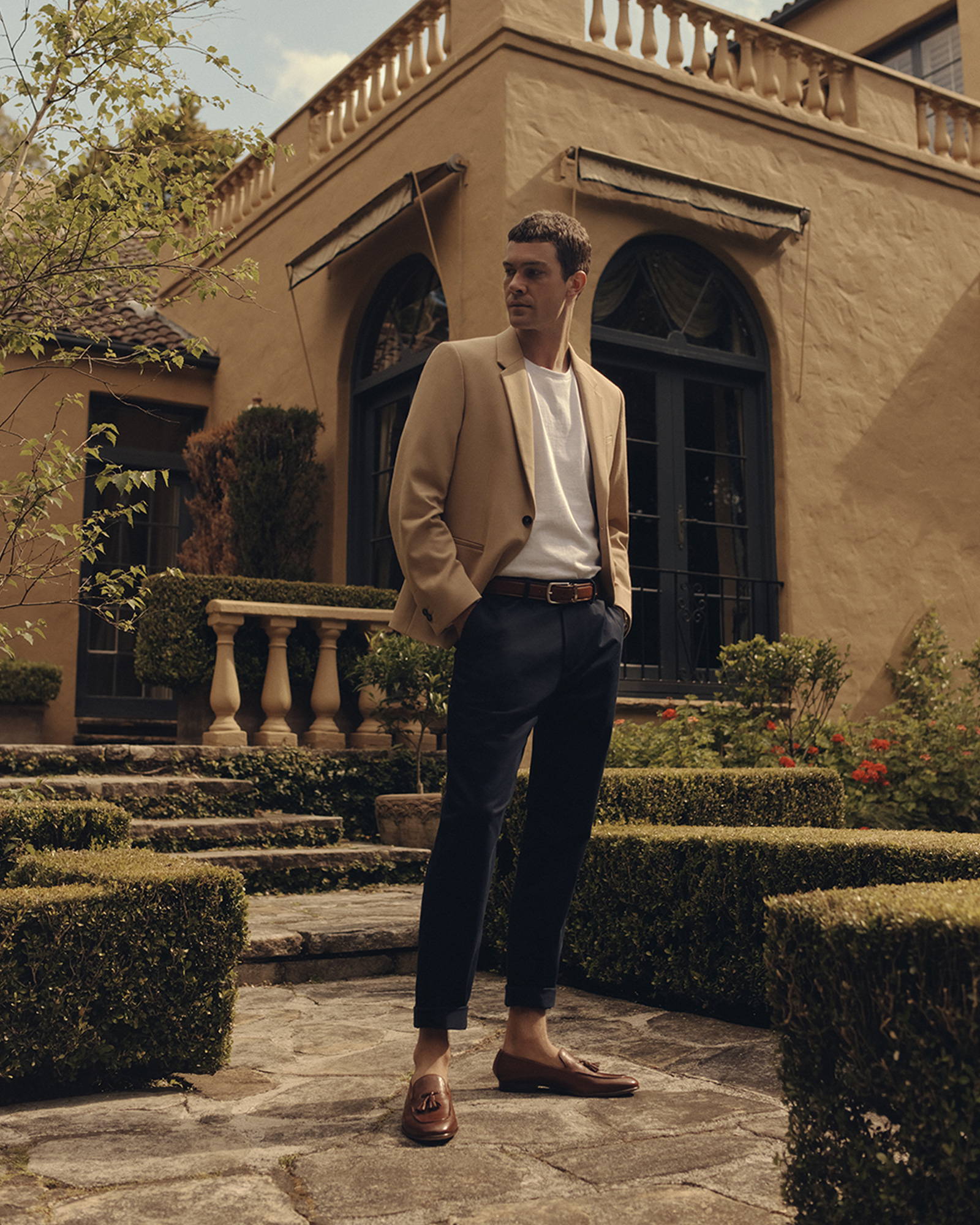 Chukka Boots | The Single Cuff
Chukka boots and desert boots look great with all sorts of cuffs, to be honest. Stacked slim-fit jeans with tan desert boots is a great weekend casual look. A high, pin-roll cuff over some suede Chukkas can also work nicely. But most of the time, you can get away with a simple single cuff. Just roll your hemline once over, about 1-1.5 inches, until it rests alongside your ankle bone. This will add some definition to your Chukka boots (without bulking out the pants too much). Make sure your single cuff doesn't reach too high. If the rolled-over fabric is 3-4 inches long, you've accidentally strayed into 'deep cuff' territory. Deep cuffs are technically single cuffs, but they shorten your leg and are very tricky to pull off. Leave those to the experts.
• Remember, the thicker and higher the cuffs, the shorter and heavier you're going to look. If you want to stretch out your leg, go for something like stacked slim-fit jeans.
• Avoid chunkier cuff styles with heavy, straight leg jeans. There's too much fabric, and it'll bunch around your ankles. Stick to hems or single cuffs for those guys.
• Give some thought to the 'weight' of your shoes. Military boots, for example, are quite chunky, so they'll throw skinny jeans way off balance. Heavy shoes, heavy cuffs.
• The measurements above are just guidelines, and every guy will be slightly different. The type of jeans, your height, leg shape, shoe choice, personal style—they all affect the width of your cuffs. Play around until you find something you think looks good.
---