St Ali's Salvatore Malatesta opens up to Aquila about how he made a career jump from law to coffee, how his Italian background influences what he does, and reveals just how many shoes he has in his closet.
Salvatore Malatesta is full of energy. We're not sure if that's the result of multiple cups of coffee (he's the owner of one of Melbourne's most famous cafes, St Ali) or if he's just excitable. Probably both. Since taking over St Ali in 2008, Malatesta has expanded the brand internationally, with a focus on branding and of course, world-class coffee. It comes from the heart. Read on to learn more about how he made a major career jump from lawyer to coffee aficionado, how his Italian background influences what he does, and find out just how many pairs of shoes he has in his closet.
On what he loves about coffee...
"When I drink a cup of coffee it transports me to the place of origin. I guess if you think about it, coffee is something everyone around the world drinks every day. It brings communities and people together. It has transporting properties. When I drink a cup of coffee from Costa Rica it takes me back to that farm."
On why he pursued a career in coffee...
"I was a lawyer for a while and that sucked but the real reason for me, coffee is a magical drink and it has magical properties, so when I started exploring and going deeper and deeper into coffee, I realised it was much more than a hot beverage and the journey is never ending. I'm from an Italian background, and coffee in our family was like a Japanese tea ceremony — it was a religious experience, it was a constant — that smell for me is probably the reason why I got into coffee to start with."
What makes St Ali a Leader
"We pioneered the specialty coffee movement. We took it beyond a commodity product and made it a craft. Transparency was big for us. We went to the beginning and took the cherries off the trees, we got to understand them. We were custodians for the work the farmers did. Through a practice of sustainability we wanted to improve the lives of all those along the coffee value exchange. So I guess in 2005 when this journey started, we were the anti-establishment, the counterculture to large coffee corporations. We brought the idea of micro coffee roasting to Australia in some ways. I had the good fortune (or embarrassing moment) of being number 1 on 24 most pretentious things on Buzzfeed for the ways we treated coffee."
On how he stays true to himself when finding success
"It's easy being from an Italian background because your mother tells you you're never good enough! I'm my own worst critic. Whenever I achieve a goal, I'm setting the next one. It's a treadmill of continuous improvement. It's probably the reason why I've succeeded."
"Down time is easy. I'm an avid reader so I ingest as many words as I can. I have my own library which I do that in. I have four children and watching them grow and investing in their future brings me enormous joy."
How he stays ahead of the curve
"All the work we've done has been focused on the craft and the farmer and transparency, but along the way we've also managed to create enormous brand equity and we've become tribal in a sense. We have an apparel range that started off as an offshoot but it's becoming its own business. People love being part of the St Ali family. We're in the social fabric of what it is to be Melbourne. We're synonymous with Melbourne."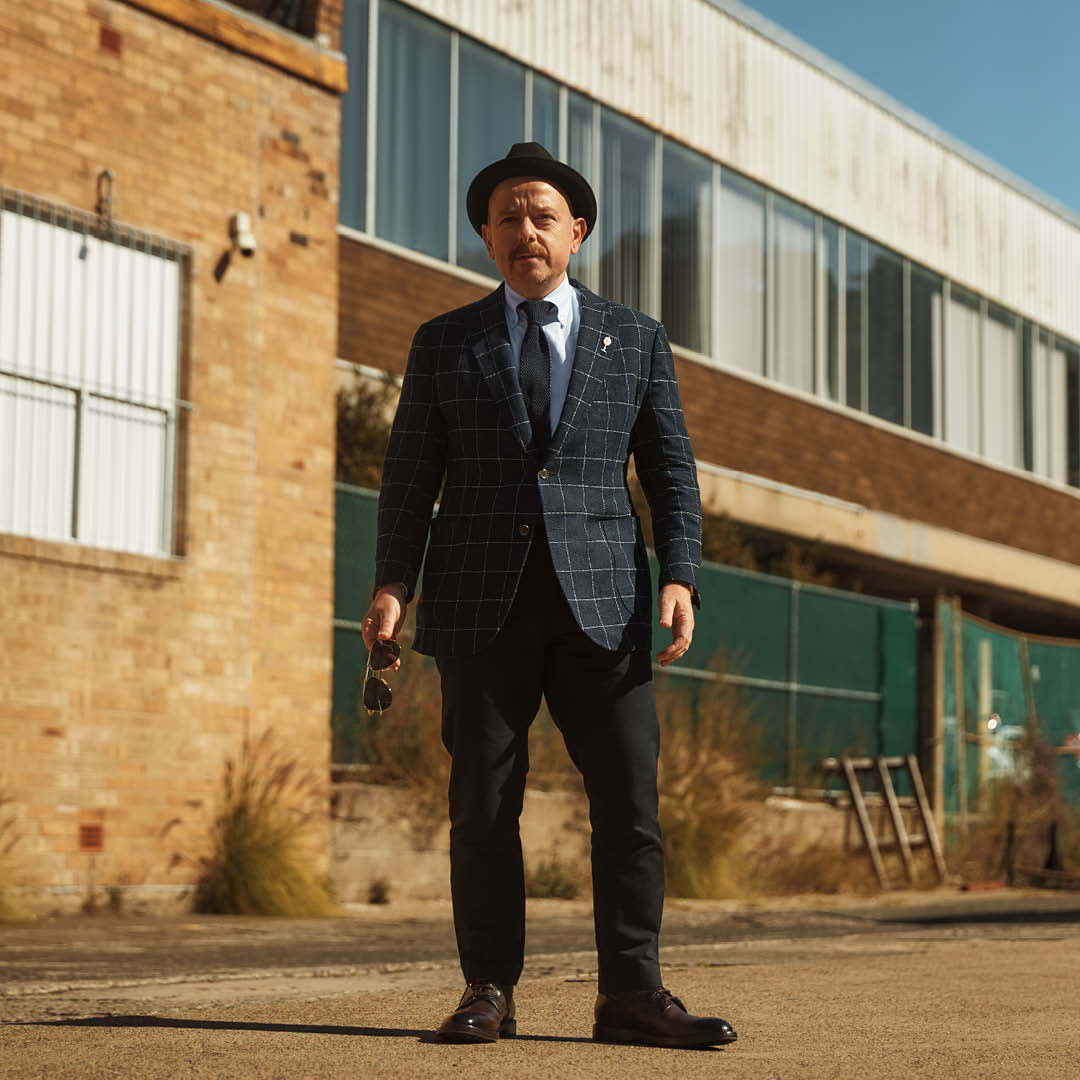 How he describes his personal style
"Being Italian I could've gone anywhere right? I could've been Versace, I could've been hiphop, I could've been tailored suits. And I'm all those things. I have an extensive wardrobe. I tend to like wearing tailored stuff because I'm an odd shape but I also have a massive fetish for shoes. I probably have 200 pairs of shoes in a room. I had a stage in my life where I was buying a pair a week.
I guess my style is an extension of my personality, and in a sense I think of myself as creative, hedonistic, driven and appreciating finer materials. When I touch apparel fabrics or shoes I like to know how they're made. I need to connect with what I'm wearing and understand it came from a place of good intentions."
What he feels most comfortable wearing
"Aquila shoes! They're really comfy. What do I feel most comfortable wearing? That depends on what I'm doing. When I was a lawyer I had to wear a suit and tie and now I don't but sometimes I love wearing that. I guess I'm super happy in some sneakers and chinos. I love a jacket for lots of reasons — to carry my bits and pieces. I carried a man purse but I lost it."
"I have over 200 pairs of shoes. I love shoes. Shoes are my thing. I don't think I have a specific style that I like but I love, I just love shoes. I have started wearing a lot of Aquila shoes. They're a Melbourne Italian family business and that connects with me. It makes me feel good that I have a connection both culturally and from my home city. When I look at the Aquila range they all feel hand crafted, genuine and comfortable."
---