The whole concept of 'office boots' might sound a bit odd, especially if you've spent your whole corporate life wearing Oxfords. But boots in the office are totally standard these days, even in the starchiest white-collar workplaces. You just need to know which boots, and how to wear them without looking like you caught a horse instead of a train.
A good rule of thumb, before we get started: don't wear the same pair of boots two days in a row. This isn't a vanity thing. Leather absorbs a lot of moisture over the course of a day (even more when you're racing a deadline), and boots need time to dry and recover. It's best to have two or three pairs on rotation. Your boots will last longer, for one thing, and your colleagues will think you're some sort of stylish, footwear maverick, which doesn't hurt either.
Boots with suits might sound like a Dr Seuss book, but it's actually a legitimate style choice. A good Chelsea boot combines the professionalism of an Oxford with the attitude of a Chukka. What you're looking for is a mid-height or ankle-height boot, with tapered, clean lines and high-polish, good-quality leather. Suede is a definite no-no. Take a look at the toe of the boot, too. The 'pointiness' will tell you what sort of boot you're holding: a thicker, rounded toe means it's good for chinos or casual wear, while a sharp, chiseled toe works better with suits.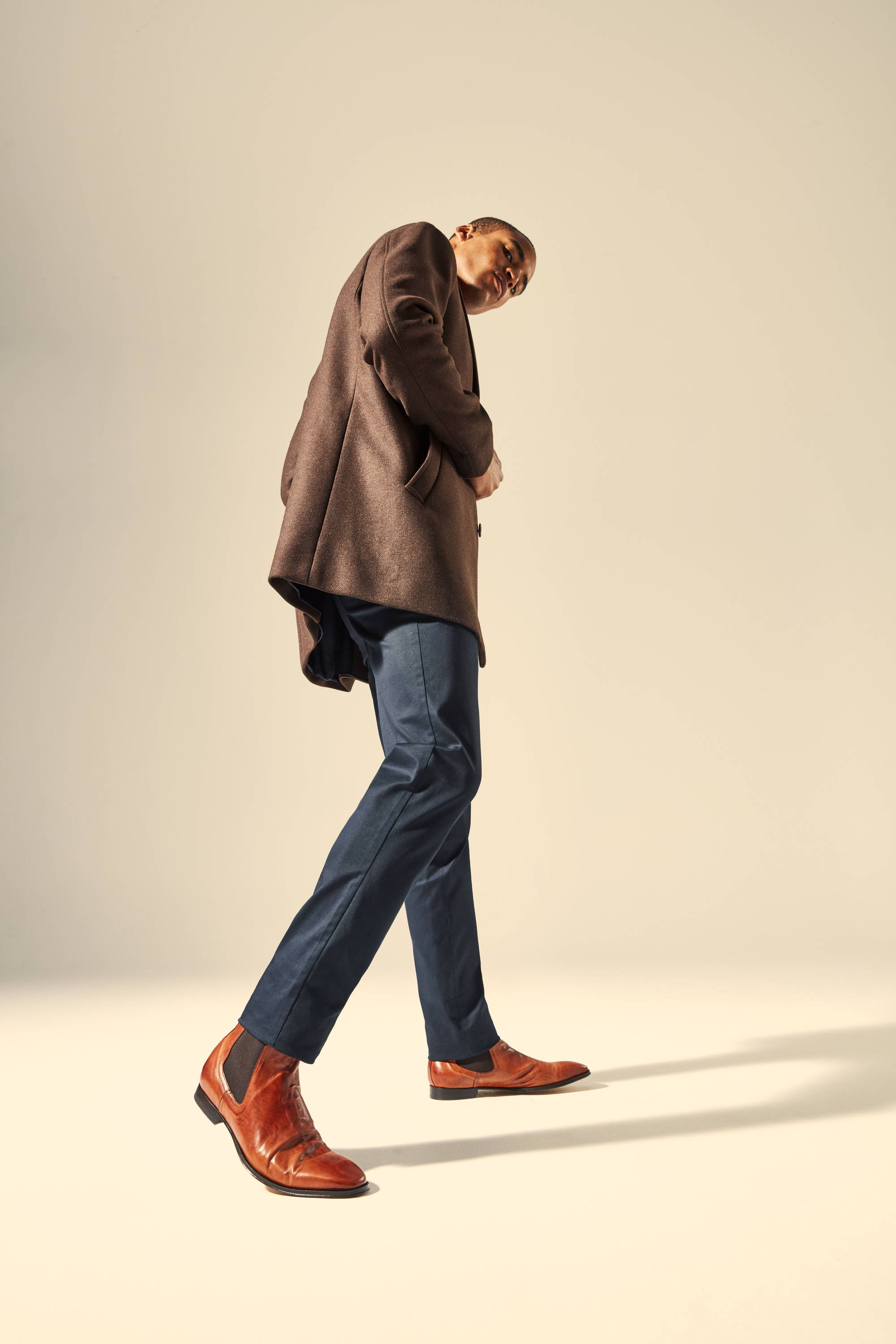 The WARNOCK is one of our dressier Chelsea boots, with a slim profile and slightly rounded toe. You can get it in brown or black, depending on the colour of your suit (see below for some notes on colour-matching). The other good option here is the WILKINSON. This is a modern ankle boot, rather than a classic Chelsea (the embossed leather upper and laces are a dead giveaway). If elasticated side gussets freak you out, the WILKINSON might be a good transition from standard Oxfords.
---
A lot of offices now, even the starchy corporate ones, are ditching suits all together. On the one hand, this gives you more flexibility with footwear, which is great, but it also gives you more choice, which can be daunting. Don't stress – smart casual is where boots really start to shine. Brogues, Oxfords and even loafers can look a bit stiff with chinos, but suede Chukkas or laid-back Chelsea boots fill the void nicely. When you're styling these, keep an eye on your pants. Slim-fit jeans or chinos are fine, but avoid anything too skinny, especially if it hugs your calves. You want a nice, natural 'break' over the boot's upper.
Chukka boots are a classic weekend staple, but there's no rule against wearing them 'round the office, either. We recommend the DOLAN for this one, available in soft black or brown suede. It's a nice, sharp, textural look. Just match them with tailored sand chinos and a crisp white shirt. For something slightly dressier, check out the DAYTON Chelsea boot, especially in tan or brown. That rounded toe, heavy rand and light leather would look wonky underneath a suit, but it's perfect for chinos or denim.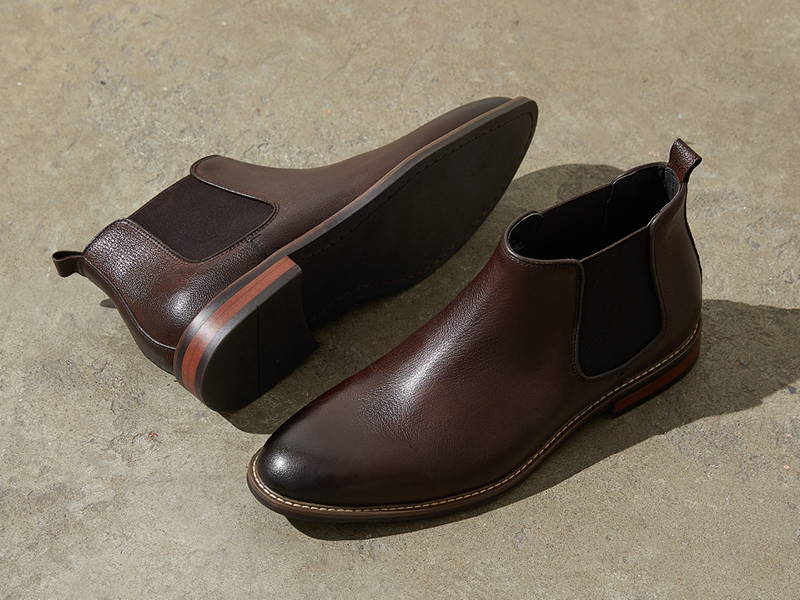 The same rules for office shoes apply to office boots. In very general terms: darker colours go with suits, and lighter colours go with chinos or denim. Stick to that and you can't go too far wrong. But calling them 'rules' is a bit misleading. They're more guidelines, really. Here's our take on colour matching your office boots.
If you're wearing a black, grey or dark navy suit, black boots are probably the way to go. Black is still considered the most formal colour for office footwear, and it's probably the one we'd recommend for job interviews (at least for the more conservative, white collar job interviews). Black boots tend to look a bit odd beneath chinos, but they can definitely work for denim, especially dark navy jeans.
Brown boots are more casual. That's just how it is. But that doesn't mean you can't wear them with a suit. Dark brown Chelsea boots work fantastically with petrol or charcoal grey. And navy suits are even more flexible: you can pretty much get away with any boot, from dark chocolate through to tan. Brown boots are also your best friend when it comes to chinos: they'll go with almost every colour under the sun.
As a rule, save your tan office boots for casual Friday. They're the most laid-back shade, and tend to work best with chinos or jeans. Sure, you can just about wear tan leather boots with a navy suit, but you're skating on thin sartorial ice. When it comes to suit colours, remember: the lighter the blue, the lighter the brown. Think about fabric too. Suede or textured leather is going to ramp-up that 'casual' factor.
---