Can you wear men's sneakers to the office? The short answer is: yes. In previous years, this might have been frowned upon, and if you're working in high corporate finance, it still might be, but most offices have now relaxed their dress codes, especially since employees are spending so much time working from home. Office sneakers are here to stay. But they do need to be the right sneakers. Smart casual sneakers. And they do need to match your outfit. Throwing some beaten-up tennis shoes under a three-piece pinstripe suit is never a good look.
Get comfy. This is our guide on how to wear smart casual office sneakers for work (and keep your boss happy).
Let's start with the relaxed office. The one with a foosball table and the CEO who insists everyone call him 'Jeff'. This is the perfect environment for the smart casual sneaker, maybe our DECO navy or cream V1. You want a look that says professional, but playful. Something refined and relaxed at the same time. And don't be afraid to mix and match your formal and casual pieces. Try a blazer over some good quality, slim-fit jeans, or a simple button-up shirt, tan chinos and knit jumper. For more of an urban vibe, layer a fitted blazer over a crew-neck tee and pair with some textured SMITH white sneakers. We've written an entire guide to white sneaker outfits over here.
For a long time, sneakers with suits would have been considered a fashion crime. If not enough to get fired, then at least enough for a passive-aggressive email from HR. But these days, sneaker outfits are acceptable in many offices, and they're particularly handy for work travel (flying in sneakers beats flying in Oxfords, any day). There are two broad ways to go here: you can either choose a sporty sneaker, and match it with a casual cotton suit. Or you can stick with classic white, like the DECO or TRACER, and pair them with a sharp navy or charcoal. Whichever way you go, try and match your colours and keep everything looking consistent. Consider an open-collar shirt, instead of a tie, and stick to slim, figure-hugging suits (rather than your dad's classic fit).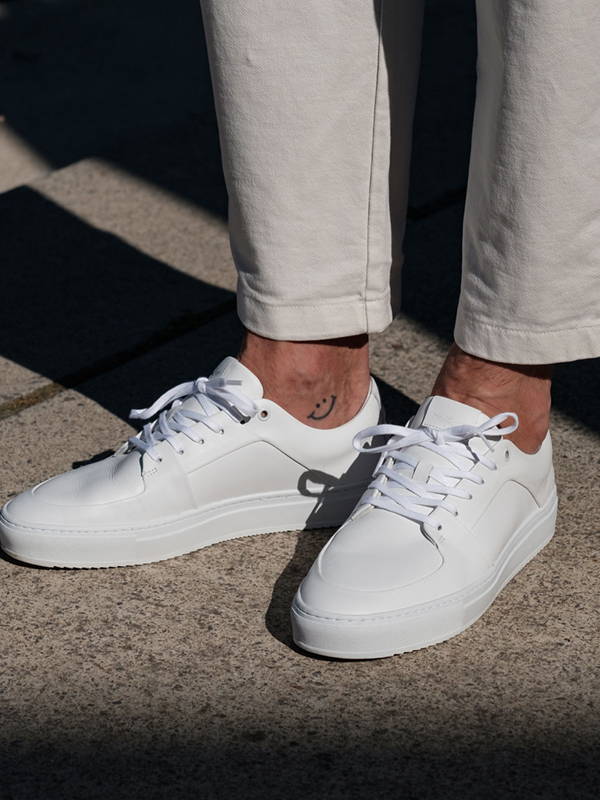 Leather Sneakers or Suede?
There are no hard and fast rules when it comes to polished leather or suede sneakers. Both can work for a smart casual office style. Just remember that Nubuck or suede sneakers, like the V1 or DECO, is going to present a more informal vibe. These materials tend to work best under casual, summery, cotton-type suits, rather than formal silk. And keep colours in mind, too. Casual suits have a bit more latitude when it comes to colour, so try and match your slate, khaki or forest green sneakers with a complementary suit. Pro tip: don't choose a sneaker that's the exact shade and colour of your suit, look for colours that work well together, like subtle browns and greens, charcoals and deep navy.

Our Top Picks for The Office
This brings us nicely onto colour matching your sneaker outfit. Smart casual sneakers can work with any suit, but they should never clash. You can either go for an eye-popping white SMITH (which helps your ankle really stand-out), a neutral black TRACER (to camouflage your sneakers and hide them from your boss), or a complementary colour scheme. Got a navy suit? Look for khaki, taupe, brown or black sneakers. Rocking charcoal this season? Consider polished brown leather, or even a sky blue leather. If in doubt, go shoe shopping on your lunch break, so you can try different colours and see what works best.
Sneakers in a smart casual office is all about confidence. You're taking a small risk, but it's still a risk. So be bold! Pick office casual sneakers that hug your feet, support your ankles, and make you feel amazing. If you project confidence, that's half the battle. It doesn't hurt your promotion chances either…