Rules to follow for a perfect Suit & Sneakers Look
Guys about town are sporting sneakers with everything (and anything) more than ever. 'Though previously considered sartorial sacrilege, sneakers with suits are definitely having a moment in the style spotlight Want to give trainers and tailoring a go? There are just a few rules to stick by and Aquila is here to help find the right sneakers to wear with suits.
Yes, you could wear your sharp two-piece suit with a pair of classic monk-straps, brogues or Oxfords on the daily. But sneakers add that certain edge to an outfit that hasn't been seen before. Avoid performance-focused styles and choose a pair of classic, sleek kicks for the ultimate men's suit with sneakers look. They look good with fitted trousers and a strong, structured suit. We're going to drill down and teach you how exactly to wear your favourite suits with white sneakers, and every other colour that's hanging around your closet.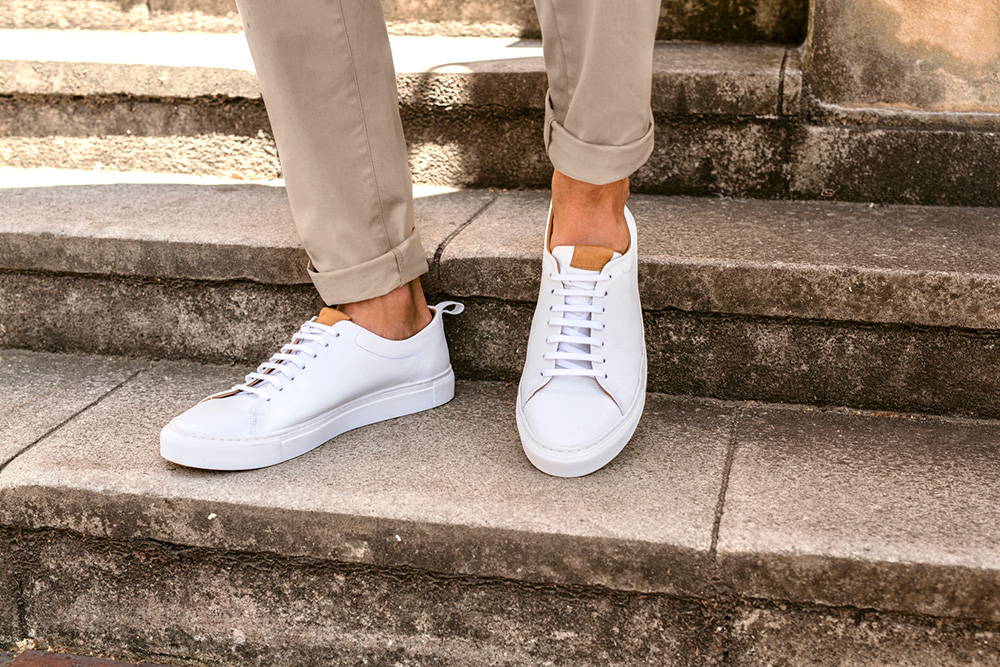 Sneakers with suits are a perfectly acceptable Monday-Friday uniform if you happen to work in a creative workplace. If you want to retain some of the finesse of a formal shoe, choose formal leather sneakers, which appear refined and contemporary when worn with an understated shirt and tie.
Structured suits and sneakers travel well, especially when paired with a crisp collared shirt. The combo of a formal suit with sneakers will have you looking luxe during layover and dressed the part as you rush from airport to client appointment without a moment to check into your hotel.
Don't Just Stick to Black
A deep navy, burgundy or blue suit can prove a great alternative to your standard black, charcoal, and navy blue suit with sneakers. Mixed with a fresh pair of white (or off-white) sneakers, you'll look on-trend, stylish and in the know. If you opt for a black pair of sneakers however, you NEED a black suit. Black suits with black sneakers - seriously cool.
Wear a suit and sneakers with Confidence
The trick to nailing this look is to wear your outfits with confidence. Look as if you meant to style your suit with your sneakers, (which you did), rather than coming across as an afterthought. Thanks to the style icons of Hollywood and beyond, donning the suit and sneakers look has never been more easy (and acceptable).
---