Summer doesn't exactly scream boots season, especially when there are so many great sunny-weather shoes out there. Boots are for stomping through puddles in winter, right? Well, yes and no. It's true that heavier boot styles are going to get sweaty when the mercury tops 30 degrees, but there are plenty of lightweight, ankle-height boots that look good, and feel good, year-round. The trick is dressing with a little confidence. Summer boots are a statement. You need to feel comfortable standing out in a crowd.

This guide is for anyone who feels a bit sad retiring their Chelsea boots in November. It's how to wear men's boots in summer (without looking like a lumberjack).
Let's start with the easiest option: desert boots and Chukkas (close cousins, but not quite the same thing). Think about it this way: would you wear high-top sneakers in summer? Of course you would. Well, ankle boots are just the boot equivalent of your standard canvas high-top. Chukkas and desert boots are lightweight and breathable; in fact, the natural leather can be better for your feet than many synthetic summer sneakers. When it comes to styling, just match some DORADO suede desert boots with cotton chinos and a white linen shirt, or your favourite double cuffed jeans.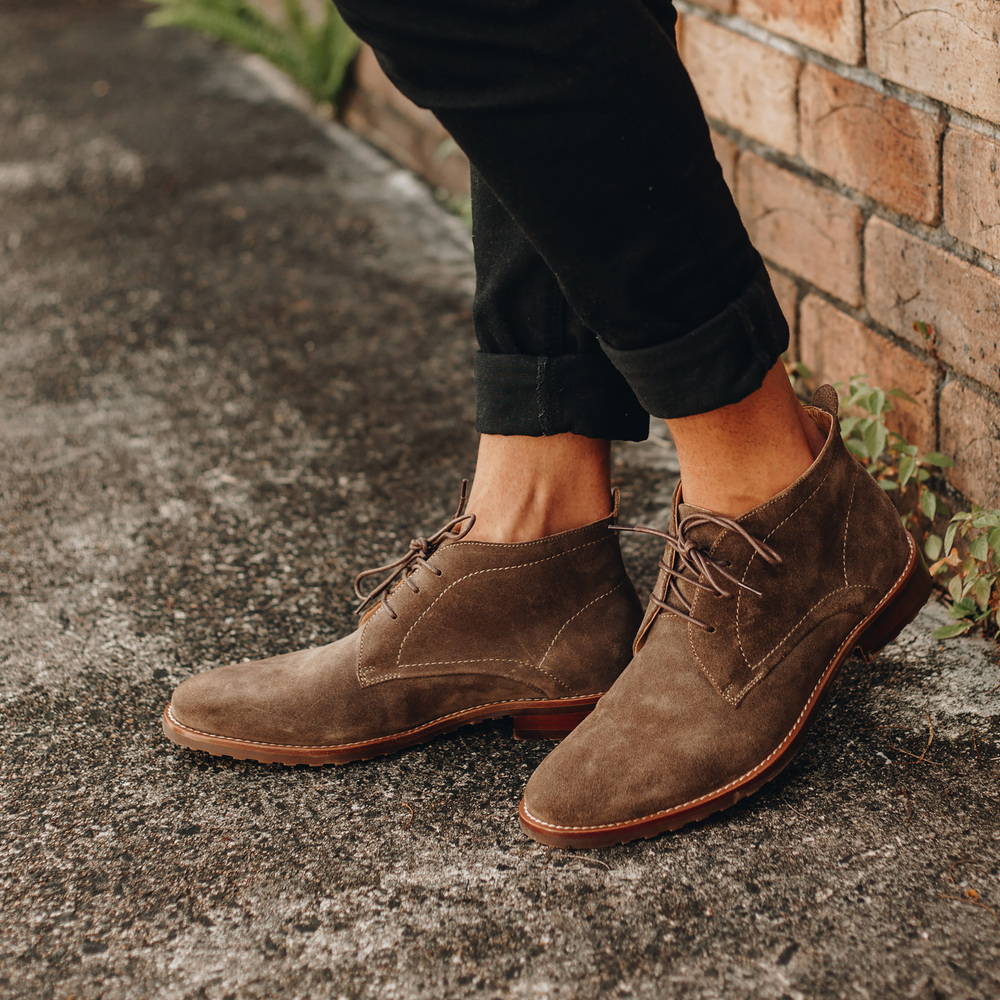 Chelsea boots come in high and low ankle varieties, and in summer, you want to stick to low-ankle Chelsea boots (something like the WARNOCK or LUCCA would be perfect). Because Chelseas are a little chunkier and heavier than Chukkas, you need to balance things on top. Don't just wear Chelsea boots with shorts and a slim-fit t-shirt – it'll look bottom-heavy and slightly odd. Instead, layer up with dark chino shorts, a loose-fitting crew or scoop neck tee, and an open shirt over the top. Keep your layers fairly breezy, rather than tight and figure-hugging. That'll help balance the Chelseas down below.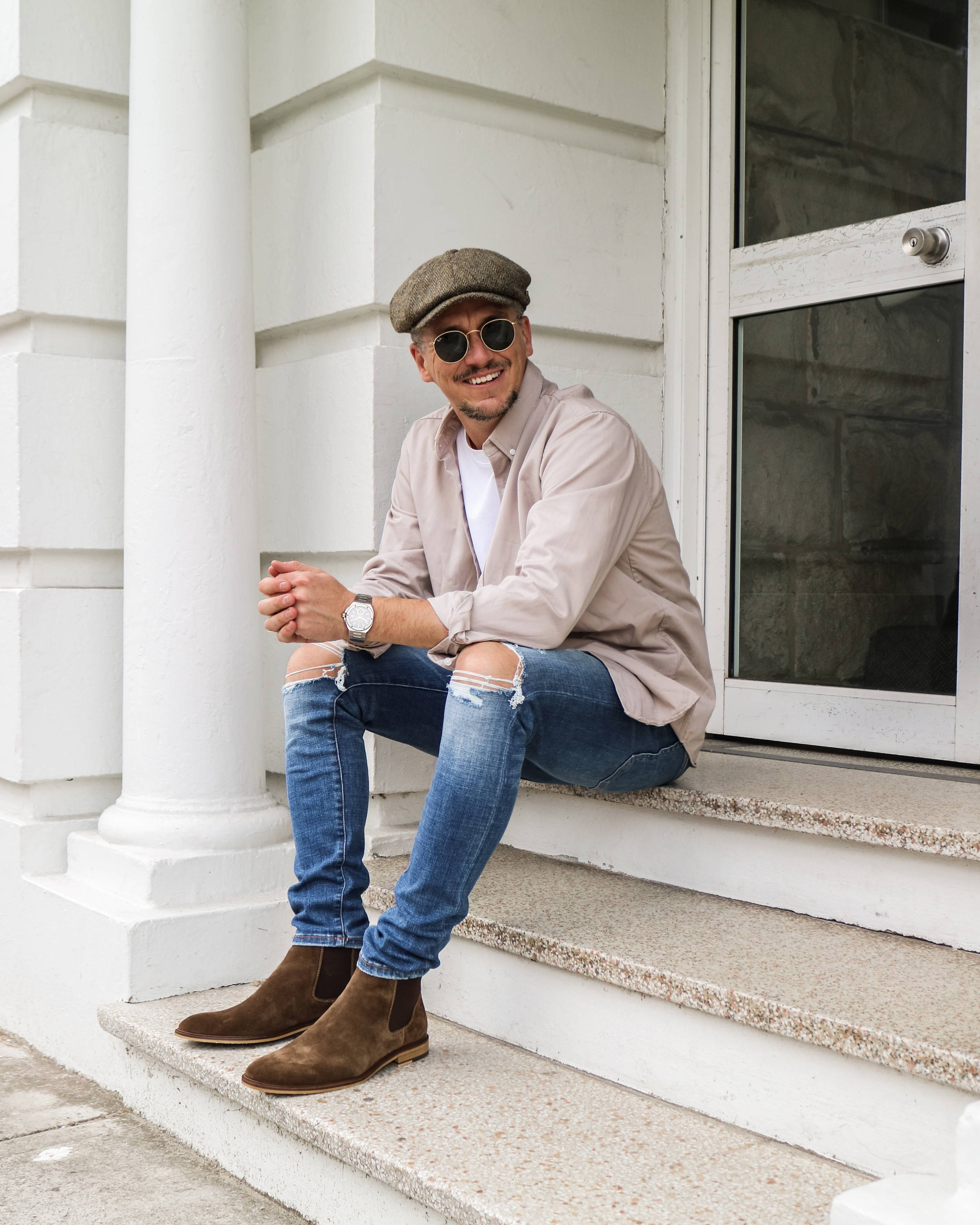 Military boots in summer? Yep, you can make it work. If it's a slightly cooler day, military boots and stacked slim-fit jeans is a classic and pretty uncontroversial combo, but you can also wear military boots with high-cuffed summer chinos. Pick a dark shade like navy, roll the hem a few times, and pair them with our INGRAM military boots. And when it comes to socks, don't let your feet go commando. Military boots need mid-calf socks (preferably a light cotton blend in summer) that reach two or three inches above the shoe itself. You don't want to show off any skin for this one.
The biggest mistake you can make with summer boots is actually not the boots at all: it's the socks. When you're wearing boots in summer, particularly with shorts, your socks should poke two or three inches above the boot itself. Naked boots on naked ankles is very tricky to pull off. Pick good quality cotton crew socks, and keep the colours fairly muted: navy, charcoal, earthy browns, tans and khakis. Black is a little too severe (unless the boots themselves are black). White mid-calf socks can work, especially with chunkier military boots in chocolate or caramel, but it's definitely a riskier play.
---
If you're thinking of matching boots and shorts this summer, it's best to keep in mind a few things. First, your feet will be warmer than usual. Military boots and sandals simply don't have the same level of breathability. Second, you need to lean into the look. What does that mean? Well, in the same way that high-tops work best when they're worn with confidence, boots and shorts require a bit of daring. Think about tonal matching, don't be afraid of contrast socks, and balance things out with some layers on top. You're going for an edgier, chunkier, street aesthetic, so it's okay to feel on display. That's kind of the whole point.
---