Sneakers and jeans are the peaches and cream of the men's fashion world: they're just made for eachother. But that doesn't mean there aren't a few traps. In 2014, the hashtag #ntdenim started trending, referring to guys who ruin great sneakers by wearing terrible jeans: the baggy, the bootcut, the acid-washed, the dirty and the Seinfeld. See, you have to think of your jeans and sneakers as a team. They should work together and complement eachother. If your jeans are distracting from your sneakers, or the other way around, it means something has gone horribly wrong.

Here's our handy guide to matching sneakers with jeans.
Most jeans and sneaker problems happen because the jeans don't fit correctly. They're too long in the leg, too skinny in the calf, or too narrow around the hips. So the first thing you need to do is find jeans that fit (and we mean really fit). The 'size' of the jeans (that number on the tag) is probably the most important measurement to consider, but also pay some attention to the length of the inseam. If your jeans are slightly too long, that's okay. They can always be cuffed or hemmed by a tailor. Jeans that are too short, or too tight, are a much bigger problem.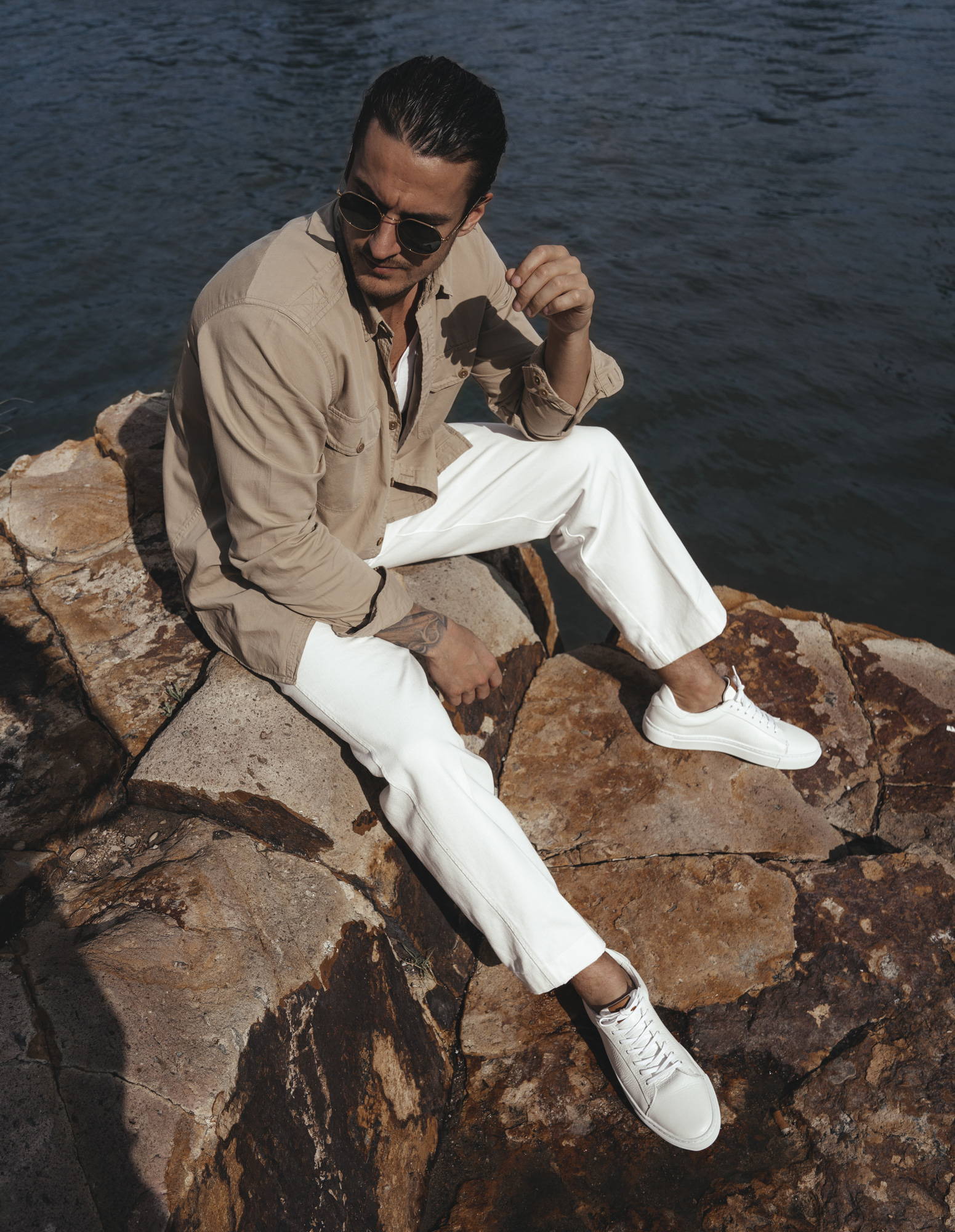 If you haven't dived into the world of men's denim yet, it can get a little overwhelming, especially when it comes to 'cut'. This refers to the shape or style of the jeans. There's boot cut, regular fit, baggy jeans, drop crotch jeans, straight leg, slim-straight, slim-cut and skinny (you can see how confusing this all gets). To keep things simple, most guys should opt for either straight-leg or slim-cut jeans (also sometimes labelled as 'slim-fit' or 'stretch-slim'). These will give you the best balance between leg shape, silhouette and comfort. They're the goldilocks of denim cuts: not too baggy, not too skinny, just right.
When it comes to sneakers and jeans, there's only one denim cut we'd absolutely recommend staying away from, and that's the bootleg. These guys are flared at the ankle, with a super long hem and lots of extra fabric. As you might have guessed from the name, they were made to be worn with boots (specifically big, leather cowboy boots). The flared hem will cover most of your sneaker, which kind of defeats the object, and it tends to drag on the ground. Stick to straight cut or slim-fit jeans instead.
Matching sneakers and jeans is a bit of an artform, and something that sneakerheads devote most of their lives to. There isn't room here to dive into the ten thousand shoe-and-denim combinations, so we'll offer some basic guidelines instead. The golden rule is: the slimmer the jeans, the slimmer the sneaker. If your jeans are tight around your calf, stick to sneakers with a smaller profile and thinner tongue that really hug the ankle. Sneakers with lots of ankle padding are a bit more flexible – you can wear these guys with almost any denim. The higher the sneakers, the more you're going to want to hem or cuff your jeans, which leads us on to…
---
We've covered how to cuff pants before, and it's a skill every guy should learn. There are a few advantages to cuffing your jeans: it shows off more of your sneakers, cleans up the hem, reveals some of that sweet selvedge lining, and basically avoids the number one sin of denim, which is letting your jeans drag on the ground. You don't need to learn the 17 different styles of cuff. A simple double or pin-roll cuff will get you through pretty much any situation, and they're all easy to master. The trick is not to cuff too much fabric, which is another reason bootleg jeans don't work with sneakers – if your cuff is bunching too thickly, you should try a tailored hem instead.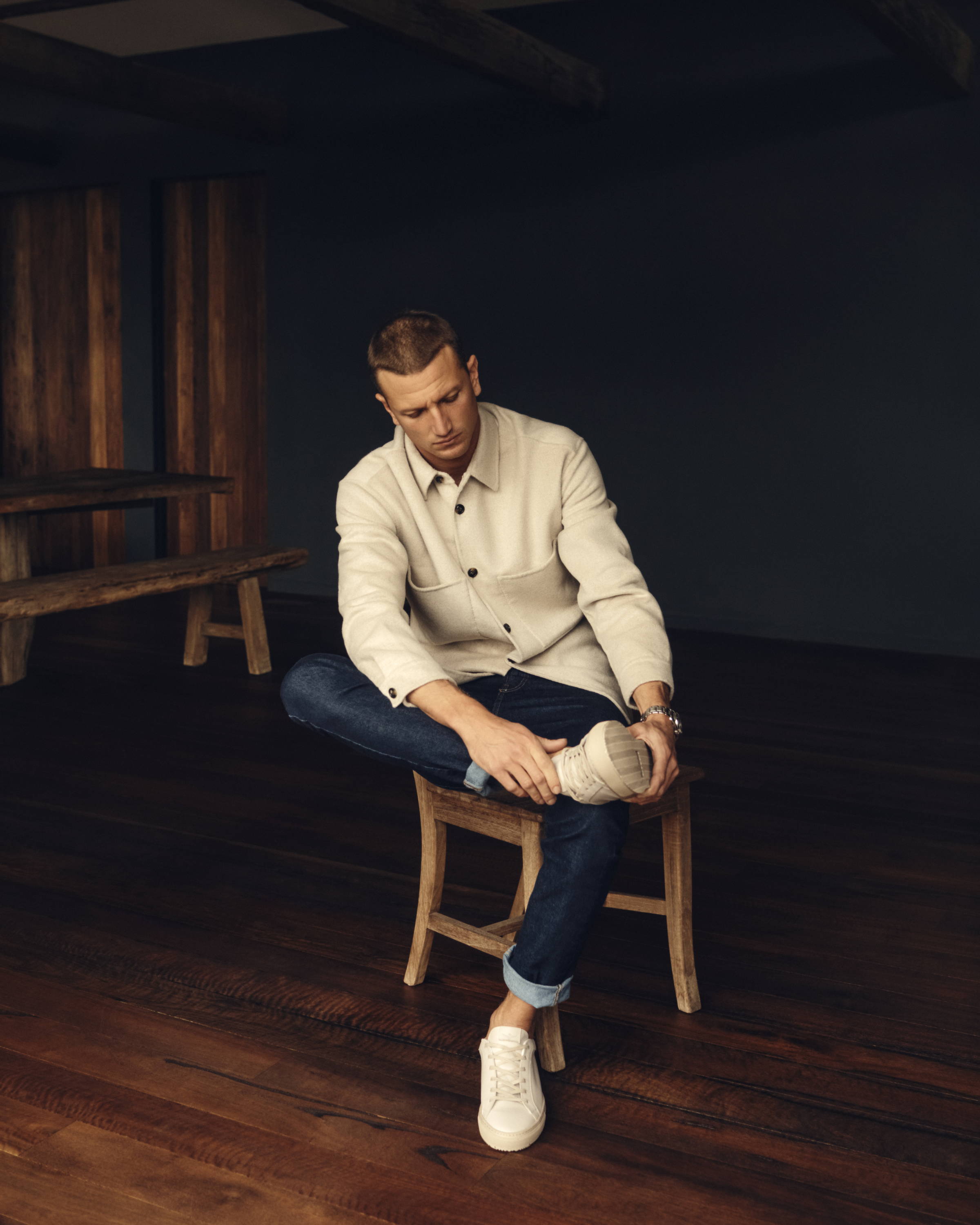 The real beauty of denim is its character and versatility. No two pairs of jeans are really ever the same, and they don't age the same either. When you're matching jeans and sneakers, you need to think about washes, shades and colours. Sneakers are casual footwear, so your denim shouldn't be too starchy, dark or formal. Lighter shades and distressed fabrics tend to work better with sneakers, but it's not a hard and fast rule. Black jeans with black sneakers, for example, is a classic late-night gig ensemble. If in doubt, bring your favourite sneakers along to the store and try them on with your jeans. Find a colour combination that feels right to you.
The better you understand the different kinds of sneakers, the better you'll be able to match them with jeans. We've written a handy guide to men's leather sneakers, if you want a little more info. There's no right or wrong way to go here, it's more about personal preference. We recommend starting with the shoe and finding jeans to match. Are you more into high-tops or low-tops? Leather or canvas? Street style or sports style? Chunky sole or thinner sole? Have a play around and experiment with different styles. When you find sneakers that feel right, it'll be easier to pair them with a good pair of jeans.
---