Men's leather sneakers have come a long way in the last 10 years. They've evolved into their own distinct footwear category, with sub-genres, different styles and dozens of colours to choose from: low-rise or high-top, leather or canvas, white soles or full colour variants, weekend kick-abouts or suit-and-tie office commuters.
The big thing to remember is that not all sneakers are created equal. There's a world of difference between hand-stitched soles and the scuffed-up trainers that used to live at the bottom of your sports bag. In this article, we'll break down everything you need to know about good quality men's leather sneakers. How to style them, how to take care of them, and which pairs you need in your wardrobe.
Sneakers have managed to claw their way from street style to high fashion, but they're still no substitute for dress shoes. Most men's sneakers sit somewhere in the world between 'casual' and 'smart casual'. You can also wear sneakers with business suits, but that's another whole article right there. The beauty of the men's sneaker is versatility. If you get the style right, there are almost no rules. You can wear them with no-show socks or ankle socks, summer or winter, denim or chinos, shorts or sweat pants. The main things to remember are: buy sneakers that match your current wardrobe; don't wear them to weddings; and keep them clean.
Men's leather sneakers come in all sorts of shapes and styles, but we'll do our best here to break down the major categories. The first is the basic men's sneaker. This is something like the DECO or BURNIE: good for weekends, with a white rubber sole and cushioned heel. Classic sports sneakers, like the ALPHA, are more of an athleisure statement—they work well with jogger chinos, sweats or slim-fit jeans. Then there are the dressier, luxury sneakers, like the TRACER or VADER high top. These guys can be styled with dress chinos or suit pants, depending on the colour. If you are only opting for one pair of sneakers, we recommend the basic style—either DECO or SMITH—in plain white. This is arguably the most versatile men's sneaker, and it'll give you the most mileage.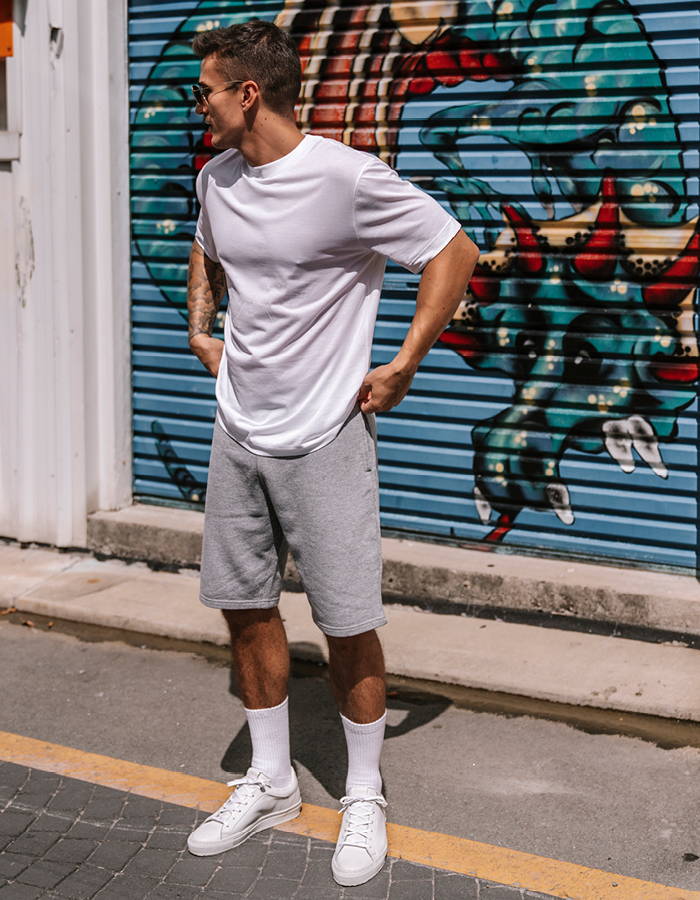 Most people don't think of sneakers as having dedicated 'features' beyond the basics: sole, tongue, laces etc. But good leather sneakers are different. When they're made properly, they should support your foot, just like boots or dress shoes, with a breathable leather upper and cushioned heel. Many of our sneakers feature what's known as 'Strobel' construction, which is what you find on most high-quality athletic shoes. The leather upper is hand-sewn into the fabric bottom using a Strobel stitch, creating a kind of 'sock'. This gives you the ultimate blend of comfort and durability. Well-made leather Strobel sneakers should last years and, if anything, get more and more comfortable over time. Sneakers should also have hard-wearing rubber soles with a rounded toe. They should feel light, but strong. If you can bend them in a circle, look elsewhere.
A few years ago, this would have been a fashion crime (not to mention sending your boss's pulse through the roof). But sneakers in the office are pretty common these days. The trick is styling them correctly. We've written about styling sneakers and suits before, but here are the basics. Stick to simple colours, like white or black sneakers. Don't mess about with sports styles—you're looking for classic shapes and sleek lines, not pumped-up kicks. A pair of crisp white sneakers under a structured navy or charcoal suit is modern-day 'business casual' in a nutshell. One last tip: keep your sneakers clean. Scuffed up, muddy sneakers should never be seen in the office.
Our favourite sneakers to wear with suits

Sneakers and casual outfits
This is obviously sneakers' home turf, and most guys feel pretty comfortable styling sneakers with casual outfits. Still, it pays to experiment. If you've got a pair of white sneakers already, try branching out with tans, salmon, petrol blue or forest green. Black sneakers are versatile, too. Just remember to stick to monochrome shades of black, white and grey: black-on-black trainers with black jeans and a charcoal bomber is always a killer winter look. The general rule is to think tonal: reds with reds, greens with greens, blues with blues. Alternatively, a clean white tee will work with any sneaker. And remember: white soles are more casual, but also more versatile. Block colour sneakers can work better for 'smart casual' events, but they're harder to mix and match.
All leather sneakers need a bit of love and attention, but suede and nubuck especially. With these styles, you really want to invest in some suede-friendly weather repellant and shoe polish. We've got a full guide over here. And don't let the extra upkeep put you off: suede and nubuck sneakers have a texture and warmth that you don't get from regular leather. They're usually considered less dressy than other styles. Wear them in the warmer months (when you're less likely to get rained on). Just throw salmon nubuck sneakers under some light denim and a well-fitted polo. Or maybe a pair of royal blue VADER mid-rise with cuffed navy chinos and a simple white tee.