It sounds like a simple question, right? What shoes do I wear with jeans? But when you factor in the dozens of different cuts, colours and denim styles, and then the zillions of possible shoe combinations, the whole thing becomes surprisingly tricky. There's jeans and sneakers. Jeans and boots. Jeans and loafers. The truth is, some shoes are going to look better with certain denim styles. Sneakers and boot-cut jeans, for example, will never be best mates. In fact, you should probably give boot-cut jeans a wide berth all together. That's just good life advice.
So which shoes should you wear with jeans? Consider this our beginner-friendly crash course.
The whole point of skinny jeans is to hug your leg and stretch out that silhouette. So the last thing you want to do is anchor them down with chunky military boots, or anything too heavy. We actually love loafers and monk straps with skinny jeans, for that slightly more formal look. They're sharp and elegant, and they look great with invisible socks (don't be afraid to flash some ankle). If you're going for more of a smart-casual vibe, try a sleek Chelsea boot, like the ALTO. Think about cuffs, too. A pin-roll cuff on your skinny jeans will look great with sneakers, or you can bunch them up in a stack.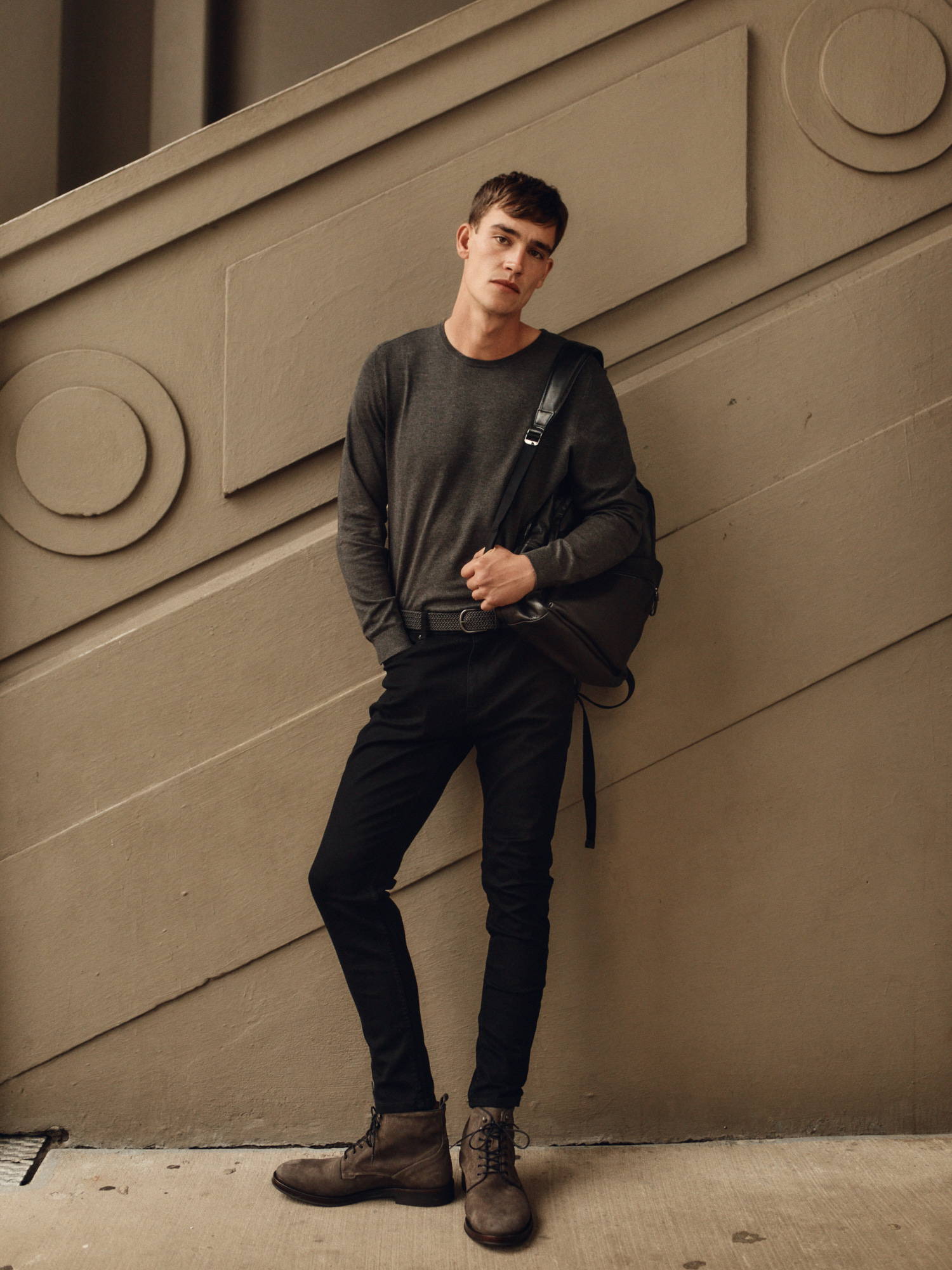 The Mojave Charcoal Military Boot
Slim-cut jeans are most guys' Goldilocks cut: they're not too tight, or too loose, and you can cuff and style them a million different ways. The good news is it's very hard to make mistakes here. A pair of light blue or indigo slim-cut jeans will work with Chukka boots, Chelsea boots, low-rise sneakers, tassel loafers, monk straps and even espadrilles. It's really up to you. Some of our favourite slim-cut styles are the BOSTON Tobacco Desert Boots, the slim-line ADAMS Chukka, and the street-style TRACER sneakers. You can style these guys with simple knits, or layer up with pea coats and bomber jackets. With slim-cut jeans, we like a double cuff or pin-roll cuff, depending on the shoes (there are no hard-and-fast rules, but generally double for boots, and pin-roll for sneakers and loafers).
---
Straight-leg men's jeans are actually making a comeback. They're one of the more versatile cuts, and you can match them with anything from brogues and boots to loafers and plain white kicks. For that street look, just pair some classic DECO sneakers with indigo straight-cut jeans (go for a double cuff, to give your ankle some definition). Military boots like the INGRAM can also work well—straight-cut jeans aren't really tight or loose, so your shoes can be narrow or broad, high-top or low. And speaking of low, some ALBERTO tassel loafers with cuffed straight-leg jeans, a chambray shirt and knit blazer is a killer smart-casual look.
If you're worried about fit, or you're looking for something more comfortable, loose jeans are definitely an option. These are great for slightly bigger guys, but they're also an emerging street-style trend (you can thank '90s retro nostalgia for that one). With loose-cut jeans, the trick is not looking like you just slobbed out of bed. Match some black DECO sneakers with a heavy woollen overcoat. Or maybe some Nubuck DECO sneakers with loose-cut jeans and a trucker jacket. Ankle boots like the UTAH or MARSELLO can also work. Remember: you want large, broad, oversized accessories to balance out those jeans. Think overcoats, heavy boots, bomber jackets and chunky footwear.
The Maurizio Tobacco Military Boot
Black jeans are kind of their own beast. These should be your go-to winter late night jeans. They give any outfit an instant shot of adrenaline and street cred, and they're actually quite easy to style. Just remember: black goes with black. By matching black shoes and black jeans you elongate your leg and make yourself look taller. Just stay away from polished black leather shoes: stick to suede, canvas, Nubuck, anything with warmth and texture. LUCCA black Chelsea boots are an awesome late-night-wine-bar combo, or you can dress things down with black TRACER or BURNIE sneakers. Minimal white trainers, like the DECO, are another way to go. They'll draw more attention to your ankle, but keep that monochrome vibe running strong.
---