So you look down at the invitation and it says 'cocktail'. What does the heck does that mean? Will we be drinking cocktails? Should I dress for mojitos? Do I need to wear a tie? And why are there so many different dress codes anyway? Men's cocktail attire is a bit like smart casual – we've all seen it, but very few people know what it actually means.

Cocktail attire for men will usually pop up around weddings and engagement parties, especially in summer. What makes it difficult is that 'cocktail attire' can range from formal brogues and a suit jacket to summer loafers and button-up shirt. It really depends on the season, the location, and how well you know the hosts. Let's start at the beginning…
What is 'cocktail attire'?
What 'cocktail' really means is: put some effort in. It's asking you to dress up and add some oomph to your outfit. That's good, because it gives you some flexibility, but challenging, because there's no definitive guide on where to start. You basically want to look elegant, stylish and simple. Keep those three words in mind and you won't go too far wrong. Think about it this way: cocktail attire is one step down from formal, but one step up from smart casual.
Different kinds of cocktail events
What makes 'cocktail attire' tricky is that it depends on the context. A cocktail work event with your boss will probably be more formal than a New Year's Eve cocktail party in the park, drinking pre-mixed sangria out of plastic cups. As a general guide, 'cocktail' means no jeans and no sneakers. You want dress chinos or suit pants, a button-up shirt or suit shirt, and probably a blazer or suit jacket. Ties are optional, but recommended, and your footwear should look sharp and polished.
You've got some latitude here, depending on the season and the setting. Heading to a summer cocktail garden party? Try some tassel or penny loafers. Swish cocktail reception in winter? You'll probably want some good quality leather dress shoes. That's Oxfords, Derbies or Monkstraps. Black Oxfords are a safe place to start, but don't be afraid to experiment with colours and broguing either. 'Cocktail attire' is really a chance to express your personality – it's way less starchy than 'formal' or 'black tie'.

A quick note on fashion sneakers. Obviously you should never wear your beaten-up trainers to a cocktail event, but if you've been invited to a low-key cocktail party, and you know the hosts well, a sharp pair of white leather sneakers under a suit can work. You just need to stick to something minimal and clean, like the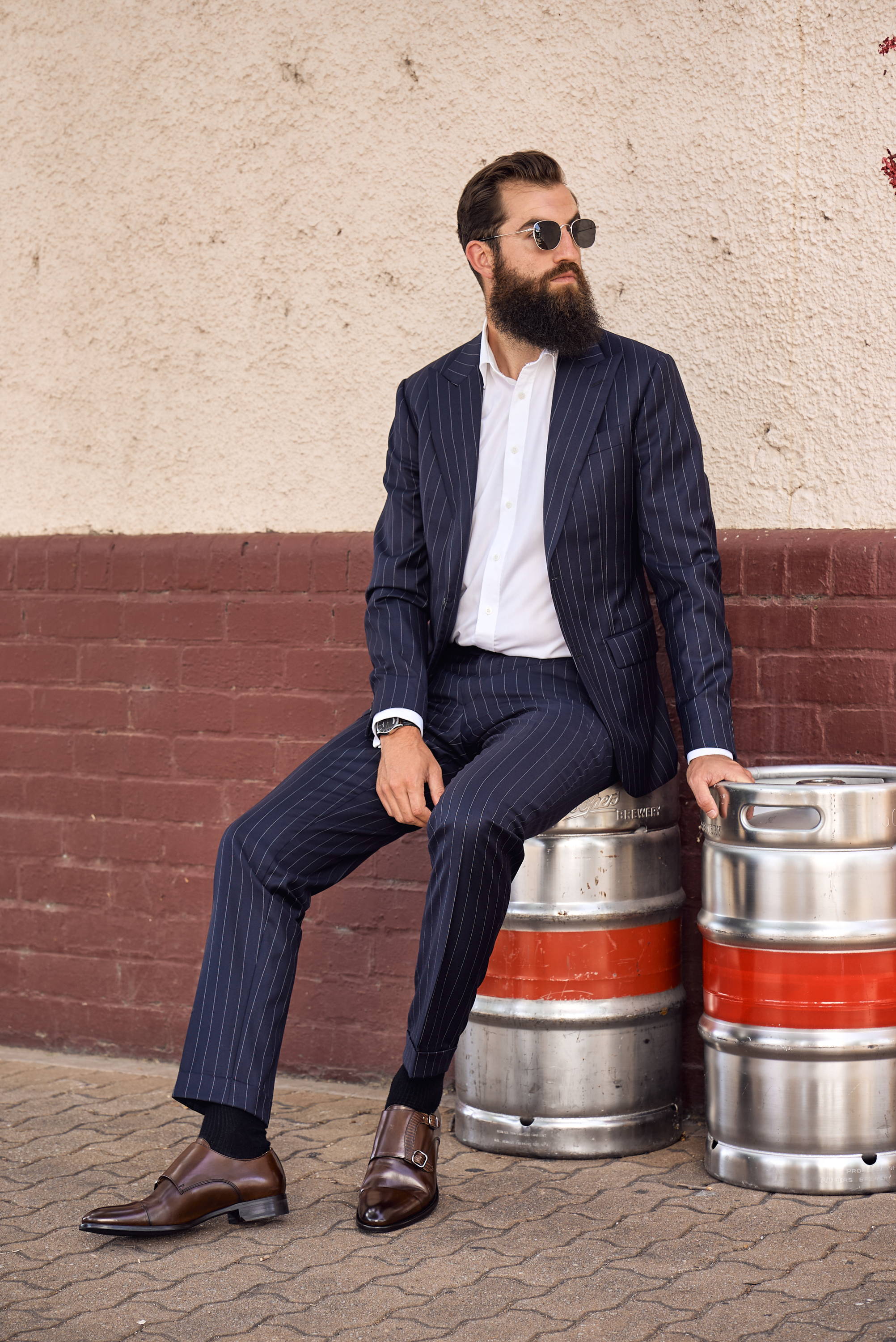 Cocktail attire accessories
You'll want a good quality leather belt for cocktail events. Maybe two, if you're getting a lot of invites. One in black and one in brown leather is a good place to start. That way you can match your shoes and other leather accessories. Give some thought to the buckle, too. A high shine silver or gold can really pop – just make sure it matches your tie pin, watch or cufflinks (if you're wearing any). Don't forget socks, either. Cocktail parties are a great excuse to lash out with some colour and personality in the sock department. Just stay away from anything too casual: that means no ankle socks, sports socks or crew socks.
---
If it says 'cocktail' on the invite, most guys will be rocking up in a suit. You could go jacket-less if it's really hot, but we'd still recommend a lightweight sports coat or linen blazer. It's a good idea to have a couple of jackets to choose from, depending on the time of the event. Cocktail parties during the day work well with light suits – sky blue, tan, khaki or ivory are all good choices. Cocktail parties at night need something darker – maybe charcoal, navy, black or oxblood. Feel free to play around with patterns, weaves, colours and textures. Wearing you 9-5 black work suit to a cocktail event is kind of a missed opportunity.
Ties are technically optional for 'cocktail attire', but it's generally a good idea to wear one. You can always take it off if the night is looking more casual (better to have one and not need it than need it and not have one). A bowtie can be a fun accessory, too. Very keeping with the whole cocktail party vibe. Try and find a matching pocket square, if you can: something tonal is fine, with a bit of pattern or texture.
---