Men's military boots (also known as combat boots) are the bigger, chunkier, heavier cousins of the Chukka boot, with roots going all the way back to Roman times. Ever since 'Doc' Martens became a British punk style icon in the 1960s and '70s, military boots have arguably been the coolest things you can put on your feet. They're also a great way to add some edge to your favourite weekend outfit, or spice up your 9-5 office suit. Versatile, durable, tough and bold. That's your basic military boot.

Military boots are pretty flexible, and they don't require too much when it comes to styling. Still, with their high ankle silhouette, complex laces and chunky soles, there are a few ground rules to follow. Here's our ultimate guide to men's military boots.
History of military boots
For most of their existence, military boots were used by (you guessed it) the military. They've traditionally been a practical, utilitarian boot, designed for hard-wearing in all sorts of battlefield conditions. Roman legionnaires wore hobnailed boots, before eventually moving to the more familiar enclosed boot we know today. British troops wore combat boots in the Napoleonic wars. The first recognizably 'modern' military boot (officially titled "Boots, Combat Service") was worn by American soldiers in World War II.

But it wasn't until Dr. Martens came along in the 1960s that military boots went from utilitarian army footwear to a punk style icon. Over the next 60 years, the design evolved, becoming slightly slimmer and more streamlined. But the 'military boot' category is a broad one. Technically it means any boot with a thick rubber sole, high ankle profile and eyelets (or speed hooks) running the full length of the upper.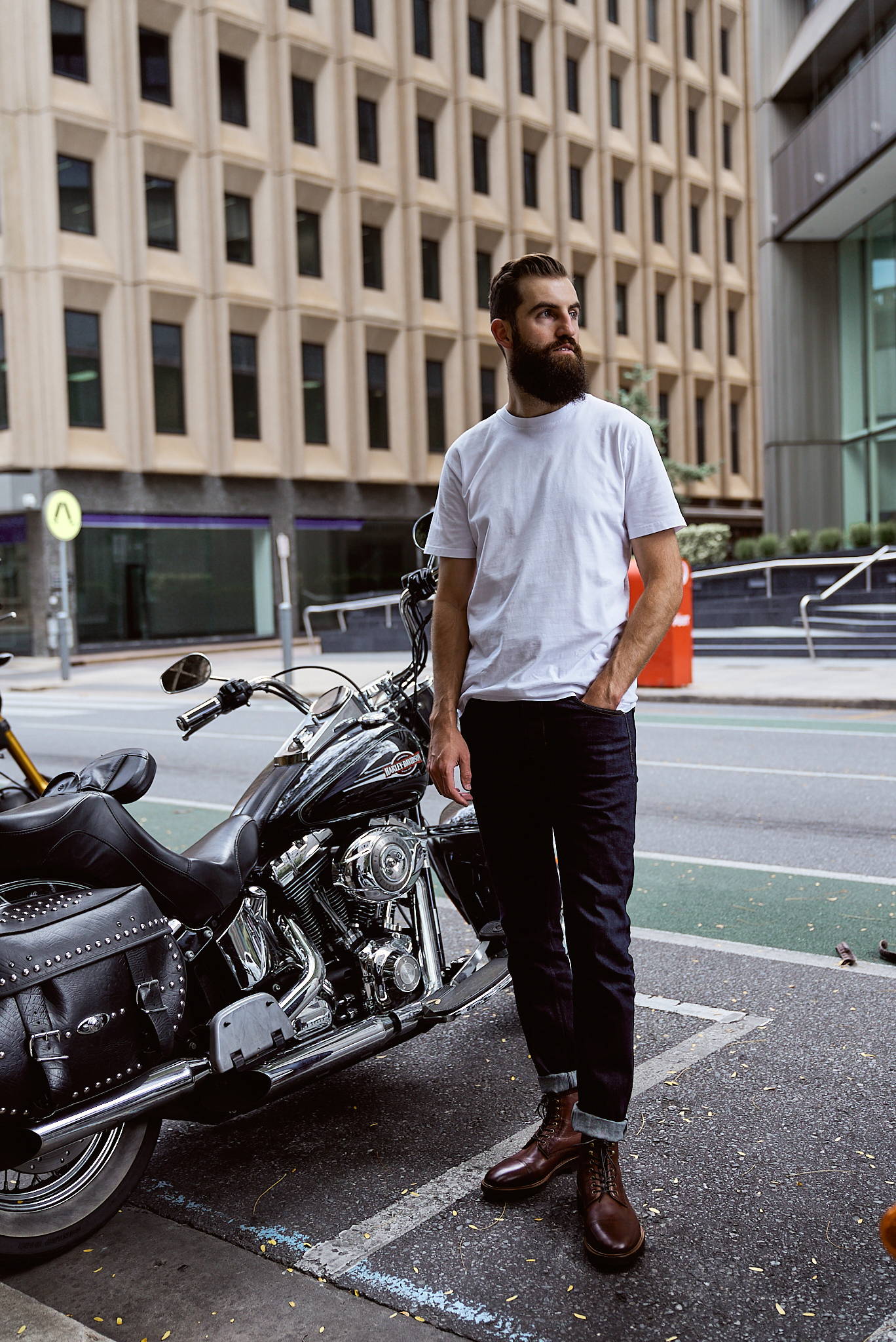 Combat boots are versatile. You can wear them with nothing more than some cuffed denim and a black crew tee. And contrary to popular opinion, you don't need to wait till mid-winter to bust out the military boots. You can even wear military boots and shorts (more on this below). Generally though, military boots do work best when you follow a few simple rules.

First, you need to show off the boot itself. That means no long, baggy jeans. Always cuff or roll your pants above the ankle. Second, lean into the edge. Military boots still have that slightly punk vibe, so the rest of your outfit needs a similar feel: think bomber jackets, trench coats, leather, ripped denim, utility pockets, or khaki anoraks. Lasty, stick to dark colours. That means no pastels. Military boots prefer blacks, greys, browns, indigo and earthy tones.
Military boots with jeans
Military boots and jeans are your basic winter go-to. They match perfectly together. You want regular or slim-fit jeans here. Not bootcut, and certainly not 'skinny'. For a sleek, minimalist look, combine some black cuffed jeans with a grey tee and black bomber jacket (extra points for contrast lining). When the weather cools down, try some double-rolled indigo jeans with military boots, a crew knit, beanie and heavy woolen overcoat. The main thing with jeans is to show off the boots. If your denim is dragging on the ground, you're doing it wrong.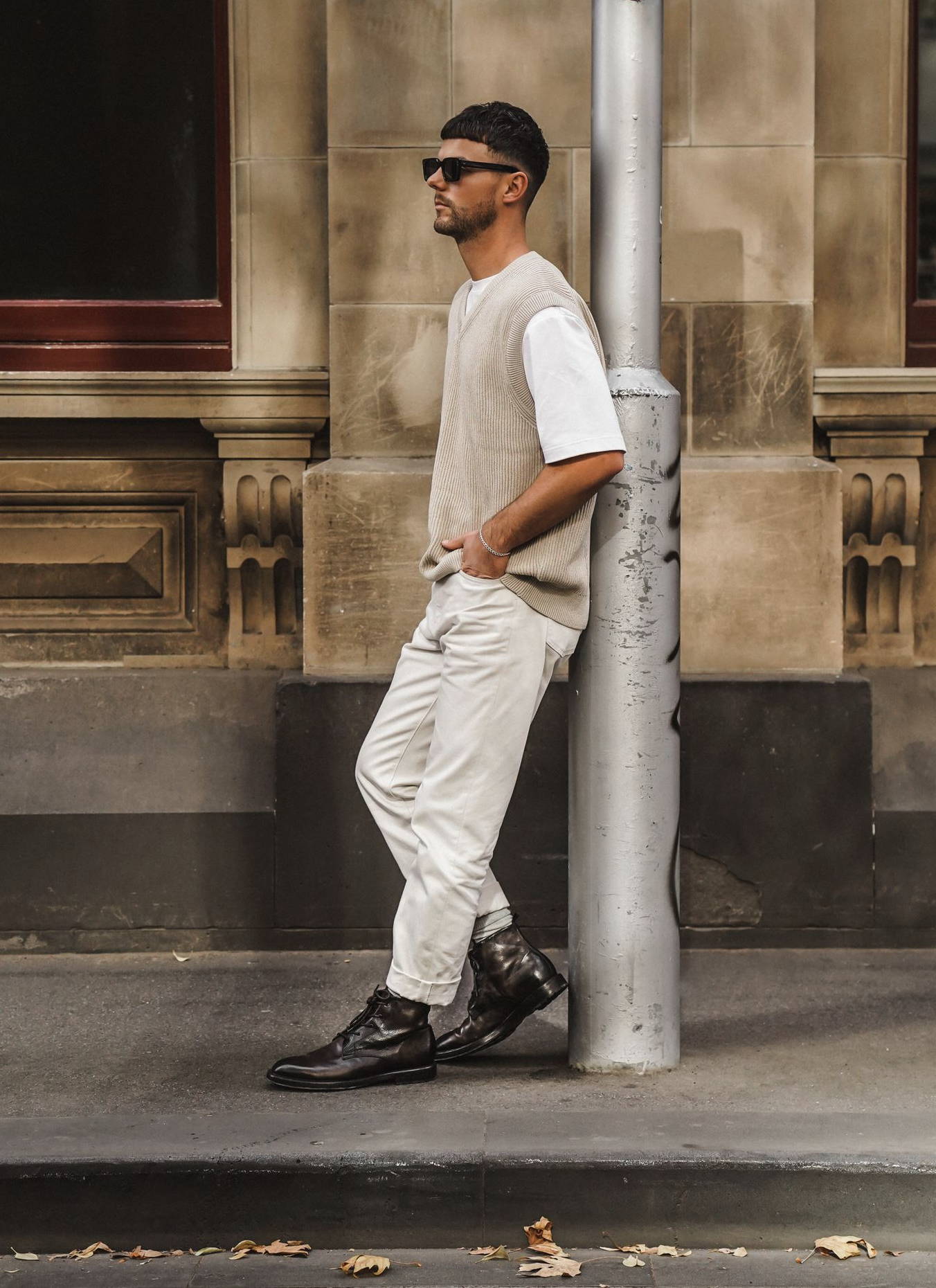 Military boots with suits
Military boots with a suit is definitely a punk move. It's a much edgier choice than Chukkas or Chelsea boots, and as such it's probably not going to work for every office (rocking up to your board meeting in a nice three-piece suit and combat boots is a bit of a weird power move). Still, there's a right way to do it. First, pick a military boot with a subtle, sleeker profile – our INGRAM boots are a good example. Next, find a suit that matches the leather colour. You want skinny, British-mod tailoring here, which means thin lapels, a thin tie, and maybe even a textured weave. A navy suit over oxblood military boots, or grey twill with tobacco boots, are both killer looks.
Military boots with shorts
Military boots can be worn with shorts, but you're really dialing up the counter-culture vibes. The trick here is to lean into the ridiculousness of giant, heavy combat boots with shorts. Go for thick, chunky styles like the MASSIMO and pair them with denim shorts or bulky utility shorts. Finish the look with a loose V-neck tee, a bomber jacket, or an oversized parka. Military boots with shorts is definitely a gamble. It requires a healthy dose of confidence to pull off correctly. But when done right, you'll definitely be turning some heads in summer. One last note on socks: thick, black woolen socks poking out the top of your military boots is an okay look here. Remember, you're going for punk.
How to lace-up military boots
If your military boots have traditional eyelets (metal shoelace holes), then you can lace your military boots as you would any other boot. Some guys like to lace their boots halfway and leave the upper flapping loose, but that's really a personal preference. We recommend lacing all the way. That'll keep your ankles looking sharp, clean and put together. Much better under a crisp double cuff. If your military boots have speed hooks (open-ended metal hooks), you'll need to practice crossing over and tying them off at the top. When it comes to lacing methods, there are literally dozens to choose from, but we like the traditional crisscross or 'over under' lacing.
How to break in military boots
Leather combat boots, with their high uppers and tight ankle position, are notorious for blisters (at least in the beginning). Not all military boots need to be broken in – a supple leather fashion boot, like the HUNTER, shouldn't give you too many problems. Still, it's good practice. To break in your military boots, don't do anything drastic (there's no need to fill them with water, or even worse, soften them with a hammer). Simply wear some thick woolen socks, and maybe some sports tape on your heel, then wear the boots as much as possible. Within a week or two, the leather will have softened, and you can remove the tape. Also, don't forget to condition and protect your military boots regularly – that'll keep the leather soft and supple.
---