When you dive into the world of men's footwear, you start to hear a lot of technical jargon. 'Sacchetto construction', 'cement construction', vamps, welts, uppers and tongues. It all gets a bit complicated. But this stuff is really important, because if you're going to invest in a good pair of leather shoes, and look after them properly, you need at least a little knowledge about how they're made – and what makes them special. We tend to care for things we appreciate and understand.

Today, we're taking a look at 'moccasin construction'. This is one of the oldest methods of shoemaking, going all the way back to the Indigenous population of North America. And there's a reason it's remained so popular through the ages. Moccasin shoes are flexible, sturdy and incredibly comfortable. They make excellent driving shoes, slip-ons and summer casual footwear.
Traditionally, moccasins are soft, flexible leather shoes, made from one piece of hide, occasionally with a vamp 'apron' stitched on top. They were worn by the Indigenous people of North America, but the style also became popular with hunters, traders and settlers in Europe. The advantage of the moccasin was that it protected the foot while at the same time allowing the wearer to 'feel' the ground. The word 'moccasin' comes from a variety of North American dialects. For the Powhatan, a Native American tribe in Virginia, for example, the word 'makasin' means shoe.

Modern moccasins are a little more sophisticated, of course. They usually feature a stitched rubber sole, for better grip and longer wear, along with detailed stitching, leather lining and a stretched vamp. The term 'moccasin' these days really refers to a certain style and make of shoe: moccasin construction. In modern footwear, 'driving shoes' and 'moccasins' are more or less the same thing.
What is moccasin construction?
The insole and quarters of the moccasin are made from a single layer section. A vamp 'apron' is stretched around and stitched to the gathered edges of the quarters, creating that iconic moccasin look. The outsole is then either stitched (usually with Blake stitching) or cemented on. There's also sometimes a rubber or leather midsole, for extra comfort.

Moccasins come in either single vamp, double vamp or triple vamp varieties. Double and triple vamps obviously make for a thicker, heavier shoe, but also provide better waterproofing. Real moccasin construction is fairly rare, as it requires some serious technical shoe-making know-how. If you find a pair of proper hand-made leather moccasins, they'll probably be the most comfortable, durable and satisfying shoes you'll ever own.
There's a reason moccasins and driving shoes have become more or less synonymous. They're incredible comfortable. Moccasins are more like foot gloves. They hug and bend with your foot, which makes them perfect for long roadtrips, international air travel, or just casual summer wear. They're lightweight too, with grippy rubber soles. A great slip-on to keep in the cupboard, and something you can wear comfortably all day long. Proper moccasin construction, if done correctly, creates an amazing flexibility to weight ratio. The only downside is that they're not particularly water-resistant, so you should keep your moccasins inside on rainy days, or in winter.
Moccasins are the casual cousin of the loafer, and you can style them in a similar way. For starters, you don't need visible socks. We recommend a pair of invisible ankle socks, to protect the leather, but otherwise you can go sockless.

When it comes to styling, think breezy, European summer road trip. Something like the CALIFORNIA can be worn with navy chino shorts and a linen shirt, or you could throw some COUNTY driving shoes underneath cuffed jeans and a sharp polo. Something like the BALFORT is a little more sophisticated, but it's still a casual shoe: try matching this one with ivory chinos, a Jacquard floral shirt and some vintage sunnies.

The main thing with driving shoes is presentation. They work best with shorts and invisible socks, or neatly cuffed chinos and jeans. Nothing too baggy or loose around the ankle. And leave them on the shoe rack in winter. Moccasins are definitely a warm weather shoe.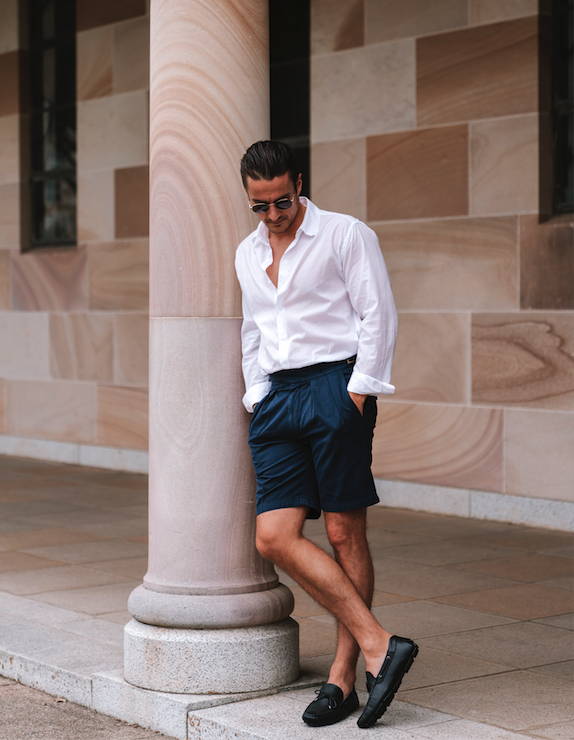 Leather, suede or Nubuck?
Moccasins are the perfect excuse to splash out with suede or Nubuck. The soft texture and laid-back style matches perfectly. Try the DAYTONA leather driving shoes with a loose crew neck and navy shorts, or the DAYTONA suede with cuffed chinos and a short-sleeve button-up shirt. Just be aware, these moccasins will need the same care and attention as any other suede or Nubuck shoe. Start with a weatherproof spray, and give them a clean after every few wears with a dedicated suede brush and suede shampoo. Try to keep them dry, too. Suede and Nubuck hate water.