Continuing the tradition of crafting fine Italian-made shoes since 1958, Aquila shoes are constructed using a number of artisanal methods, depending on the type of shoe at hand.
One we particularly love is the Sacchetto constructed shoe, used in some of our previous designs over the years.
The Process
Regular shoemaking, which you will find in a majority of lower-tier footwear companies, usually require an insole, glue and metal attachments to construct their shoes. These separate elements require rigid fixing – all of which reduce flexibility, softness and durability of the shoe.
The core detail defining Sacchetto shoes is the construction of a self-contained lining envelope. Nappa leather is preferably used for its construction as it is provides a naturally soft and supple feel, practically wrapping itself around the foot like a comfy slipper.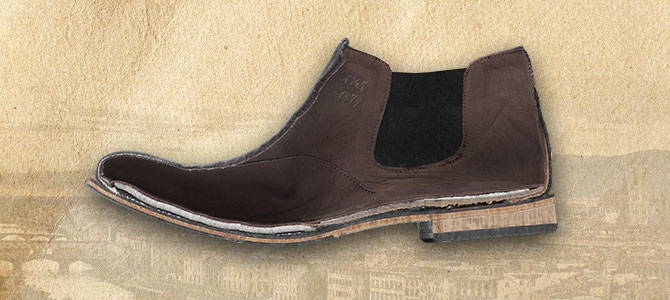 Soft layers of leather are thoroughly stretched as they're stitched together, ensuring they maintain elasticity and keep the shape of the shoe perfectly. This creates the Sacchetto lining envelope with minimal fixtures or seams. A shock-absorbing layer is then stitched – without the restriction of rigid glue – between this lining envelope and the sole.
The result is a shoe that's undeniably comfortable to wear. Hidden stitching means no irritating seams against the foot.
Light and flexible, Sacchetto shoes allow for a more natural foot movement, making them ideal for walking or wearing for long hours. Breathability is also a benefit of having no synthetic insole fabrics or glues in contact with the foot.
A core system in footwear construction for over thousands of years, the Sacchetto method can be used in a variety of shoe styles from boots to slip ons.