With everyone working from home these days, home office set-ups have become much more important. We've already run through how to create a work-friendly environment in your home, but today we're zooming in on two products people tend to neglect: desktop pads and mouse pads. These accessories aren't just for looks, although they do help your desk look smart and organised. They're also for protection. If you've invested in a good desk, or a good laptop, you don't want either one getting scratched, bumped or bruised. Desk pads and mouse pads are the answer.
Most desktop pads and mouse pads can be divided into leather, which tends to look better but comes with a premium price tag, and rubber or synthetic vynex. Rubber desktop pads are obviously cheaper, but they age very poorly and tend to stain (don't use them as a coaster; you'll pay for it down the track). A good quality leather desk pad in biscuit brown or black is not only easier to clean, but it makes your desk look neat, sharp and organised. To keep your desktop pad looking good, give it a wipe with a damp cloth every week or so, and a light leather polish every few months. Oh, and if you need a coaster, we've got matching sets over here.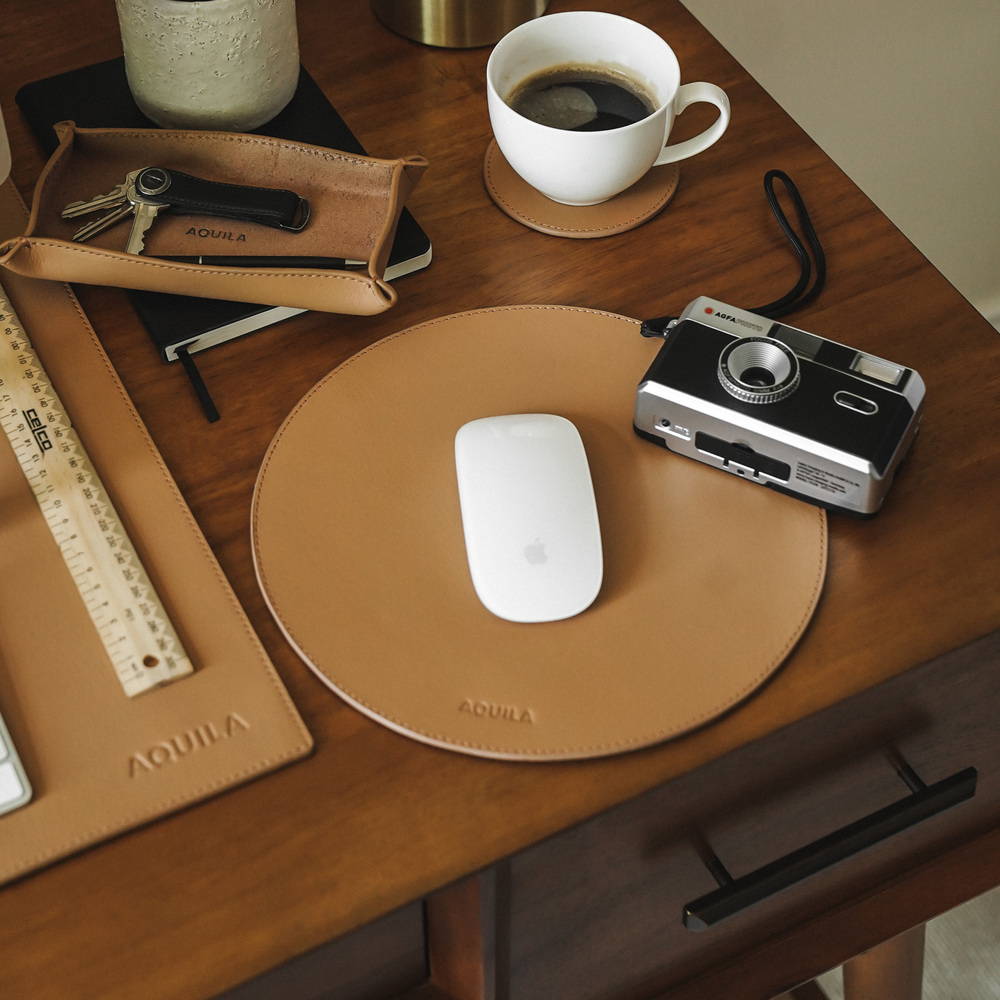 When choosing your desktop pad, give some thought to colour. Is your home office stark and neutral, or warm and cozy? Is your desk made from wood, or glass and steel? Brown leather tends to look better with blond, warm timber, while black leather makes a sharp statement on more contemporary desks. Mostly this is down to personal preference. There's no right and wrong answer. Also, do some rough measurements to make sure the desk pad fits your work space. It shouldn't really cover more than 30 per cent of the desk, and you obviously need room around the pad for a mouse, coaster, lamp and other accessories.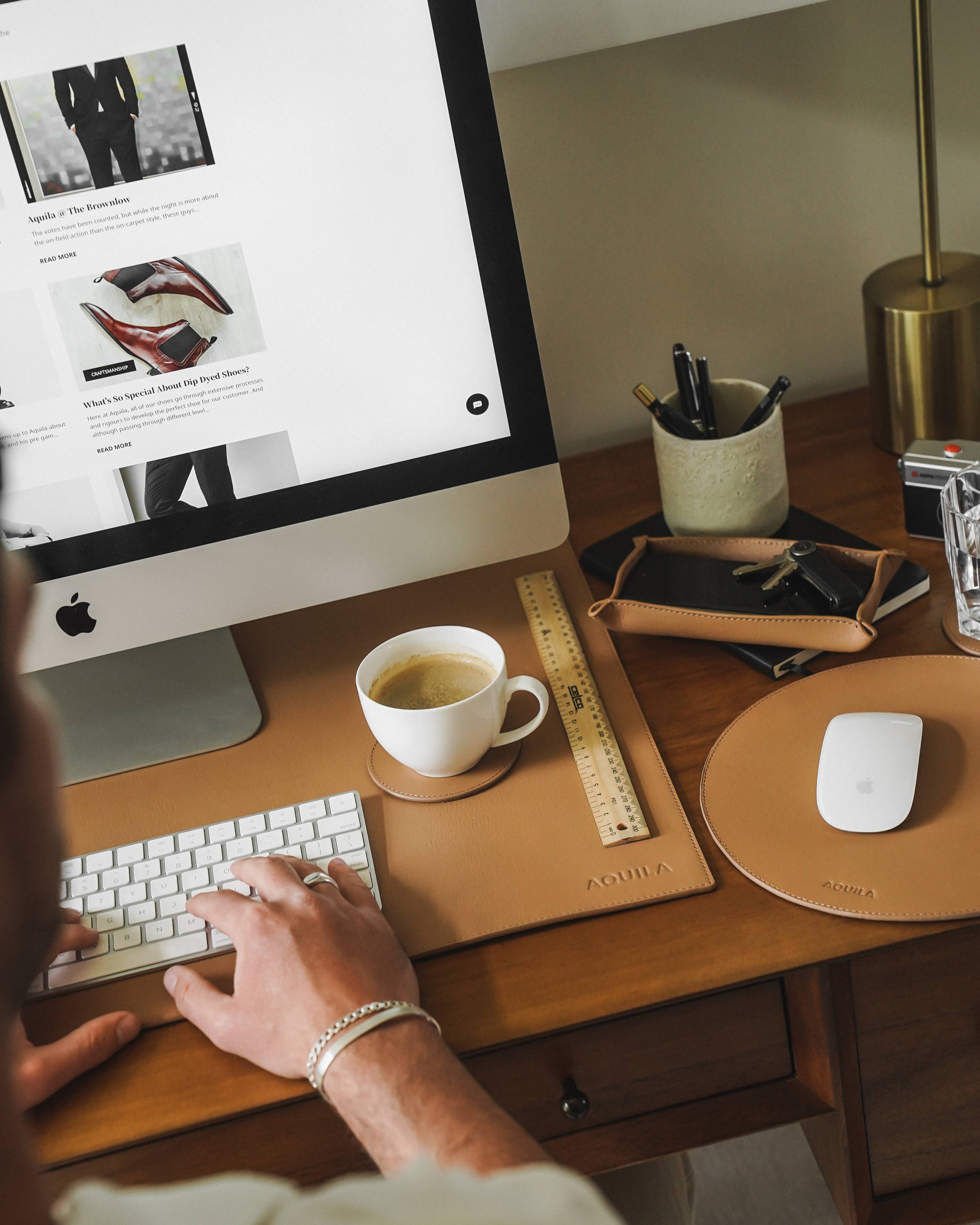 ---
Once you've nailed your leather desk pad, you need a mouse pad to match. The obvious trick here is to pick a mouse pad in the same colour and material as your desktop pad. Brown goes with brown, black with black. Mouse pads are important because rubbing a mouse over your desk surface is bad for the desk and the mouse. You'll build up scratches on the surface, and if your desk is made of wood, repetitive rubbing will eventually wear down the finish. We've got leather mouse pads in biscuit brown and tumbled black leather, to match our premium desk pads.
Again, this comes down to personal preference. Some people find they work better with chaotic, overflowing desks. Others prefer clean lines and lots of negative space. (The research is mixed, but results seem to indicate cluttered desk people are less productive but more creative.) If you're going to invest in a quality leather desktop pad and mouse pad, it's worth at least giving your desk a spruce beforehand. Tidy any loose papers away in a filing cabinet or vertical folder. Give the desk itself a quick wipe down to remove any particles and stains. Invest in a good lamp to improve visibility and reduce eye strain. A little greenery can also bring some life to a drab desk – house plants have been shown to improve air quality and make you more productive.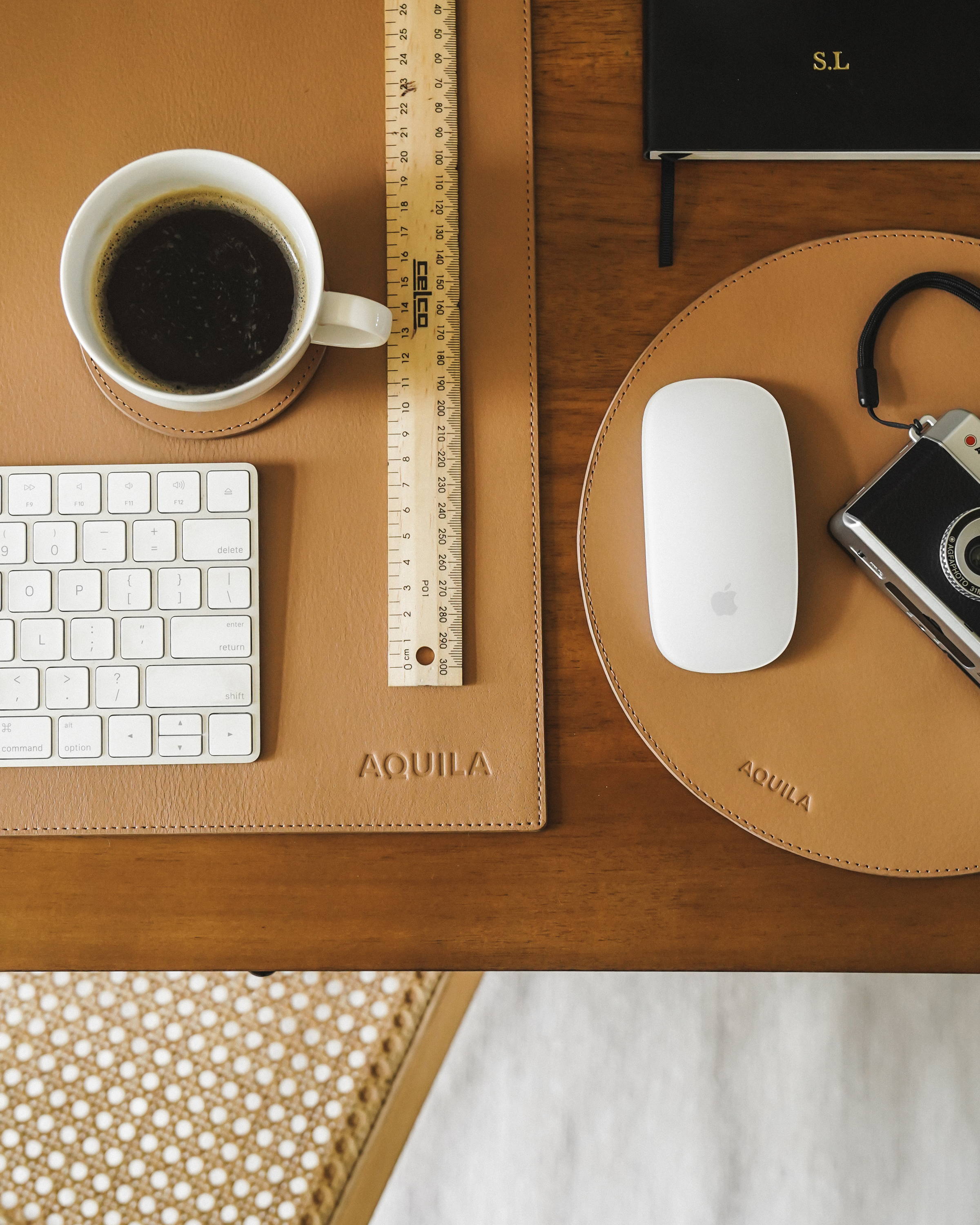 Cleaning leather desk accessories
Leather desktop pads and mouse pads are simple to clean, and should stain less over time than cheaper, synthetic alternatives. Simply give them a wipe down with a damp cloth every week or so, and a light leather polish every few months. The big thing you want to avoid are drink rings, so definitely invest in some coasters for your desktop (once a drink ring settles into leather, there's not much you can do to buff it out). Mouse pads will probably require more frequent cleaning than desk pads: the sweat from your hand and particles from the pad surface build up over time. Make sure you clean your mouse and the pad regularly. It'll prolong the life of both.