Good on you! You've landed on this page, and unless you are very lost, you are ready to polish up a pair of leather shoes. It's one of those tasks that always gets pushed to the bottom of the to-do list, but we promise your shoes will thank you for the extra TLC.
Now we are here to make the process easy, efficient, and effective - with 5 simple steps to polish your shoes.
STEP ZERO - Make sure the shoe you want to spruce up is polished leather! Suede, nubuck, patent or velvet shoes will not fair will with this sort of cleaning regime. If you are looking to clean your sneakers - head over here for our Sneaker Cleaning guide.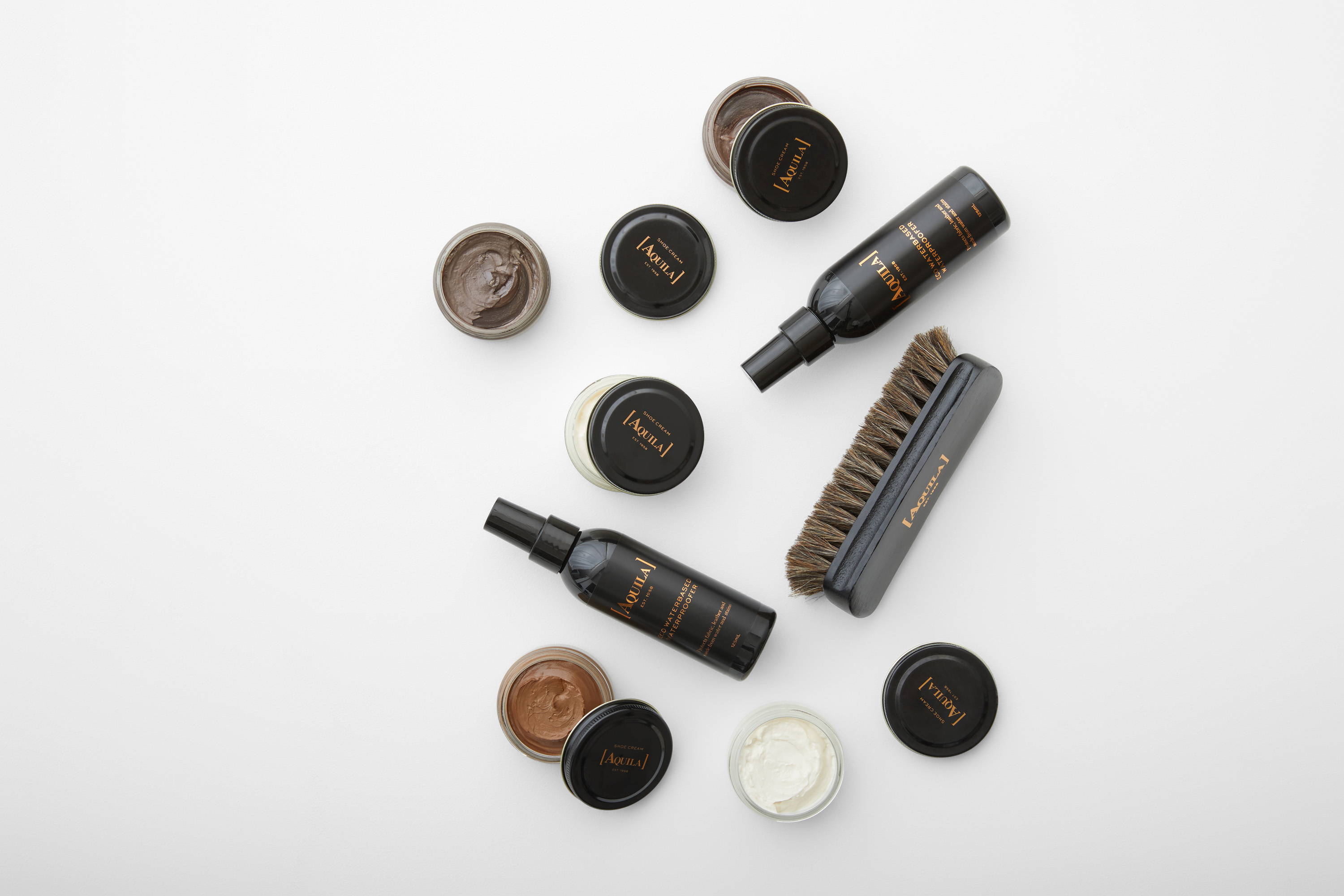 You only need a few little things to take you from shoe shining novice to total pro. A great brush will serve two functions: it will brush away dirt and dust prior to polishing, then will also to buff the polish at the end. A soft cloth is essential - always keep a clean one handy. Shoe trees are another must have to keep shoes looking their best between wears. When it comes to polish, match the colour polish to the leather of the shoe. If there isn't a colour to match, the Neutral polish will do the job.
1) Insert shoe trees and remove laces (if they have them). This means any creases and crevices in the vamp are smoothed out, so you get polish on every bit of the shoe.
2) With a clean brush give the shoes a quick brush down to remove any dirt. Use an old toothbrush to brush down the welts of the shoe (the bit of the shoe where the sole and upper leather join), in particular around the toe where dirt builds up.
3) Remove any other marks with a damp cloth. Make sure the shoes are completely dry before moving to the next step!
4) With a clean, dry cloth, apply the cream based polish over the entire shoe. Make sure you apply the polish evenly across the entire shoe, particularly focusing on the toe and heel where the shoe is reinforced. These parts can do with a bit of of extra elbow-grease. Leave your shoes in a cool place to dry before moving ahead.
5) Use the 100% horsehair brush to give the shoes a buff - this brushes off any excess polish and gives the shoes a shiny finish.
How long is a piece of string, you ask. We say it's pretty simple, when your shoes start looking dull, it is time for a polish. We suggest a good brush every couple of wears to keep dirt and dust at bay, and to put shoe trees into shoes after wear to keep their shape. When the shoes start looking a little tired, it's time to show them some love!