Sneakers are more than just a trend gents, they are well and truly here to stay. What's not to love - they are versatile, practical and comfortable. However, it's also safe to say that in the face of a sneaker disaster (think spilt beverages, stepping in puddles etc.) many will crumble in the face of adversity resulting in a forgotten, dirty pair of sneakers.
Gone are the days where walking around with filthy sneakers is socially acceptable; modern times demand modern measures. Caring for sneakers, albeit a chore for some, is now a necessity - nay - a science.
We have put together an easy list of cleaning guidelines to looking after your sneakers and keeping them in good nick for longer. Keep 'em fresh, fellas.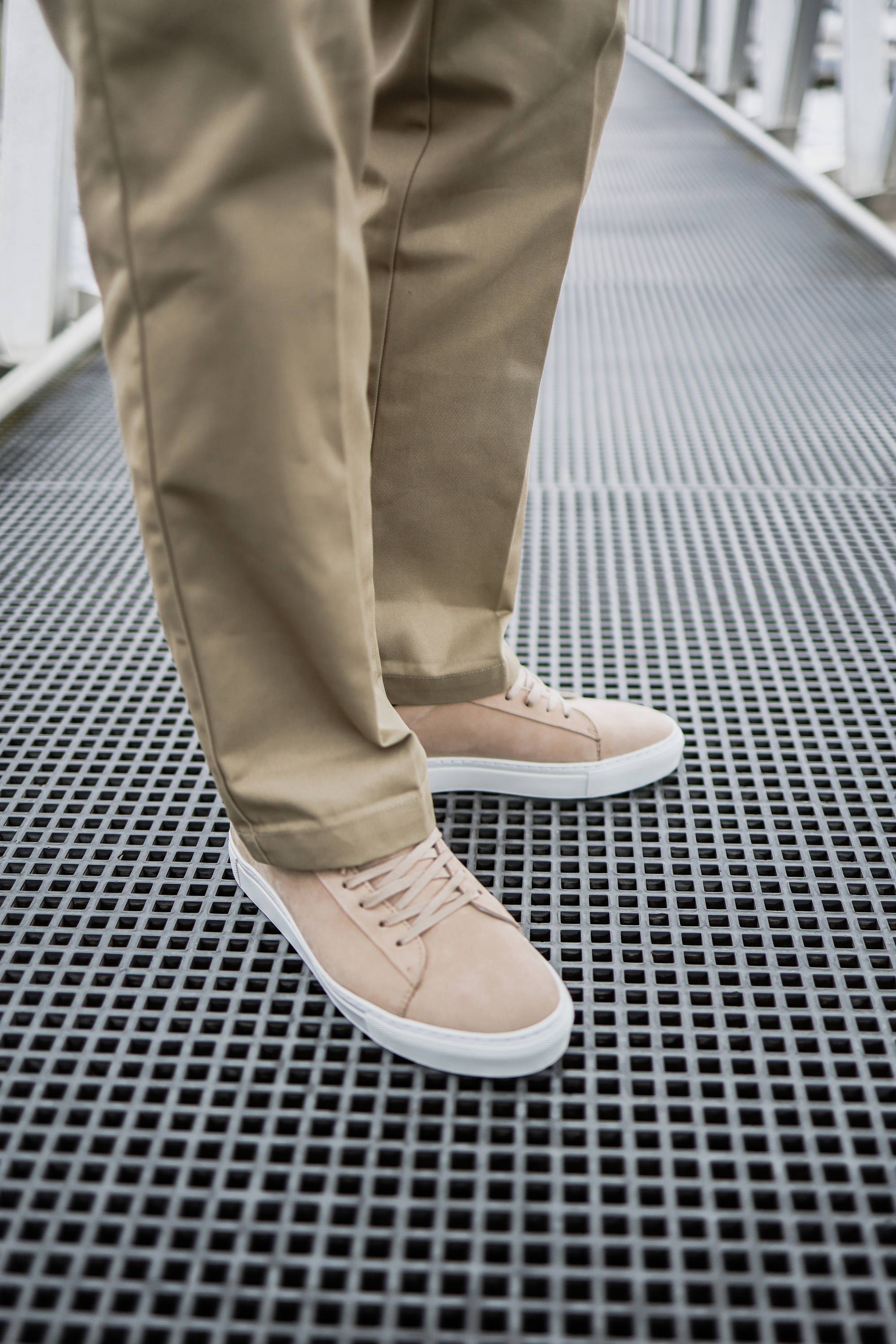 Through daily wear, your sneakers are bound to pick up dirt and grime that could, in the long run, help to deteriorate your sneakers and their soles.
Knock the soles together to rid any dirt and dust and use our sneaker restorer to get rid of any marks.
One of the most important processes, deep cleaning your sneakers every 2-3 months is a must (or whenever you deem appropriate i.e. after that muddy music festival). Invest in a great set of cleaning tools, like a shoe brush, waterproofer spray and neutral polish cream. We can't stress how important it is to actually take the time and use the care products to maintain your sneakers for their longevity.
To start, remove any excess dirt using a soft cloth to clean the top and outsole of your shoe. Next, cover the entire sneaker with a generous amount of neutral polish, and use your soft-bristled brush to apply the cream liberally. Polish the sneaker in a clockwise motion until all the cream is worked into the sneaker.
To finish, take a clean cloth, and polish your sneaker until shiny, wiping off any excess cream. Leave for 10 - 15 minutes to dry.
Through wear, the laces of your sneakers will get extremely dirty and in turn, take away from the overall appearance of your sneakers. Restore their appearance by replacing the laces; a cost-effective way of keeping your sneakers looking vibrant and lively.
After following the above steps, finish the sneaker cleaning process by applying a stain and water repellent that will keep your sneakers on-point for longer.
It's important to not just keep your sneakers (or shoes) lying around the house with no home or purpose. A great idea is to invest in dust bags for your shoes. Keep the dust and dirt off them, and away from direct sunlight. For those who wear their sneakers without socks, keep tumble dryer fabric sheets inside your shoes to draw out the moisture and deodorise them – you'll thank us later.
Sneakers are at the forefront of the 'street-style' movement. But more than that, they are becoming an everyday staple for work and play. With the ability to be paired up or down, the styling opportunities are endless.