In some ways, it's easier to dress your feet in winter. It's cold and raining and everyone's wearing jeans. You can throw on some military boots, or Chelseas, or leather Chukkas, and pretty much stomp around for three months. But summer is a little trickier. One day you'll be down at the beach, then at a garden cocktail party, then Christmas lunch, then (if you're very lucky) on a yacht sipping fruity drinks with little umbrellas in them. Your feet need to be ready for anything, and it's way too hot for most men's boots.
So we thought we'd throw together this guide to men's summer shoes. Every shoe you could ever need for your sunny, summer wardrobe. Thongs not included.
Just to be clear, we're talking garden events, not shoes for gardening (if you're here looking for gardening shoes, we humbly suggest rubber Crocs). Summer is the season for garden parties, engagement parties and al fresco events, so your feet need to be ready. There are a few ways you can go here: loafers, Derbies or monk straps. Full-on Oxfords and Brogues are a bit too formal and starchy for a summer garden party. Try casual suede Derbies instead (like the ROWAN) or some sockless FERNANDO penny loafers. Brandy monks straps, like the DEFOE, are also a good bet. When it comes to the outfit, simply chuck on some tan or navy dress chinos (neatly cuffed), a good leather belt, jacquard floral shirt and a light blazer. You'll be making awkward small talk in no time.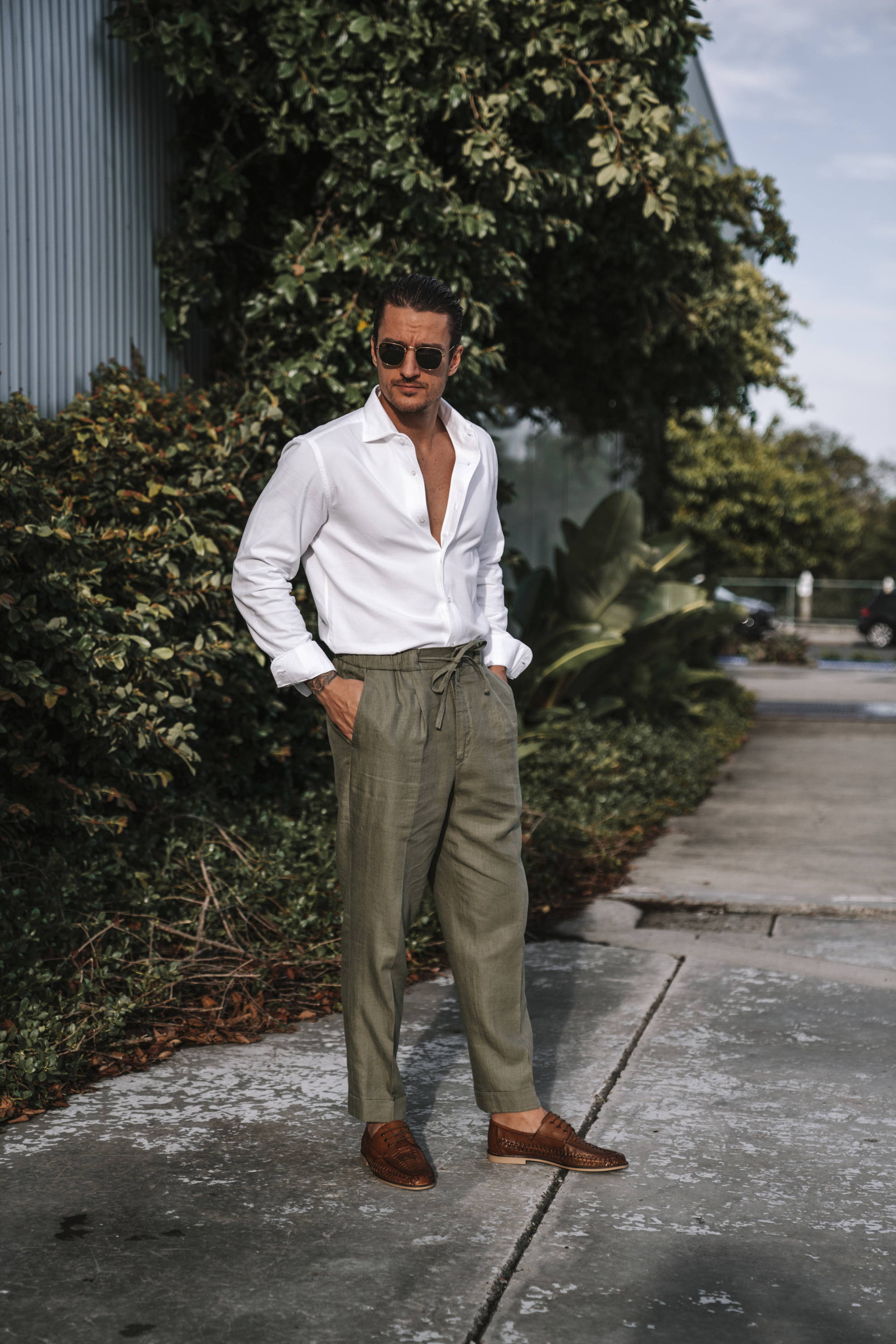 There's nothing wrong with thongs for the beach, but sometimes you want beach followed by something else. The pub, a nice restaurant, a beer garden, an evening event. Thongs aren't going to cut it for most of those. You need something a bit more substantial. Espadrilles are one of our favourite summer beach shoes (they can also work great for picnics, longs drives and casual events). You could also invest in a pair of luxury sandals. Something like the JOHAN will obviously work at the beach, or sitting by the pool, but with cotton shorts and a white linen shirt, you could also wear them to a backyard barbecue. Remember: men's summer shoes are all about versatility. You don't want to carry three pairs in your car every time you head outside.
---
Also known as sailor shoes, deck shoes or topsiders, boat shoes have been a popular summer shoe since at least the 1930s. Part of their appeal is comfort (you can slip them on and off, and you don't need to worry about socks). But they've also got a rubber sole for extra grip, and they look good with chinos, linen shorts, or even cuffed jeans. If you're going to be anywhere near a boat this summer, or just spending a lot of time around docks/marinas/shipping yards, it's a good idea to invest in a pair of boat shoes. Navy leather is traditional, and very versatile, but don't be afraid to mix it up with suede boat shoes in forest green. When it comes to styling, think light. You want to look like you just walked off a yacht. Some navy cotton shorts, an open linen shirt and some vintage Ray Bans are all you need.
Men's Christmas shoes will depend on your family, and the general Christmas dress code. Some families are happy for everyone to rock up in thongs and t-shirts. Others want something slightly more formal. It's unlikely your own family would kick you out of Christmas for wearing the wrong shoes, but still, it pays to be prepared. For Christmas lunch, we reckon comfort is the way to go. You're already going to have turkey sweats and roast potato cramps, so keep your feet happy with woven casual shoes (like the TREY) or some sharp sneakers (like the SMITH). Your outfit should be light, summery and fun. Look for statement short sleeve shirts, floral patterns, pops of colour and loose cotton shorts. Anything that looks good under a paper cracker hat.
Picnics are going to be popular again this summer, and there's a bunch of casual shoes to choose from. Personally, we like slip-on shoes for picnics. You don't have to go the full leather penny loafer (that might look a bit too formal), but some casual slip-ons like the APEX, TREY or ROWAN are all perfect. You want something you can slide on and off, so you can feel the grass between your toes. Men's sneakers are also a safe play, as are espadrilles and boat shoes. Just avoid anything too formal or too bulky. Lace-ups like Derby shoes aren't really made for sitting cross-legged on a picnic rug. You want comfort first, with a pinch of style.
Driving shoes were originally made to grip the pedals of vintage Italian roadsters. Today, they're sort of the sporty cousin of the loafer. Their comfy, sockless fit and textured rubber soles make them perfect for long road trips, but you can actually wear them to all sorts of summer events. Garden parties, picnics, Christmas lunch, the beer garden, backyard barbecues. Just remember the rules of loafers: no socks (unless they're invisible ones) and light, summery layers on top. Some tan chino shorts and a button-up shirt, or maybe the cuffed chinos, casual shirt and linen blazer combo.
---