There's a reason open-toed men's shoes never really went mainstream. Men's toes aren't very attractive (not yours, yours are stunning; it's a general observation). But sandals are the one time when you can flash some naked toe down there and society doesn't mind.

Still, men's sandals and fashion sandals do come with their own set of rules. Can you wear them with socks? Where can you wear them? How many pairs do you need? Today we're going to break down some sandal do's and don'ts, so you can walk through summer looking like a movie star, not an elderly European tourist.
Sandals come in two speeds: synthetic rubber and leather (we also make some killer suede sandals, but we'll cover them in more detail below). Synthetic sandals covers thongs and pool slides, and they're generally more utilitarian. You wear them to the beach, or down to the shops, or messing about in the garden. Men's leather sandals are a bit more formal, more stylish. You can layer these underneath jeans, shorts or even cuffed chinos. Basically a sandal is anything open-toed. If you can see your big toe, you're wearing a men's sandal. 'Slip on' shoes is a bigger family, and we've covered them in more detail over here.
When should you wear sandals?
Summer is the obvious answer, and generally during the day. Sandals after dark quickly lose their cool factor. You can wear synthetic rubber sandals to the beach, or a backyard barbecue, or running down the shops. Men's leather sandals have a bit more flexibility. They make a great everyday summer shoe, but you can also wear these to an outdoor cocktail party (just layer underneath cuffed chinos and a linen shirt) or a summer winery session (try cotton shorts, a button-up shirt and vintage sunnies). There are a few boundaries here. You shouldn't wear sandals to anything marked 'formal', 'semi formal' or 'cocktail' on the invitation, and some venues will have dress codes around open-toed shoes. Best to check in advance.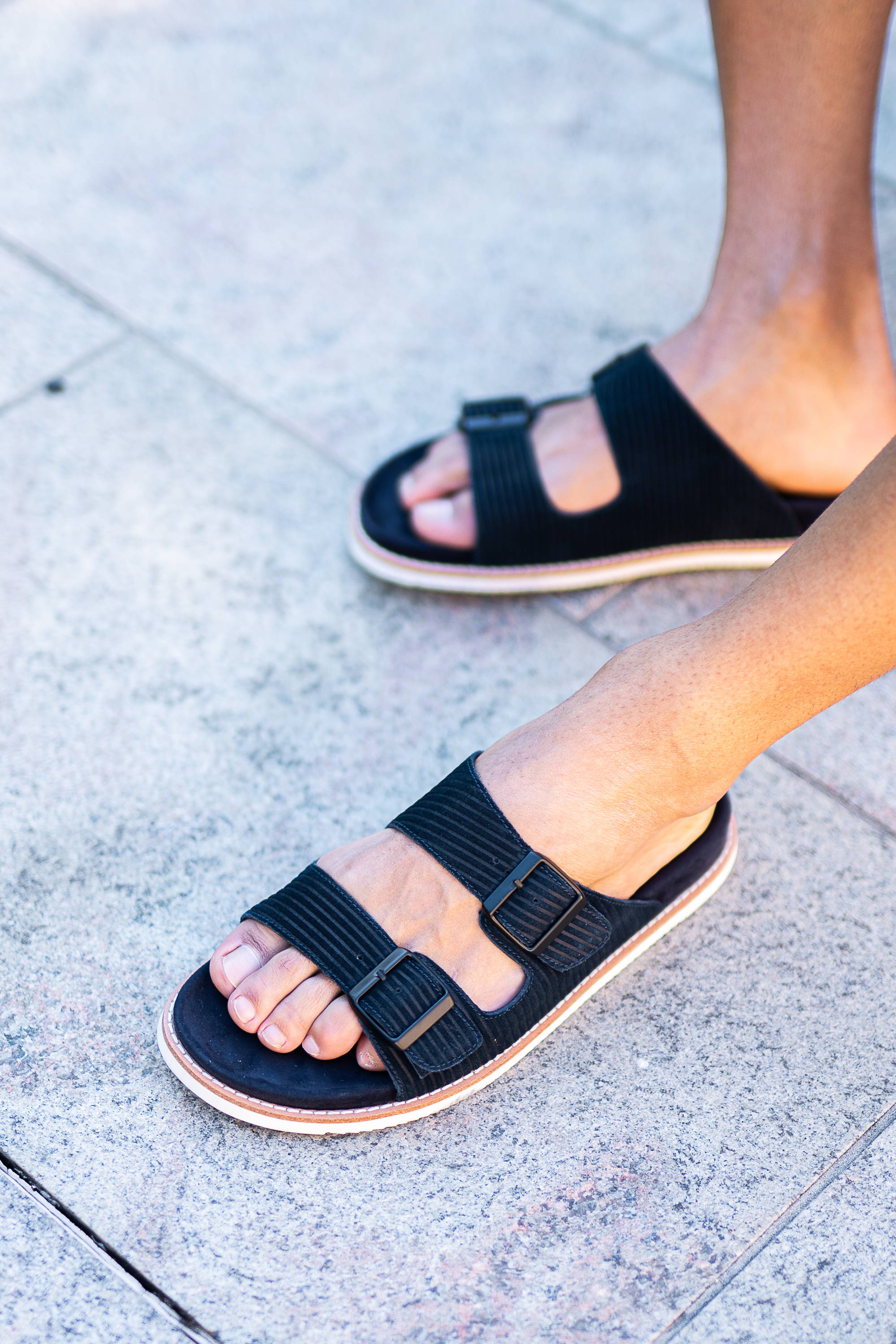 Okay, yes, socks and sandals are having a moment right now, but this is still high-risk fashion. We wouldn't advise socks and sandals unless you're travelling around with a professional stylist. And even then, it's iffy. If you insist on pairing socks and sandals, you generally want a contrast crew sock or mid-calf sock underneath some synthetic slides. It's a modern look which says, 'I'm rebellious and anti-fashion and I don't care what you think'. Leather sandals and socks should never be seen together. Don't even go there.
Slides are a type of men's sandal, characterized by one large band that wraps over the top of your foot. You can slide them on and off, hence the name. You can get rubber slides, like the ACE, or leather slides, like the PLAYA. Rubber slides are obviously less formal, and they're a great shoe for the pool, gym showers, beaches and parks. Leather slides should never go into the water. They're more of a smart-casual sandal – good for barbecues, outdoor parties, picnics and alfresco summer sessions.
Strap sandals usually have two sections of upper, rather than one, and you can fasten and tighten them with buckles. Sometimes they'll also have a section that wraps around the back of your heel. Most leather sandals are done in this style. Strap sandals give off a more fashionable, European kind of vibe. Something like the JOHAN, with its suede upper and rubber sole, can be worn with cotton shorts and a linen shirt, or just jeans and a crew-neck tee. If we had to recommend one men's sandal for summer, that'll see you through pretty much every social situation, this would be it.
A quick note on thongs (AKA flip flops). These are what most guys think of when they think 'sandals', but thongs are really more of a functional shoe. You should wear them to the beach, or the pool, or the change room showers, but that's about it. Thongs don't really elevate your outfit, in fact they tend to do the opposite. They also generally have very poor arch support, so your feet aren't getting the help they need. Walking long distances in thongs, or wearing them as your day-to-day walking shoe, isn't really a good idea. Save them for times when you don't want to damage your fancy leather slides.