So you're attending a boat party. First, congratulations, either on owning your own boat or knowing someone who does. Friends with boats are the best kind of friends. But now the big question: what to wear? Boat parties and yacht parties aren't always on boats, although they can be. It's really an umbrella term for any vaguely nautical summer event. And there's no one kind of boat party outfit, either. It depends on context and the formality of the occasion.

We're going to run through some of the common boat parties, and what you should wear to each. And yes, if you don't own a pair of boat shoes, that's a good place to start.
Casual boat parties are the easiest to dress for, because 'casual' almost means 'wear whatever you want'. The word 'almost' is an important qualifier there. We probably wouldn't recommend showing up to a yacht party, even a casual one, in board shorts, old thongs and a singlet. You want to put a bit of effort in. A pair of leather boat shoes (also known as deck shoes or top-siders), navy sandals or pool slides are perfect for this kind of event. Just remember to skip the socks and layer up with some chino shorts, a well-fitted white crew-neck tee, and maybe an open linen shirt. Throw on some vintage sunnies are you're done.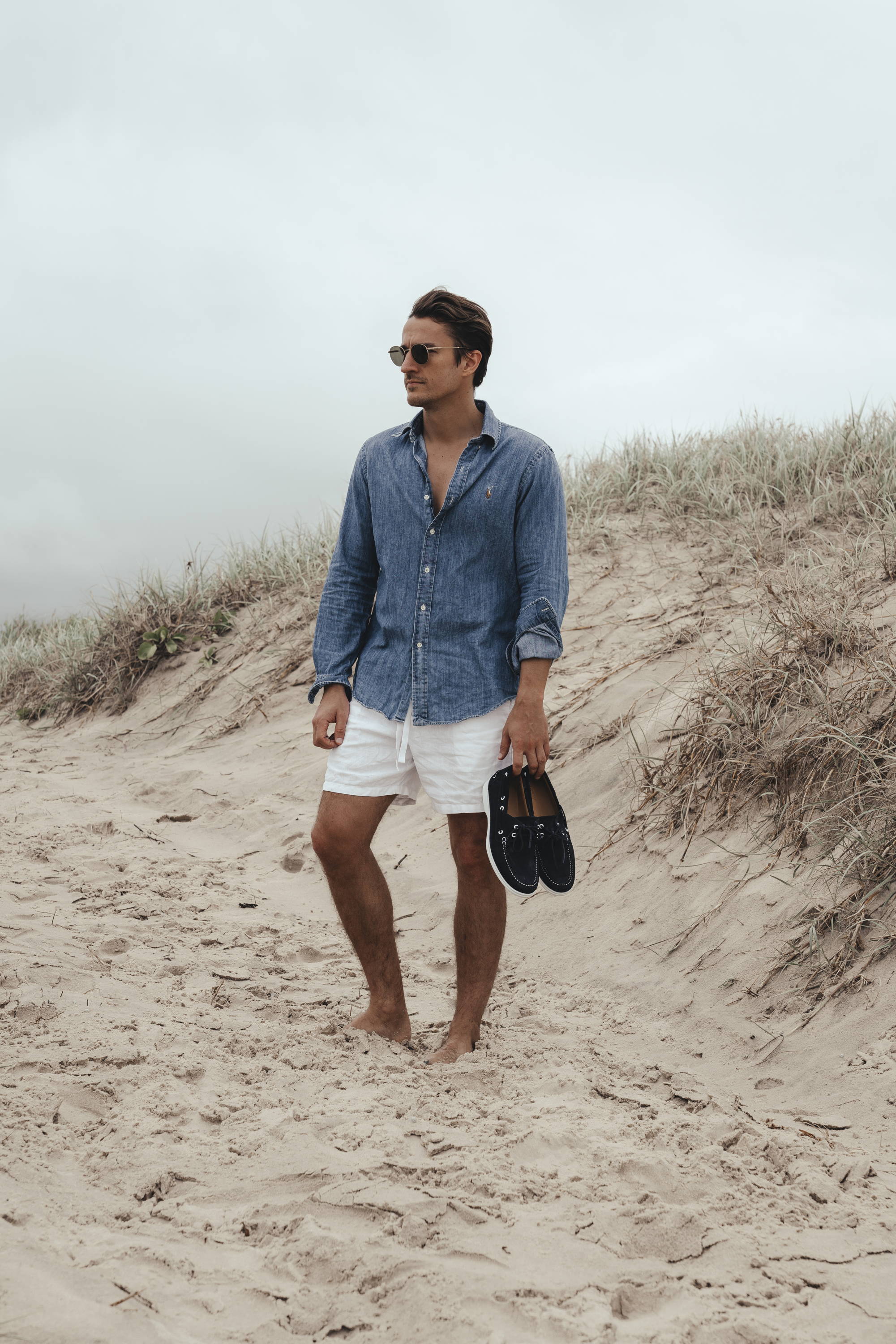 Smart casual boat parties
We've already written a handy Smart Casual Guide over here, and summer boat parties will follow the same basic rules. You just need to dress for the weather and the setting. If it's a slightly cooler day, try some tan slacks with a leather belt, button-up shirt, knit blazer and loafers. For breezy summer afternoons, boat shoes are still your go-to footwear style. Just elevate things slightly with cuffed chinos, invisible socks and a tucked long-sleeve shirt. As Mr Porter says, 'smart casual' really means "pretty much anything smarter than a tracksuit, but less formal than a suit", so it's hard to go too far wrong here.
For formal boat parties, we need to wave goodbye to our friend, the humble boat shoe. You want something a bit fancier than top-siders here. In summer, penny loafers or tassel loafers are going to be your best friends – they still count as formal, but they're also breezy, light and sharp. For winter boat parties, a pair of leather derbies or monk straps are an excellent choice (Oxfords can work too, they're just a bit more corporate and starchy). Either way, you should finish the look with a sharp suit and tie ('formal' usually means tie). Don't forget a pocket square for a pop of tonal colour.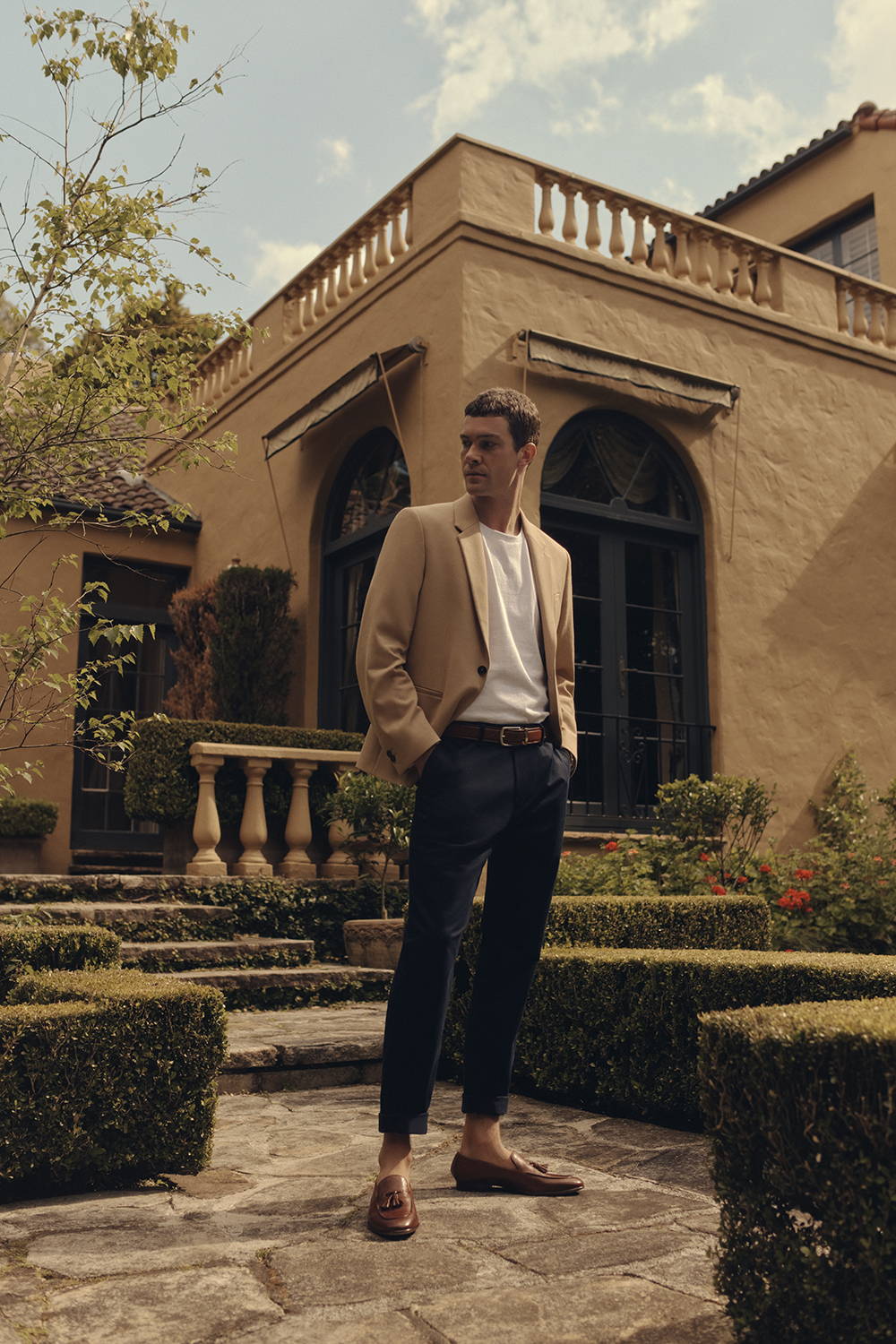 Finally, we come to the fanciest boat parties: the black tie events. These are the sort of boat parties James Bond attends, and they'll probably be held at a seaside ballroom or hotel casino (or on the super yacht of an evil super villain, if you're lucky). If you didn't know already, 'black tie' means tuxedo. Not necessary a black tuxedo anymore – midnight blue or Oxblood velvet tux jackets are definitely a trendy option – but a tuxedo nonetheless. For these boat parties, you usually want patent leather dress shoes, which means high-shine Oxfords, Derbies or penny loafers. Match them with a crisp tux, a white tuxedo shirt, and some gold or silver cufflinks. Less is more when it comes to black tie.
Even for casual boat parties, it's always a good idea to consider accessories. They can really make or break your outfit. At the very least, you should invest in a good quality men's leather belt (black or brown, depending on your shoes), some vintage sunglasses, and invisible ankle socks. These socks are necessary for boat shoes and loafers. The only exception to this rule is black tie penny loafers, which can be worn with simple black business socks (showing bare ankle at a black tie event is a little weird).