Ten years ago, if you'd asked us whether you could wear a backpack with a suit, we'd have said: absolutely not. But men's fashion has changed over the last decade, and backpacks have grown up. They're no longer just for high school kids or weekend road trips. Backpacks, at least stylish leather backpacks, have been folded into business and corporate wear, which totally changes the game. A backpack and a suit is no longer weird. If anything, it's trendy.

Let's run through some backpacks for adults. When should you wear them? When shouldn't you wear them? And what is a 'corporate backpack' anyway?
Backpacks go all the way back to the 1930s, when they were the default outdoor adventure satchel. That's still the case for a lot of canvas backpacks. But sometime in the last 10 years or so, fashion labels jumped on the backpack trend, ushering in a new wave of premium leather backpacks, which were equal parts functional bag and style accessory.

The advantages of the men's backpack are obvious. Lots of space, dedicated pockets and, of course, a hands-free commute. In terms of fanciness, backpacks sit somewhere between a gym bag and a briefcase. You can wear them outdoors, while travelling, or on the train to your corporate 9-5 job. They've become one of the staple men's work bags.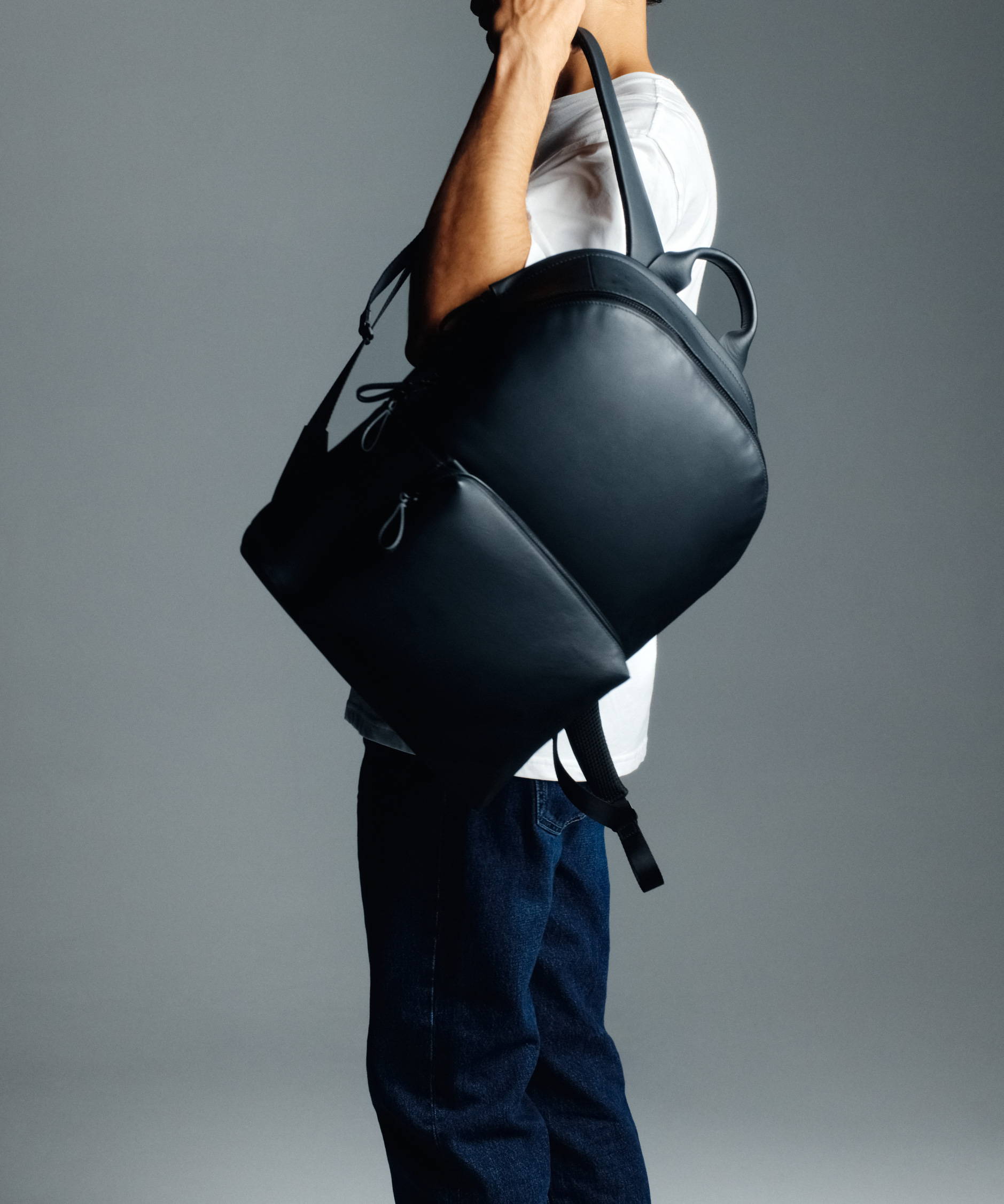 What is a corporate backpack?
You can't wear any old backpack with a suit. Nothing cheapens a nice woolen suit like a beaten-up canvas backpack. Instead, think structured, hand-crafted leather in either brown or black (we personally favour black for the office, but a brown leather backpack looks great with a navy, grey or khaki suit). Corporate backpacks will usually have a dedicated padded laptop sleeve too, for obvious reasons. In terms of size, the modern trend is to err slightly smaller. Giant backpacks are for camping; for work, you want something around 30cm wide, 40-50cm high and 20cm deep.
Different backpack shapes
Men's backpacks come in tonnes of different shapes, but there are two big ones you should be aware of. The first is slightly less structured, with a rounded top and flat square base. Our MONTORO backpack, made from tumbled Brazilian leather, is a good example. The second shape is younger and more contemporary, with a more upright, rectangular body. If you like that sharper commuter style, check out something like the CASSIAN. There are no right and wrong choices here. It's whatever you find most comfortable.
Places you shouldn't wear a backpack
These days, men's backpacks are welcome almost anywhere, but you should still keep the occasion in mind. For formal, cocktail and black tie events, you generally shouldn't bring a bag. And that includes a backpack. Instead, find a good leather wallet and a suit jacket with some internal pockets. Bring only the things you really need. A premium leather backpack is also not a great choice for the beach, where the leather could get easily damaged. Think of corporate backpacks the same way you think of briefcases or leather satchels. They're an investment, and they look best when you take care of them.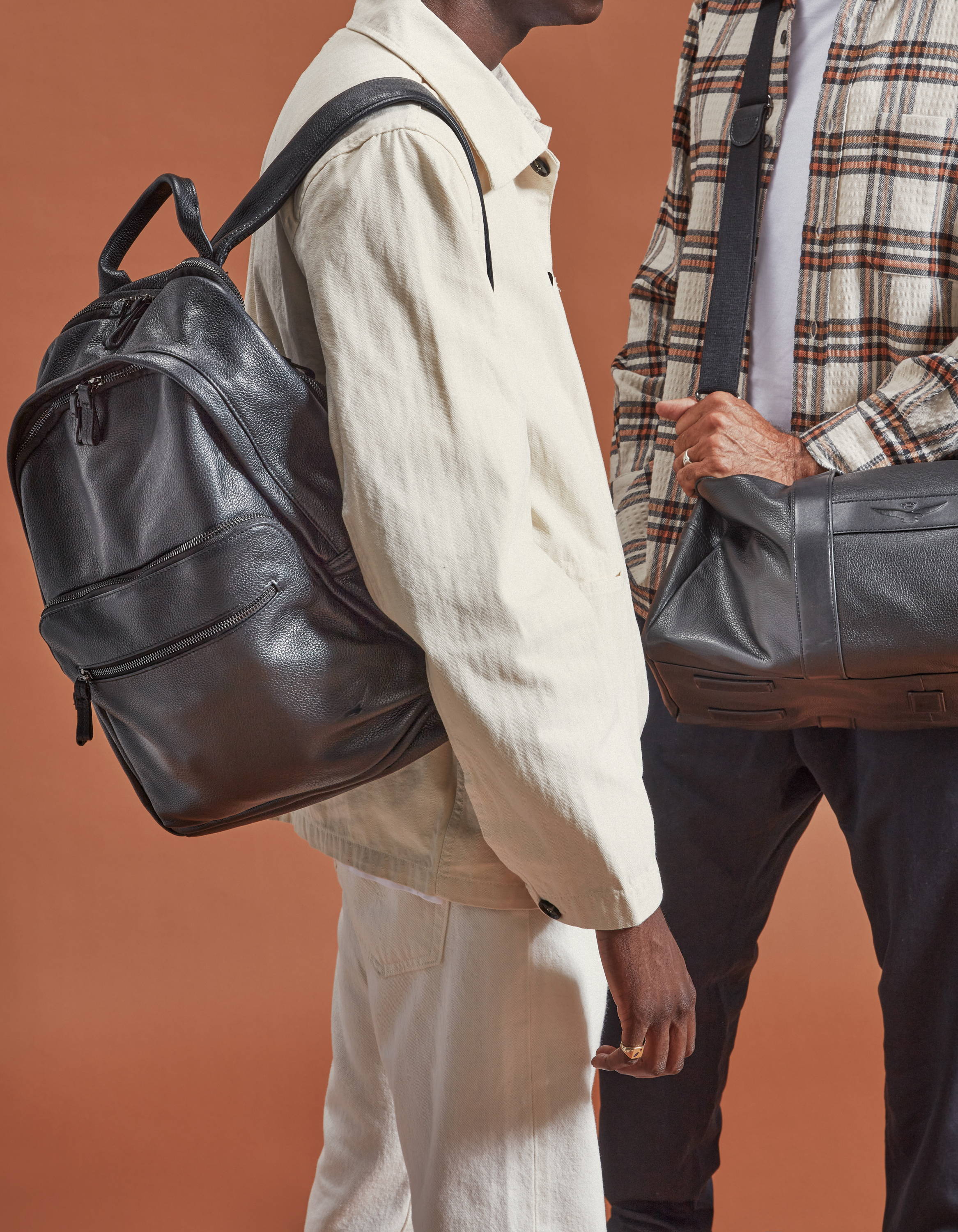 Backpacks can damage clothes over time by constant rubbing at the shoulders. This obviously becomes an issue with suits, particularly if you keep heavy things in your backpack. It's not a deal-breaker though. You can minimize damage by rotating your suits regularly, resting the backpack at your feet, where possible, and wearing only the strap over your dominant arm (this will also help avoid the businessman-school-boy look). Materials and construction really matter here. A well-made soft leather backpack with padded shoulder straps is far less likely to damage your suit than a cheap canvas backpack.

If you'd like more info on men's bags, we've written a handy guide over here.