For years, the humble Desert boot has been a fashionable go-to for some of the world's leading style icons. It's one of the things we look forward to wearing every autumn and winter, when the weather cools down and jackets come out of the wardrobe.

Desert boots have a few key advantages. They're simple, versatile and (with their trademark crepe soles) extremely comfy. You can style Desert boots with almost any outfit, too. They look good under double-cuffed chinos, stacks jeans or even a suit (more on this below).
Desert boots have their roots all over the world, but you can trace the modern design back to North Africa, where British soldiers would wear them on campaigns. It made sense. Desert boots were sturdy, ankle-length, good for keeping the sand out, and you could march in them comfortably all day long. Their lightweight crepe soles were also perfect for walking on sandy soil. Nathan Clark (of Clarks shoes) first saw them when he was stationed in Africa during World War II. When he came back to England, he started making his own, and for a while Desert boots were known as Clark's Desert Boots. Today, they're a casual wardrobe staple; arguably our go-to autumn and winter boot.
---
Desert boots vs Chukka boots
Desert boots and Chukka boots are kind of, but not exactly, the same thing. They're both men's ankle boots, usually with a rounded toe and two or three eyelets. The difference is in the sole. Chukka boots traditionally have a leather sole, while Desert boots (if we're being picky) should be finished in crepe rubber. Desert boots are basically a type of Chukka boot, and they tend to be on the more casual end of the spectrum. You can wear them with a suit, but they're more at home underneath jeans at the pub.
How To Wear Desert Boots with Chinos
The low to mid cut of the Desert boot makes it a perfect match for a pair of rolled chinos. Stick to regular or slim-fit chinos, nothing too baggy or too tight. You can lose the socks in summer, or swap them out for low-ankle socks. If you go for anything higher, just keep in mind your socks will probably be visible above the boot: best to stick with neutral colours like black, brown, grey or navy (white socks and Desert boots are generally a no-go). To style your Desert boots, simply match with some cuffed chinos, a crew knit, and a trucker jacket or casual bomber. Job done.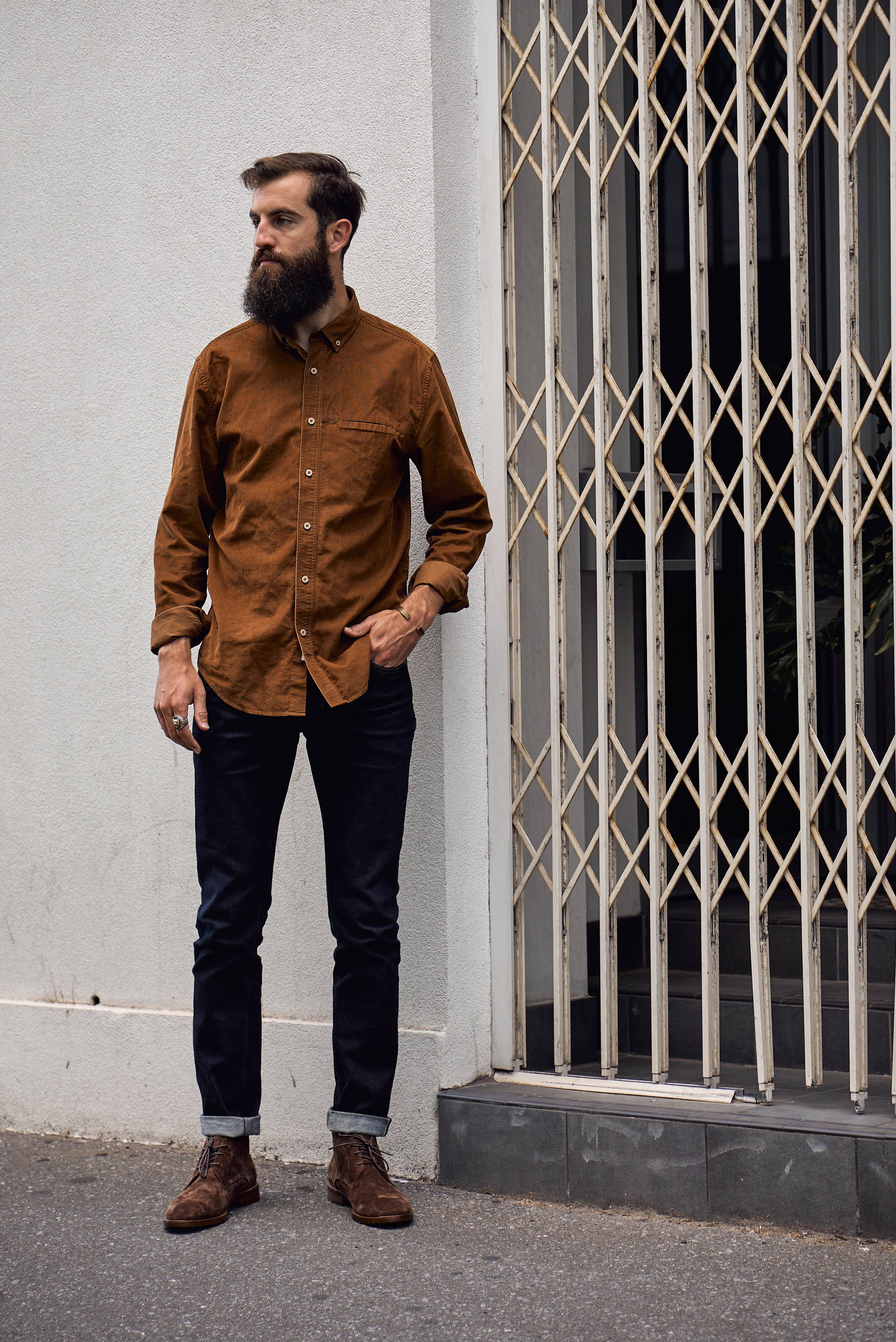 Wearing Desert Boots and Jeans
We couldn't call the Desert boot versatile if it didn't work with denim. Complement your boots with a pair of slim, tailored jeans. For a more dressed up look, go with dark indigo denim and a well-fitted, button-up shirt. We particularly like the combination of cuffed Selvedge denim and suede or nubuck Desert boots – the clash of colours and textures can really draw the eye. Finish off the look with a plain tee, open shirt and casual jacket. Desert boots work well with layers, too. The more the merrier. So don't be afraid to build up a mix of fabrics, colours and textures.
Wearing Desert boots and a suit
Desert boots and suits fall firmly under the heading 'business casual'. You wouldn't wear Desert boots with your three-piece Italian navy wool suit (stick to Brogues or Oxfords for that one) but they're perfect for a more relaxed office environment, where you can loosen the tie slightly. Here's how you do it. Take a pair of suede or brown leather Desert boots, add some cuffed dress chinos in tan, bone or navy, then finish with a tucked business shirt, leather belt, and a single-breasted jacket. Congratulations! You just nailed suiting separates. If you're going to go down the suit-and-Desert-boot path, just be careful: you want sharp, clean, slim-fit chinos, nothing baggy or poorly fitted. Give some thought to colour combinations, too.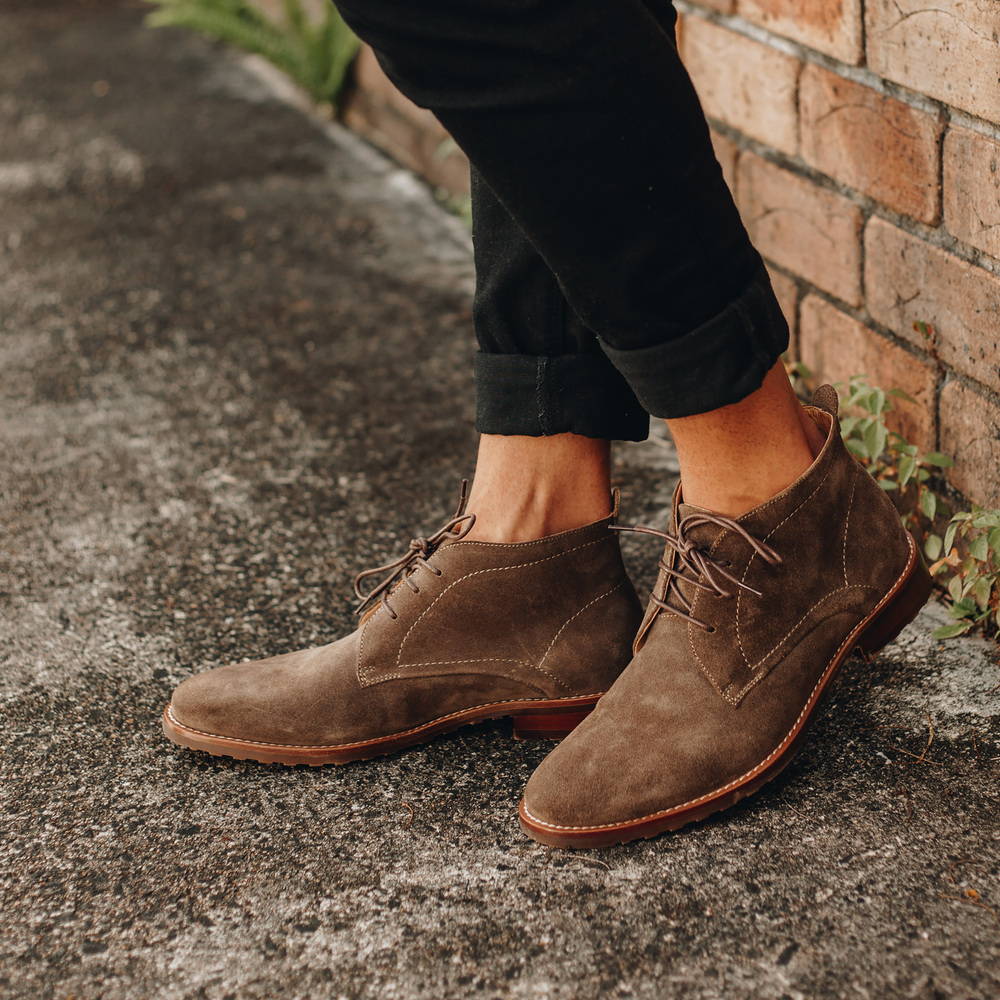 Wearing Desert boots and shorts
This one's a little controversial, but you can definitely pull it off. Remember, Desert boots were originally designed for sandy, inhospitable and, above all, hot conditions. If you're going to try this one, there are a few rules. Socks should not be visible, otherwise you'll look like a dorky tourist. Suede Desert boots also work much better than traditional leather here – they're a bit more casual, and the added texture provides some visual interest. Try khaki suede Desert boots with khaki chino shorts and a loose-fitting white tee, or maybe brown nubuck Desert boots with denim shorts and a crew knit sweater.
If you plan on purchasing a new pair of Desert boots, or already own a pair, we cannot stress enough the importance of caring for your boots. Desert boots are rugged and hard-wearing, but even the best ones will fall apart without proper maintenance. Our simple guide to shoe care has all the basics covered, but just remember, if you're wearing suede Desert boots, you'll need a dedicated suede brush and suede shampoo. Traditional leather needs shoe cream or polish to stay soft, strong and supple. Other than that, try and keep your Desert boots dry and clean, and prep them with some weatherproof spray as soon as they're out of the box.