Honestly, if we could only recommend one staple boot for your shoe rack, it'd be the humble Chelsea boot. Especially suede Chelsea boots. They're versatile, comfortable and built like very stylish tanks. Which is pretty much everything we're looking for in men's footwear.
First invented in the 1800s, Chelsea boots became a British mod staple in the 1960s, and quickly morphed from Cuban-healed novelty to the boot worn by every smart-casual foot in the world. (We've written a little Chelsea boot history guide over here, if you're interested.)
Today, we're talking suede Chelsea boots. What they are, how to style them, and how to look after them—always a tricky thing with suede.
Chelsea boots come in various silhouettes, sizes and fabrics, but they do share a few things in common. Technically a Chelsea boot is any close-fitting, ankle-high boot with an elastic side panel. They've got a mid-height profile, and their uppers are made from two pieces of leather sewn together: the front (AKA 'vamp") and the back (AKA 'quarters'). If you're looking at something with laces, you're not looking at a Chelsea boot.
You'll often hear people refer to the benefits of 'leather vs suede' (we've done it ourselves), but this isn't totally accurate. Suede is a type of leather, after all. It's just got a soft 'napped' finish—that raised, slightly fuzzy feeling. Suede is made by sanding the underside of the animal hide, which is softer and more flexible than the outer layer, but way less durable. This is why suede maintenance is so important.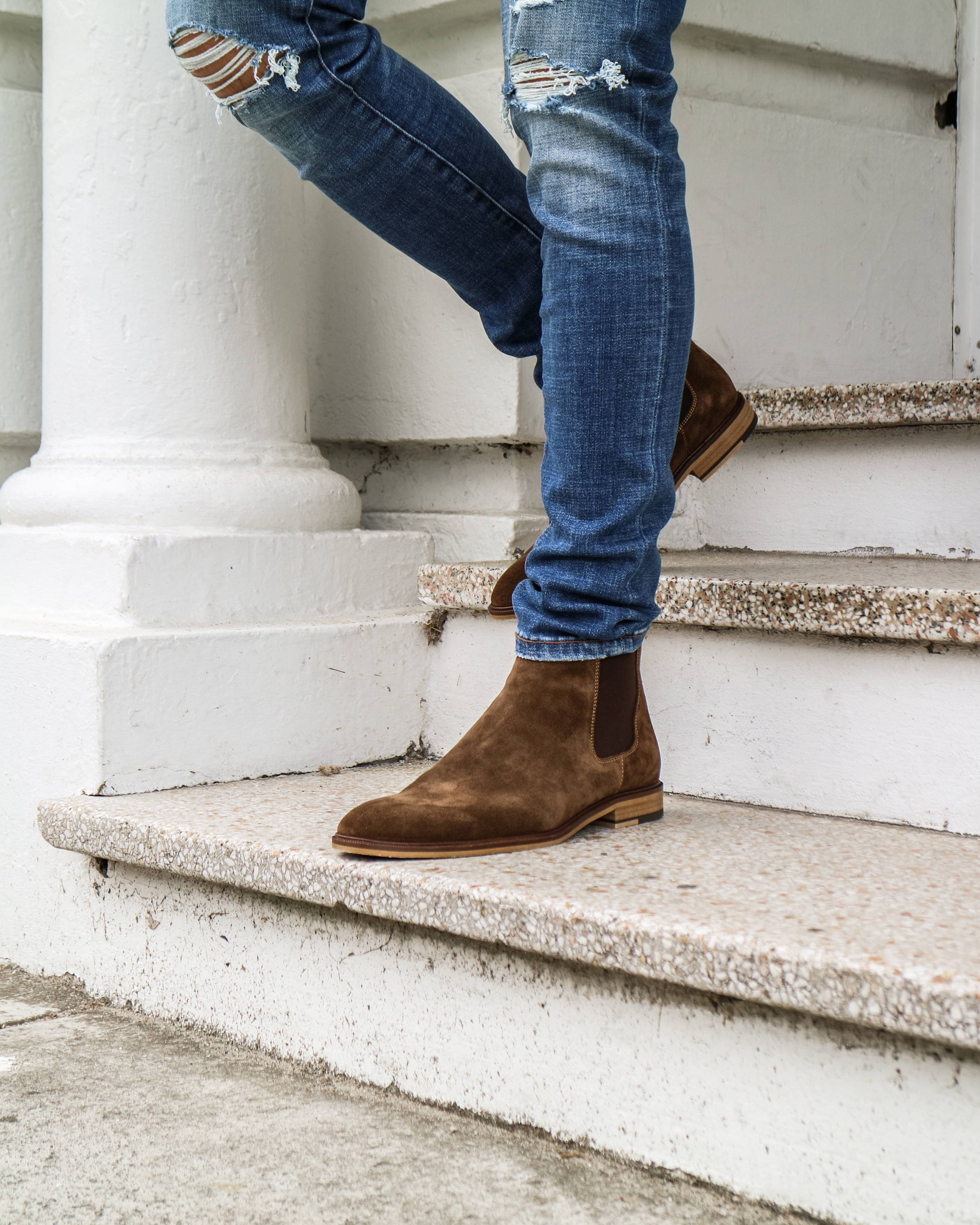 The biggest differences between suede and leather are going to be upkeep and general luxuriousness. Before you wear suede Chelsea boots for the first time, you really need to spray them with a good-quality waterproofer. Honestly, this will save you so much heartache down the track. While suede feels much softer than traditional leather, that softness comes at a price. Suede absorbs everything thrown at it, including water, dust, dirt and mud. It's good practice to wash your suede Chelsea boots regularly (just grab yourself some cleansing shampoo and a firm suede brush).

Men's Chelsea boot outfits

Chelsea boots have been popular since the 1960s for a reason. They're incredibly versatile. So when you're styling men's Chelsea boot outfits, don't get too caught up on 'rules'. It's hard to make mistakes with this particular boot. The only thing to watch out for is your pant drop: you want to make sure your cuffs are sitting just below the top of your Chelsea boots. If the break is too severe, you'll kind of ruin the Chelsea's smooth, elegant silhouette. And if you cuff your pants too high, it'll look a bit odd.

Smart casual Chelsea boots

There are no hard and fast rules here, but generally speaking, suede Chelsea boots are going to be more casual, and leather Chelsea boots more formal. Take something like the DELMAR or the EASTWOOD: either of these would look fantastic under jeans or some dark chinos. Perfect for roadtrips, pub nights, or even smart-casual parties. Suede Chelsea boots tend to come in more varied tones and colours too, like khaki, which are less suitable for suiting and formalwear.
If you're working in a corporate office, leather Chelsea boots like the WARNOCK or BEAUMONT are probably going to be your best bet. But not always. Suede Chelsea boots, if styled correctly, can be worn under a suit. Our DELMAR khaki suede Chelsea boots are a good example. They're subtle and sophisticated, with a nice clean silhouette. They're never going to be as formal as patent leather brogues, but match them with a slim-fit charcoal suit, and they're not going to look out of place in the boardroom.
The last consideration is ankle height. Some suede Chelsea boots are taller than others, and this can influence your entire outfit. Our EASTWOOD boots, for example, have a higher profile and larger heal, so they'll work better with fitted denim, rather than loose chinos. Our KEEGAN Chelsea boots are a good in-between, mid-height option—you can wear these with almost anything. Our MARTY boots have the lowest profile, so just be aware of your pant length. When wearing Chelsea boots, you don't want any ankle showing above the shoe.