Here at Aquila, all of our shoes go through extensive processes and rigours to develop the perfect shoe for our customer. And although passing through different levels of quality control, not all of our shoes are the same.
You will find that certain leathers need to be treated differently and certain processes need to be applied that may not be applicable to all shoes.
Creating your own personal look is easier when you choose pieces that have their own unique characteristics. For rich, multi-toned colouring, nothing beats the traditional dip-dying method – because no two dip-dyed shoes are the same. Let's take a look at this classic shoe colouring process.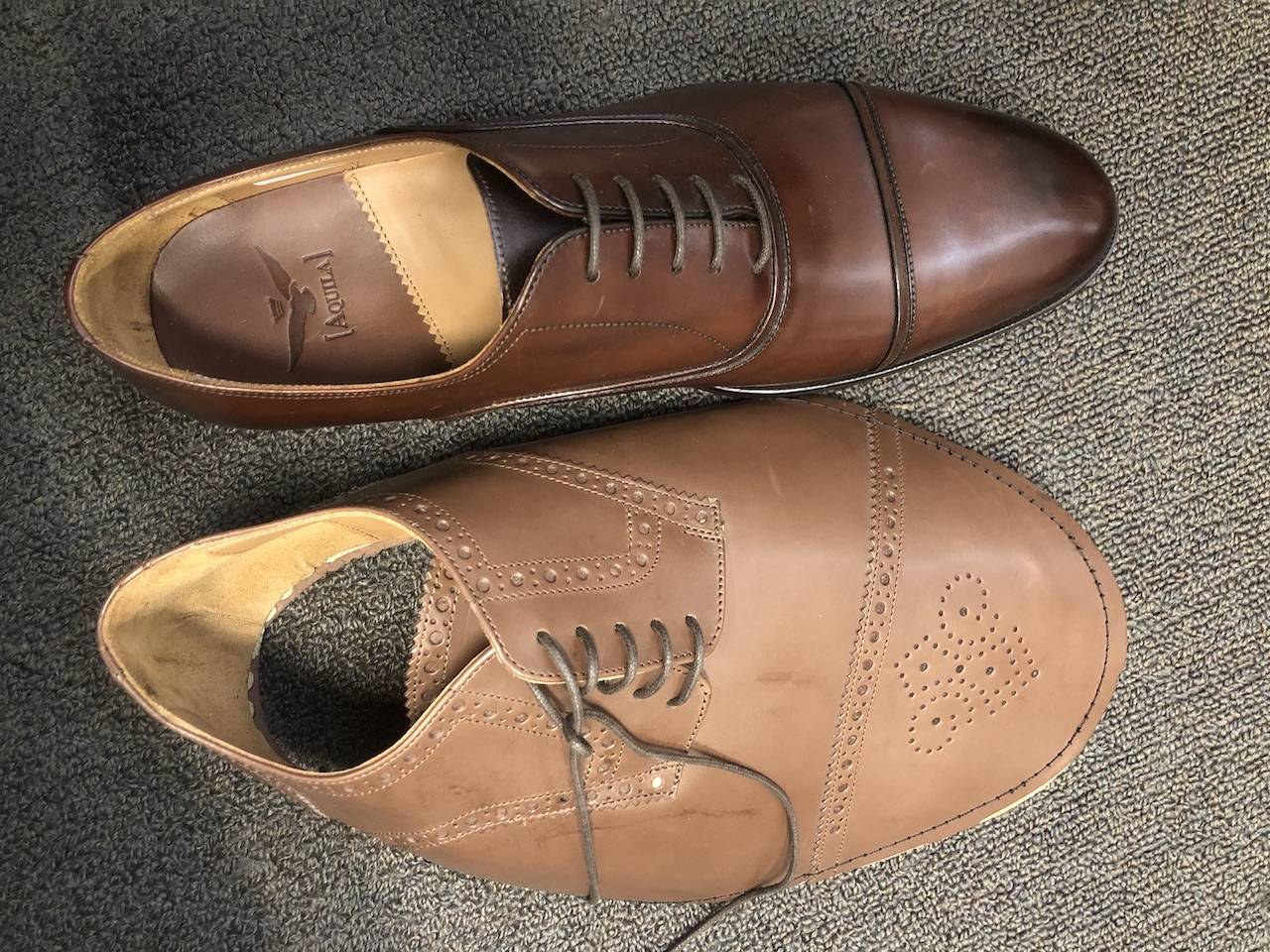 The Process
First the upper is stitched together to form the basic shoe shape from natural leather. At this stage, the leather is simply vegetable tanned and non-coloured.
The upper is then dipped in a vat of the chosen colour dye. This is where some of those unique differences start to appear. As the pores in the leather vary from piece to piece, some areas absorb more of the dye than others, leading to varied colour depth and tones.
The uppers are then set aside to dry, giving the dye time to permeate the leather fully. The uppers are then washed in an industrial washing machine to rinse out any excess dye, before being left to dry naturally once more.
Lasting is next: the uppers are wrapped around the appropriate last and the shoe constructed with the addition of the soles. At Aquila, Blake-stitched is the most common (and traditional) method used.
Finally the finishing stage employs specially designed polishes which help to re-nourish the leather, bringing it back to its pre-processing condition. The polishes are neutral, clear polishes to ensure the desirable uneven colour absorption achieved in the dip dying process is maintained.
The final result is a shoe of unique properties, which goes a long way towards helping you build your own unique look. It's processes like these that make the Aquila name renowned for what it is today; one of the leading footwear companies in the country.
All the leathers we use in Italy are of premium grade and are mainly calf skin. Most leathers we use are veg tanned which means they are dyed using tannin which is a natural substance that is extracted from tree bark.
This is just one glimpse into the many artisanal processes that go into creating a pair of #AquilaMade shoes.