Wedding outfits are tricky enough, but throw freezing temperatures and sudden hail into the mix and it gets even trickier. You want to look sharp, of course, but you also don't want to shiver your way through four hours of speeches and canapés. Welcome to the elusive winter wedding.
Winter weddings can be a lot of fun, but you need to dress appropriately, too. That usually means heavy weave suits, like tweed or houndstooth, tapered woollen overcoats and—of course—men's dress shoes. But that's the big question, isn't it. Which men's wedding shoes work best for winter? We've rounded up some of our favourite styles below. They'll help you look suave…and keep your toes warm at the same time.
Lace-ups are welcome at any wedding, whatever the season. Depending on the dress code and the invitation, you've got some room to play around. If Derby shoes are more your speed, some MOTLEY tan lace-ups will look great under a dark navy suit. If you're after something slightly dressier, a BARCLAYS brown lace up might do the trick. As always, broguing is down to personal preference. No-one ever got kicked out of a wedding for wearing brogues. Lastly, pay some attention to the sole: in winter, you really want a rubber or synthetic sole, rather than pure leather. It'll grip better and help keep the water out.
Winter weddings are the perfect excuse to bust out your fancy monk straps. A lot of guys feel a bit uncomfortable wearing buckles day-to-day, but wedding outfits always hinge on attention to detail. Literally everyone else will be wearing Oxfords or loafers, so this is your chance to stand out. Besides, not all monk straps have to scream "Look at me!" Our BATLEY black monk straps are sophisticated and pretty low-key. Of course, if you're looking to crank the personality, try something like the DUBLIN monk strap instead. Those chunky double buckles will look schmick under a charcoal or navy suit.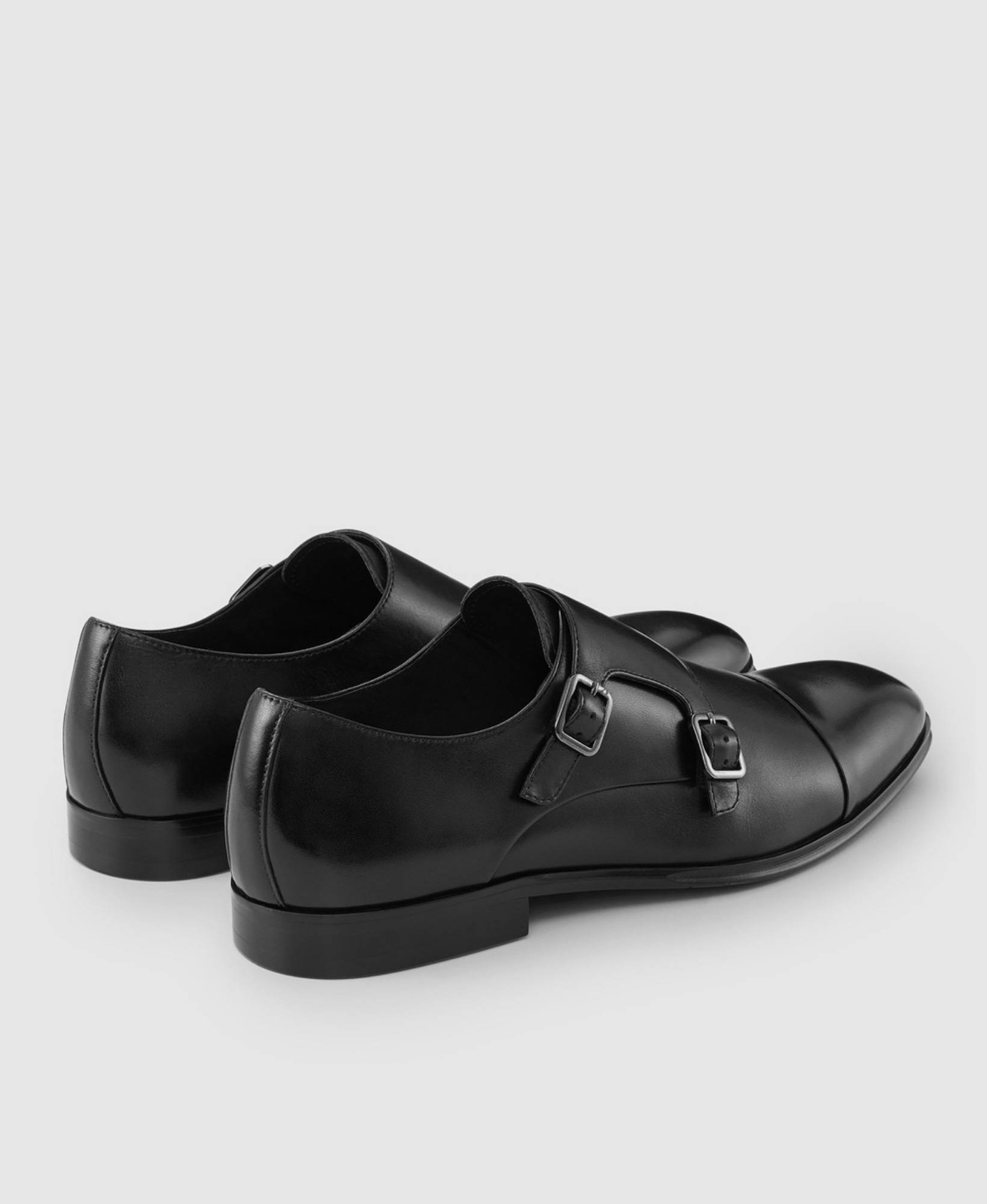 Patent leather refers more to the material than the style of shoe. It's basically treated leather that's been buffed to a high-gloss, durable shine. Patent leather isn't waterproof, but it will hold up slightly better in winter (the treatment process helps harden the leather and repel moisture). But remember: these aren't gumboots. You should still avoid getting patent leather shoes wet, and treat them with a protective leather spray beforehand. For winter weddings, we usually go for something sleek and classy, like STONEHAM or HADLEY dress shoes.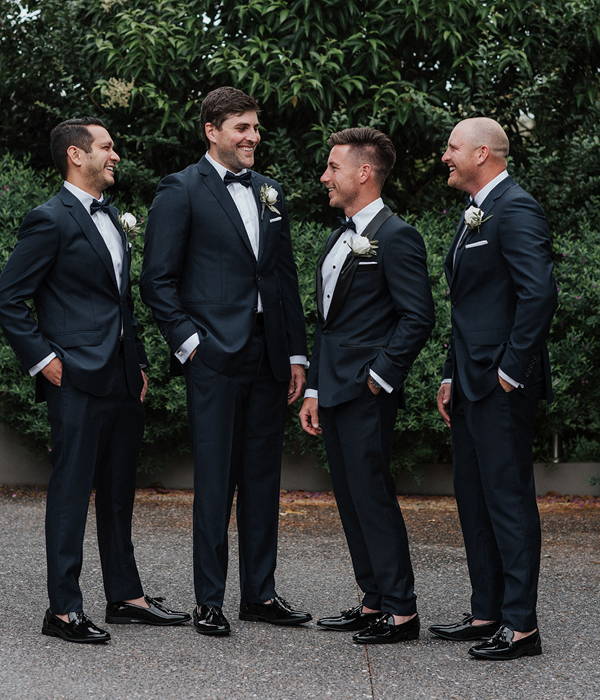 Photography by Immerse Photography
Unfortunately, there aren't many things guys can do to keep their feet warm at winter weddings. You're not really allowed to rock-up in Himalayan hiking boots (unless the couple has eloped to Tibet). Socks are your best defense against the cold. Look for pure merino wool, or at least some kind of wool blend. Chunky knit socks are okay, but make sure the colour is dark. Black or navy are really the only socks that belong on your winter wedding feet—save those flamingo pink novelty socks for the office.
Like any wedding, you want your shoes to match your accessories. In winter, this actually becomes way more interesting, because you've got so many options to play with: overcoats, belts, suspenders, scarves, even leather gloves. The usual rules apply here: if you're wearing brown shoes, look for brown leather accessories. Vice versa for black. If you've got silver buckles on your monk strap shoes, don't wear gold cufflinks. This can take some playing around. We recommend trying a few different suit, shoe and overcoat combos beforehand, to see what works. And lastly, if you think you're wearing too many accessories, you probably are. Try removing one thing before you step out the door.