Leather wallets tend to pick up character over time, which is great. But there always comes a point when they have a little too much character. When the leather is cracked and broken. When it's starting to peel at the edges. When the wallet is jammed with so many credit cards, receipts, notes and loyalty coupons that simply sitting down has become a major logistical challenge. If any of this sounds familiar, it might be time for a wallet upgrade. But which style to choose? There are actually tonnes of options when it comes to men's leather wallets. You can go classic bi-fold or tri-fold, zip-round styles, magic wallets, slim-line card carriers, money clips. It's really up to you.
In this article, we're breaking down the basics. Which wallets every guy should own, and which ones you should definitely avoid (Velcro 1990s Ninja Turtles wallet, we're looking at you).
The first step is to work out what you actually need in your wallet. This sounds simple, but we're all guilty of carrying around that old Blockbuster membership way, way longer than necessary. Take everything out of your current wallet and try to work out the absolute minimum necessary inclusions. That's usually going to be two or three credit cards, a public transport card, and maybe your Medicare card. Try and be ruthless here. You'd be amazed how quickly wallets can fill up with random, unnecessary bulk. The more you exclude, the slimmer and more elegant your final wallet can be.
Bi-folds are the most traditional, elegant men's leather wallet. They're simple too: just one fold down the middle, bending your cash in half. These wallets have actually been around since the 1600s, and they're still the most popular style going around. Bi-folds have plenty of storage capacity, but that's also their downfall—they're the wallet most likely to end up looking like an unexploded bomb. It's so easy to stash notes, coins, receipts, cards and random stuff in here. We recommend cleaning out your bi-fold every couple of months. This'll help it hold its shape longer.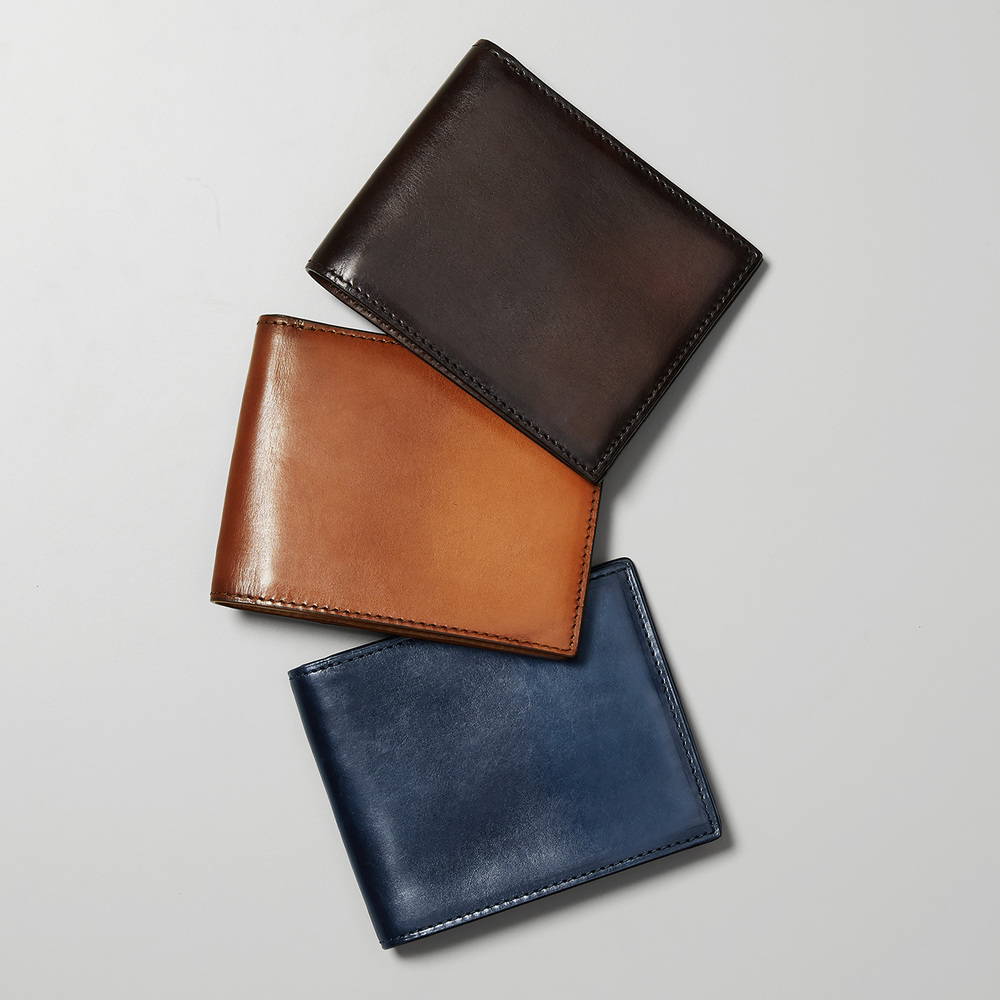 Tri-folds look like bi-folds, but they fold out into three separate sections (rather than two). This makes them super flexible, but also much bulkier and clunkier than the average men's wallet. Tri-fold wallets are usually made of canvas or synthetic material, rather than pure leather (pretty much every teenager Velcro wallet in the 1980s and 1990s was a tri-fold design). These guys have fallen out of favour recently, and we don't recommend them for everyday business wear—they're simply too chunky. But as a casual weekend wallet, tri-folds do offer a tonne of storage. Again, be ruthless with regular clean-outs.
Remember these guys? Magic wallets (also known as 'flip wallets') are still a popular choice for guys who prefer a minimalist, slim-line leather wallet. They also feature unarguably the coolest, most interesting design. Magic wallets usually have a few card slots on the outside, but inside is where the magic happens: overlapping elastic straps hold your cash in place, and you can store notes by simply flipping the wallet over. Keep in mind: magic wallets don't have much storage space. They're chosen more for their silhouette, low profile and novelty factor.
Card holder wallets have quickly become our go-to style. With the move towards a cashless society, and in a world where every service comes with its own membership card, you really need those extra slots. But the real beauty of card wallets are their slim profile: you can store plenty of credit cards, bank cards and membership cards without bulking out your pocket too much. Of course, it's a bit of a trade. If you use your wallet to store lots of notes, or scraps of paper, a card holder probably isn't going to work. But if you're looking for something sharp, slim and practical, this is definitely the way to go.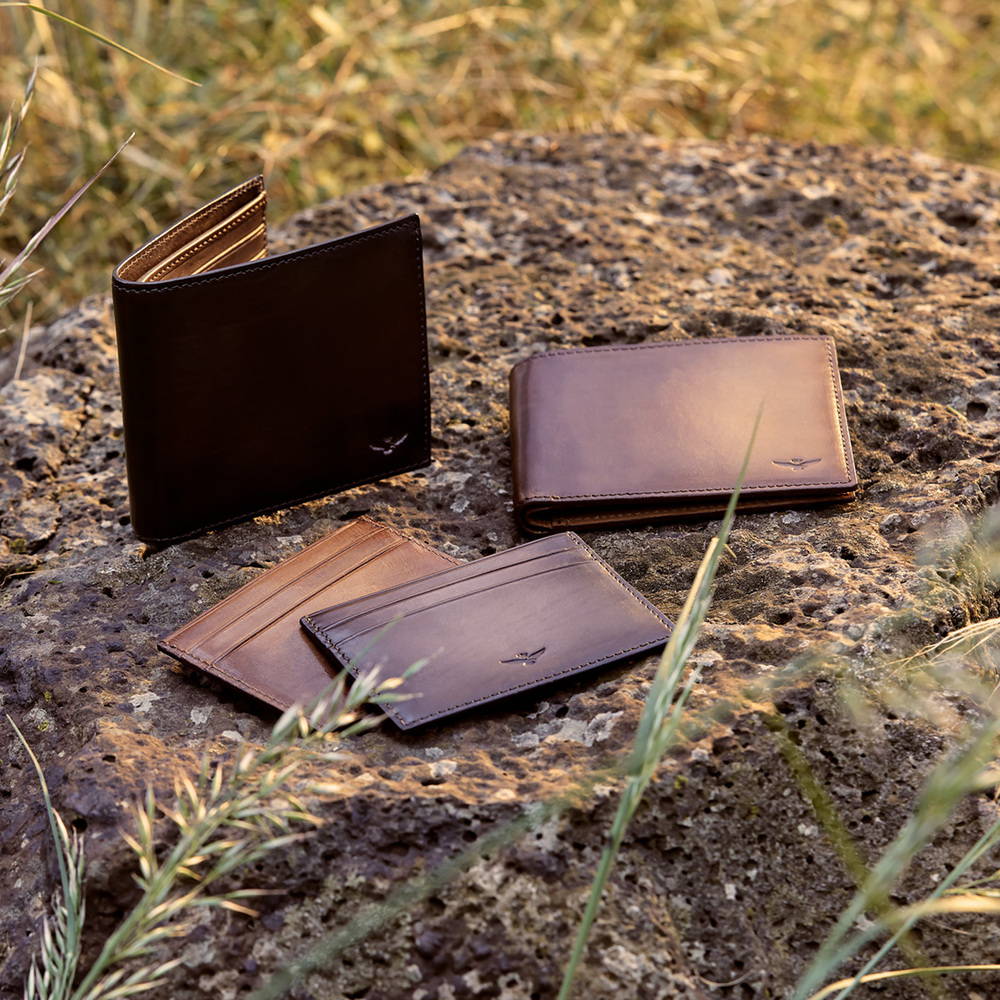 Zip wallets are pretty rare, but they offer something you don't get with any other wallet: security. These guys are perfect for storing coins or other small valuables. With a solid zip construction, you don't have to worry about things falling out or getting lost. Zip wallets either feature an all-round zip design (which locks everything in) or a dedicated zippered pouch. They're probably the most versatile men's wallet, being able to carry cards, notes and coins all at the same time (very handy for street parking). Just be careful you don't overload the zip: too many coins will stretch out the leather and potentially break the teeth.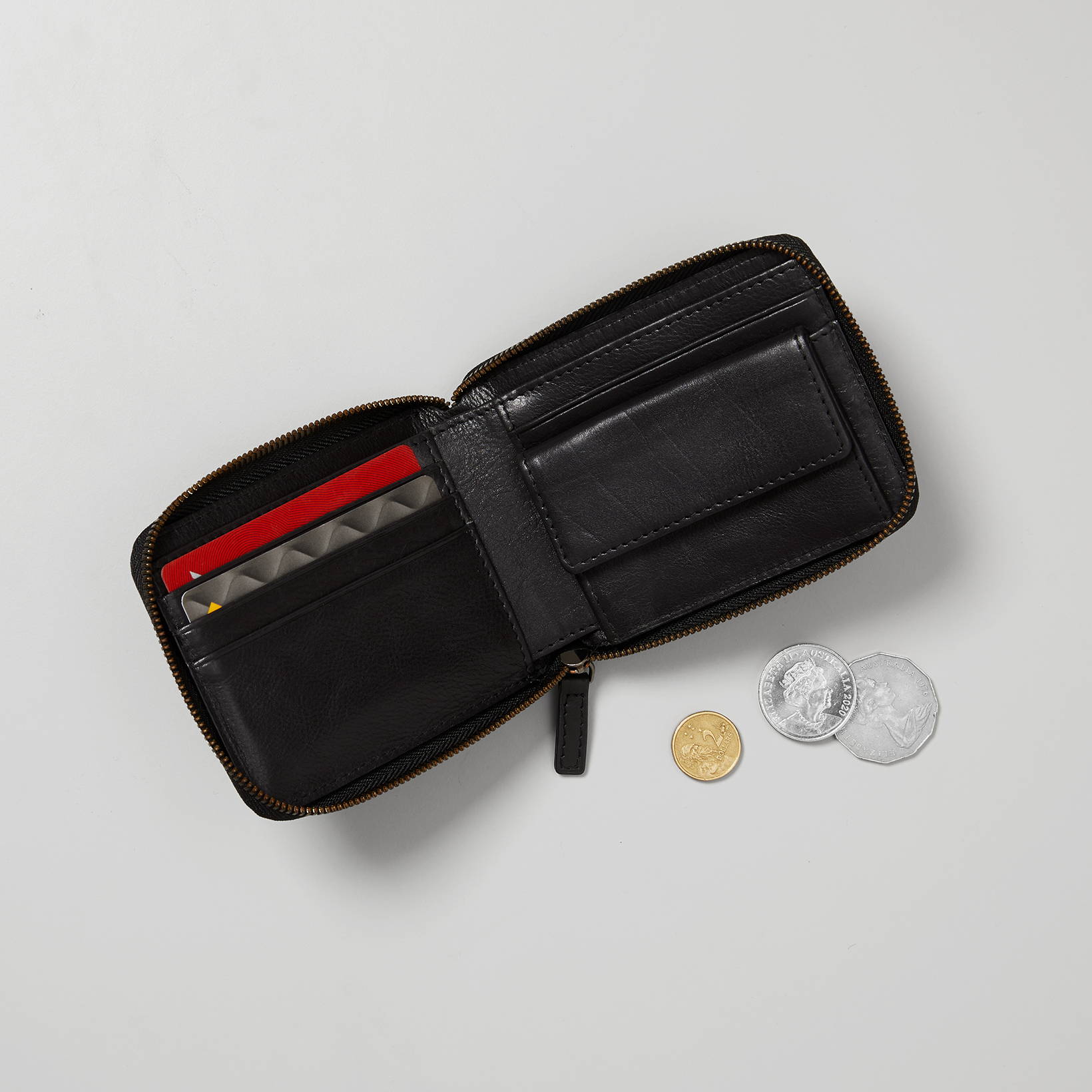 Also known as travel wallets, these guys aren't really made for the average pocket. They're larger and chunkier than most men's wallets, and can carry passports, travel documents, plane tickets, money, credit cards, keys, your mobile, and anything else you don't want to accidentally leave on a bench in Zurich. Passport wallets usually feature a wrap-around zip, for security, as well as several internal pockets to keep things organised. They're obviously great for travel, but they're also useful for storing important documents at home, so you always know where to find them. Definitely a solid investment.