We often mention clean white sneakers here at Aquila, because they're such a fashion no-brainer. Low-rise white sneakers go with pretty much anything, and you can wear them year-round. They even match with chino shorts and business suits.
But what about men's black sneakers? Should guys invest in a pair of leather black sneakers? The short answer is: yes. The long answer is: it's complicated. Black sneakers aren't quite as easy and versatile as white, for example the question of all-black sneakers (also known as 'triple black') versus black uppers with white soles? Well, they're still one of our favourite street-style looks—you just need to know a few basic rules.
Consider this your crash course in how to wear black leather sneakers.
Black sneakers follow the same rules as every other men's sneaker. You need to keep them clean, look after them with some kind of weather repellent, polish them now and then, and get the style right. This is a big one. There's no point buying a pair of black sports sneakers and then matching them with dress chinos. It's going to look all wrong. Certain black sneakers look better with certain outfits and certain occasions. You need to match the shoe to the event. Our sneakers range from the basic weekend DECO to luxury styles like the AZTEC.
Colour matching black sneakers
Because black sneakers tend to look heavy and bold, you want to keep the rest of your outfit pretty simple. This is especially the case with triple black men's sneakers. If you're going black-on-black, your outfit should stick to monochrome shades of black, white and grey. That means slim-fit black denim, classic white crew neck tees, grey utility jackets and charcoal hoodies. The black sneakers will offset the monochrome look, extending your leg and making you look taller (bonus). If your sneakers have black uppers with white soles, you can expand the colour palette slightly: think dark blue denim, khaki chinos, olive greens and earthy rust tones.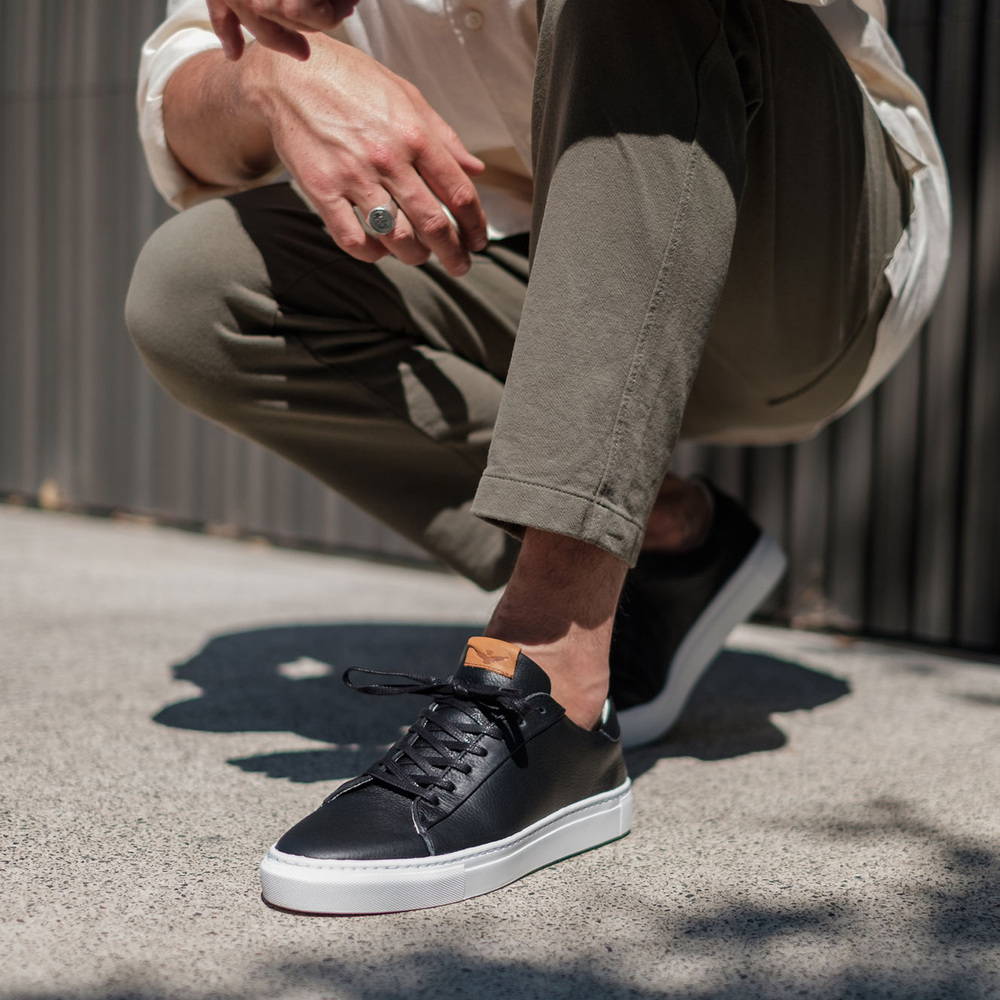 The biggest mistake you can make with black leather sneakers is clashing pants. This advice is mostly for black-on-black sneakers. You really want to wear these guys with black denim, or at least a very dark navy. Pairing all-black sneakers with beige, pink or light grey chinos will drag people's eyes to your feet—and not in a good way. The other big mistake is wearing the wrong sneakers to the wrong occasion. As a general rule, white soles are more casual, and athleisure, street-style trainers—like our ALPHA sneakers—should be worn with jogger chinos or sweats. Not suit pants. If you want to dress your suit down with black sneakers, try a more formal style, like the TRACER or AZTEC.
You can wear black sneakers to almost anything, but we definitely prefer them for casual wear. Like white sneakers, black leather sneakers give you excellent mileage. They're a versatile, neutral tone, so you can where them with almost any weekend outfit—especially if they've got white soles. Throw some black DECO sneakers under slim-fit black jeans and a khaki bomber jacket, or mix things up with luxe sweatpants and a navy knit hoodie. If you'd like to go smart casual with black sneakers, try our triple black TRACER shoes with black dress chinos, a black shirt, and a charcoal knit blazer. Fit is everything here. You want slim lines and a trim silhouette.

Looking after your black sneakers
People think polishing is only for dress shoes, but your leather sneakers are still leather, and they need looking after. This doesn't have to be anything too elaborate. Before you take them out, spray your black leather sneakers with a good quality water repellant. Give them a polish with black shoe cream every few months. And clean them after each wear with some basic cleaning wipes. This will stop dirt, dust and grime from getting into the leather. Remember: sneakers come down to maintenance. You can have the best quality men's leather sneakers on your feet, but if they're cracked, dry, and covered in muck, it won't matter. Looking sharp starts with your shoes—and sneakers need to look razor sharp.