When prepping for a wedding, men's formal shoes are often low on the wedding "to-do" list. Don't disregard the importance of finding a quality's stylish wedding shoe, though. A great outfit isn't just the fabric on your back; it's the whole package; clothing, shoes, accessories & hair. So, what's important when looking for men's wedding shoes?
Are you going to be a James Bond groom, or opt for something a little more casual? There really are no rules when it comes to choosing the right style of shoe for your wedding day. Our suggestion is choose a pair that will match your venue and your decor.
A classic wedding calls for a classic tuxedo, and nothing pairs better with a tuxedo that a pair of slick black patent shoes. A patent black lace up is the traditional pairing for a black tie event, however we do have modern updates (like patent leather loafers) that look equally as polished for your big day. If you do want to don the tux, a classic black leather lace up, or a velvet loafer are also great options to consider.
Whether you choose to spend your day in a navy suit, or a tailored blazer and chino's, a simple derby lace up is perfect for your big day in the spotlight. Black or tan, either are suitable to walk down the aisle in. A handy tip - ensure you give your new shoes a test run prior to your wedding day. This way you can make sure they are fitting correctly, you have the right socks to wear, and you can enjoy yourself while you are on your feet all night long.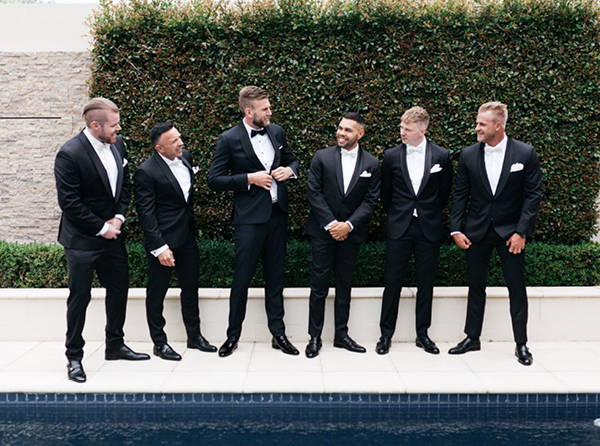 Photography by Hello Chloe May | Styling by Styled by Ramzy
Nothing dresses up a pair of chino's like a pair of Italian leather loafers - we know ours are a cut above the rest. Getting hitched in a winery, or perhaps somewhere a little tropical? We can't go past a navy blazer, sand chinos and a pair of leather loafers. We have an enormous range of loafers on hand to ensure you look your best on the day, from woven Italian leather, to driving shoes and moccasins. We promise you will never look back at your wedding photos and cringe.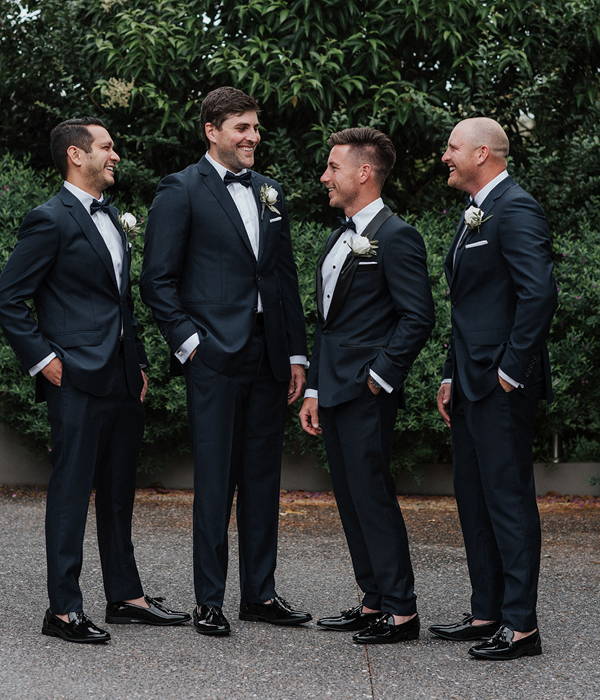 Photography by Immerse Photography

Other Things to Remember:
Coordinate! Did you know the Groom and his groomsmen can wear different shoes? We often see groomsmen splurge on a special pair of wedding day shoes for themselves, but that doesn't mean you need to ask your groomsmen to do the same. We have the perfect pair of shoes to suit anyones budget. No matter where you plan on spending your big day, drop by and we'll help you coordinate your wedding dress shoes accordingly.
- Comfort! Finally, comfort is the most important factor. You don't want to be sporting disagreeable footwear on your wedding day. As all feet are different, we recommend you take the time to be fitted professionally when making any footwear decisions, especially for Men's Wedding shoes. By ensuring the right fit and regular shoe care, your footwear will maintain its comfort and durability, which is the essence of Aquila shoe designs.