We're hesitant to say the word out loud, but briefcases are in danger of becoming – how can we put this – cool. It's probably a pushback against the suit-and-backpack trend, which had a brief flare in the 2010s, but seems to be dying out slightly. These days it's all about sharp lines and minimalist corporate chic. And there's nothing sharper, or more minimal, than a men's leather briefcase.

But modern briefcases for men aren't exactly what you might be picturing. They're not the boxy Don Draper-style from the 1950s, or the bulky, stiff-leather English 1930s models, which always came with the obligatory Trilby and umbrella. Modern briefcases are known for softer edges, luxury leather and pockets galore. After all, Don Draper never had to worry about commuting with a laptop.
'Briefcase' is a pretty broad definition. It's really any vaguely rectangular bag with a handle, good for carrying documents, books and laptops. Men's satchels and messenger bags have a similar shape to briefcases, but they're usually made to be worn across the body on a shoulder strap, and they lack that top handle. Some modern briefcase designs, like our own CRUISER, do come with a shoulder strap, but they're the exception to the rule. Briefcases are generally made to be carried in the hand.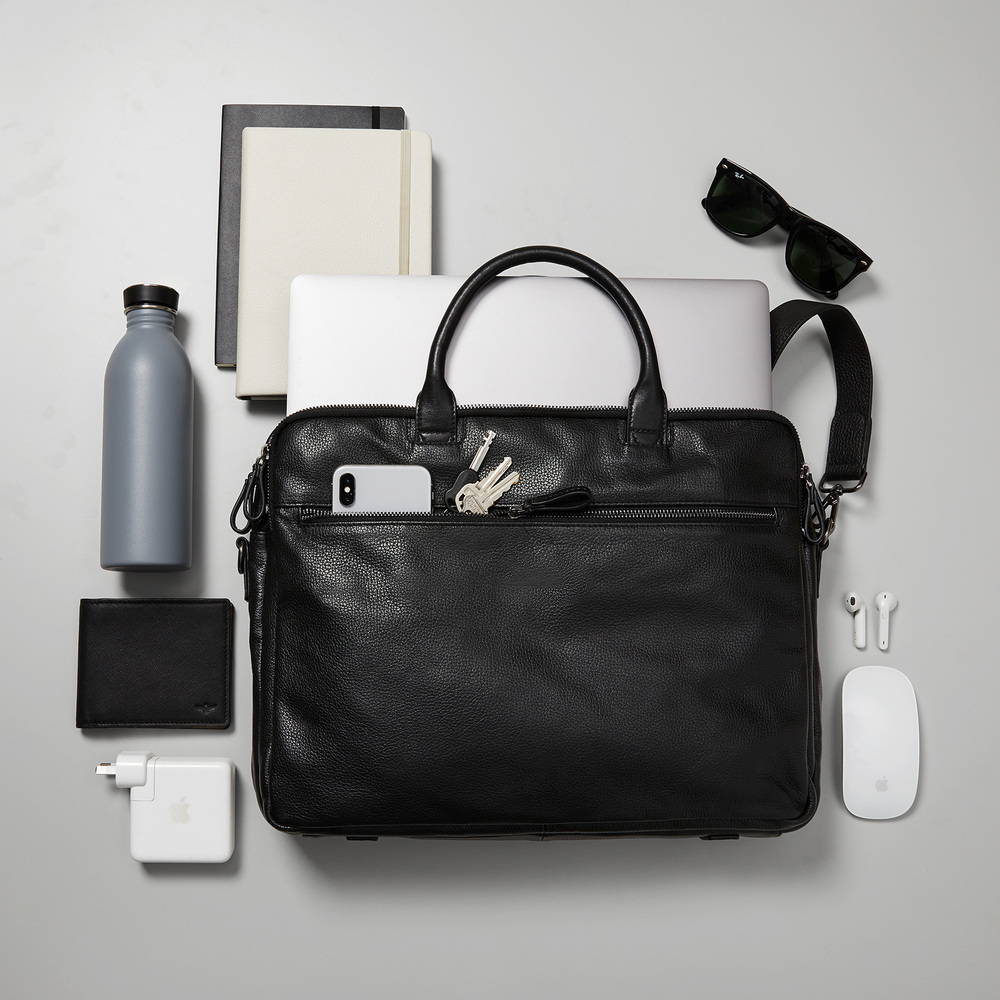 What are the advantages of a briefcase?
The first is simple: style. A men's briefcase, even if it's only full of sandwiches and old receipts, will always be the best-looking corporate commuter bag. Messenger bags, satchels and backpacks can look good with a suit, obviously, but they're inherently more casual.

The second advantage is storage. Leather briefcases are cleverly designed to hold everything upright in distinct compartments, so there's less chance of damaging important documents. That classic rectangular shape makes the briefcase perfect for A4 files, folders, books and laptops.

Lastly, there's the footprint. Most men's briefcases are slimmer, lighter and smaller than other comparable bags, making your commute much easier (nothing slows down a sharp three-piece suit like a backpack). The briefcase forces you to be selective and only carry what you really need.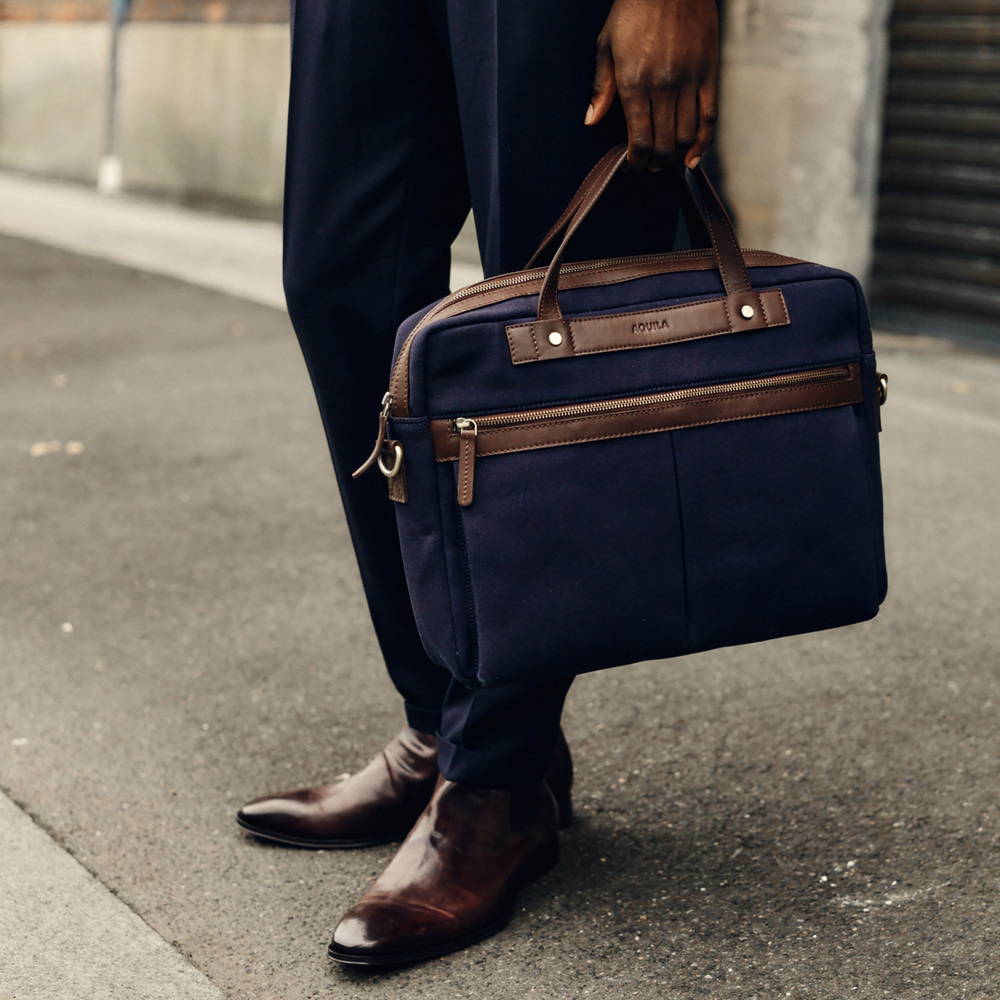 How to choose a briefcase
If you're looking for a leather briefcase, your first choice will be the leather itself. Do you go for brown or black? This is totally a matter of personal taste, but it's useful to look at your other leather accessories first. A briefcase should generally match your shoes and belt, so if your wardrobe is already full of black leather, a whisky leather briefcase probably isn't the way to go.

Next, think about shape. Some briefcases are more sharp and rectangular, while others have a softer, rounder profile. Try and stay away from old-school boxy briefcases (unless you manage to track down a vintage model in good condition). There's nothing inherently wrong with them, but older models usually don't have dedicated laptop storage, and their bulk can distract from your suit.
---
Looking after your briefcase
Work bags can take a real beating. You generally use them five days a week, in all sorts of weather, and they're a magnet for crumbs, dust, dirt and old gum wrappers. This is fine for a cheap canvas satchel, but a leather briefcase needs a bit more TLC. Think of your leather briefcase like you do your leather shoes: break it in with some waterproof spray, and polish the leather once or twice a year. Keep the inside of your briefcase clean, too. A quick vacuum every couple of weeks will remove most of the dirt and crumbs. With care and attention, a leather briefcase should last you anywhere from five to 10 years. Sometimes more.

Lastly, if you're carrying hard rectangular objects, like books, phones or laptops, keep them in their dedicated inner sleeves. Squeezing a book into an outer pocket day after day will warp and mark the leather. You don't want that.