How good was travel? Remember the days when you could jump on a plane and be whisked anywhere on the planet within 24 hours (or 72 hours with Ryanair)? Well travel restrictions won't stay in place forever. Sooner or later, we'll be back in the skies, and when that beautiful day arrives, we need to be ready. So we've put together this little guide for men's travel accessories – for when the borders re-open.

Apart from all the culture and adventure and food, men's travel accessories are definitely the best part of travel. Packing for the plane the night before, you're going to need certain things: a good travel bag, a men's toiletry bag, a travel wallet and travel shoes (yep, they're a thing). We've broken down each one below. Bon voyage.
Guys need a regular wallet, but they also need a dedicated travel wallet. There's no way your classic bi-fold is going to hold all your flight documents, receipts, passport, luggage keys and old Euro coins you'll never, ever spend. It's worth investing in a good quality leather passport wallet here, because they'll actually get better with age. Every trip, every adventure, every airport stopover – they'll all add character, patina and warmth. It's also nice to bust out some soft Brazilian leather at the airport check-in terminal.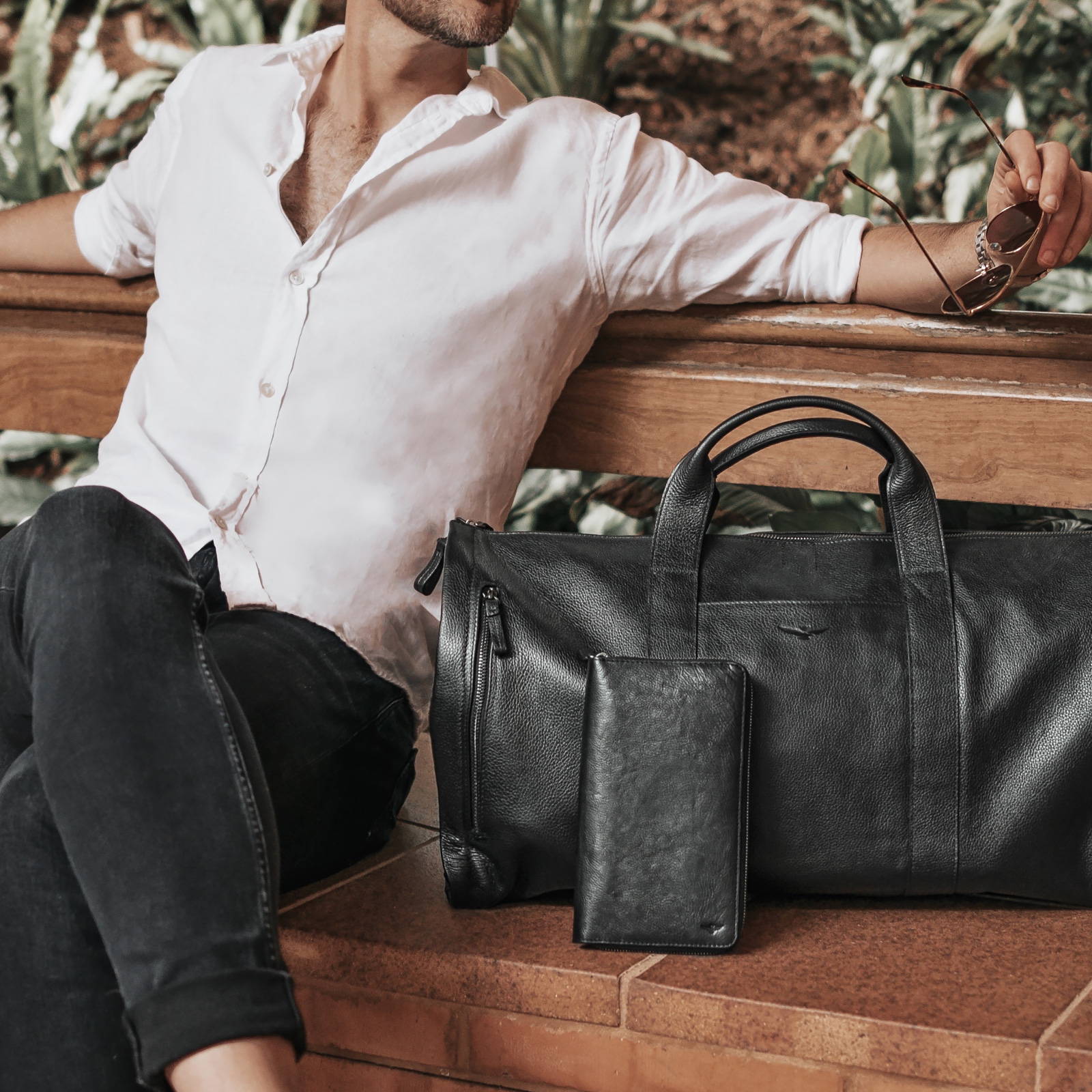 A men's toiletry bag (also known as a wash bag) is an essential bit of travel kit. It should be made from sturdy, water resistant canvas, and it should be big enough to hold your razor, aftershave, travel deodorant, toothbrush, toothpaste and anything else you need to stay fresh abroad. Throwing all these things into your backpack, loose, is a recipe for minty disaster. Just a tip: don't bring your wash bag in your carry-on luggage. Most airlines won't take kindly to razors and mysterious liquids. Always stash it in your check-in bag.
---
Most guys just shove their shoes into their check-in luggage without too much thought. And that's fine most of the time. But if you're travelling to a wedding, and you're packing your $500 hand-made Italian leather lace-ups, you don't want to risk them getting squashed or scuffed in transit. Same goes for muddy hiking boots. That's why a dedicated shoe bag is a good idea (honestly, we're recommend a shoe box for really expensive dress shoes, but that's not always practical).
Most people think suitcases and vertebrae-crushing backpacks when it comes to travel, but they're really only necessary for month-long jaunts across South America. For shorter trips, you really only need a leather overnight bag, a canvas duffle, or a tumbled leather travel bag. Heck, if it's a business day trip interstate, you can probably get away with a simple briefcase. Have a think about the minimum amount of stuff you need to pack, and the general conditions where you're going, and pick the smallest, lightest bag for that purpose.
Are there such a thing as travel shoes? Well, not really. But if we're talking shoes that will stay comfy on a 24-hour long-haul flight with multiple stopovers and 17 time zones, then yeah, you need to wear 'travel shoes'. For comfy travel, we personally love driving shoes, boat shoes, or any kind of moccasin. They're lightweight, gentle on your feet, and you can easily kick them off on the plane when no-one's looking. What you really want to avoid are heavy, lace-up boots, or anything too constricting. Some comfy sneakers are also an excellent choice.
---