Some guys think men's summer fashion is easy, because there are fewer layers involved. But it's actually the other way around. Anyone can look good in winter gear, because you can always throw on a knit, or a scarf, or an overcoat, or a beanie. In summer, you'll probably only be wearing two or three pieces of clothing, tops, and they each have to pull their weight and work together.

We're not really one for 'rules' of men's summer style, but there are a couple of guidelines you can follow to make things easier. If you've ever wondered why some guys look like they just stepped of a yacht in Santorini, it's because those guys put some thought into their summer outfit.

Here are the do's and don'ts of men's summer fashion.
It's tempting to walk around in thongs all summer, we know, but the first step to elevating your summer outfit is to mix things up. Ideally, you want a collection of three or four summer shoes: maybe one pair of sneakers, one pair of sandals, one pair of driving shoes or boat shoes, and one pair of leather loafers. That's a good mix that will take you anywhere from the beach to the beach wedding. It'll also keep your look fresh, so you're not wearing the same outfit in every single Insta pic.
---
The trick to sharp men's summer dressing is balance and control. If you're dressing loud on top, you should be quiet down below. There's nothing wrong with a floral short-sleeve shirt, or a kitschy Hawaiian print, but try not to mix them together. This is known as 'print clashing', and it's generally best left to the catwalk pros. We recommend a good collection of neutral summer shorts to make colour-matching easy: tan, navy, khaki and ivory are all safe shades, and they'll help tone down your louder prints.
Do: dress for the occasion
Summer dress shoes don't get talked about much, but they're a category you should definitely invest in. After all, summer is usually wedding season, garden party season and engagement season; so you really need to be prepared. When the weather heats up, heavy Oxfords and ultra-formal patent leather aren't ideal. You want something lighter, with a bit more colour and personality. We recommend a cheeky pair of Derbies of tassel loafers, maybe in pale blue, tan or khaki. These will pair nicely with an unstructured linen suit, or some dress chinos and a light blazer.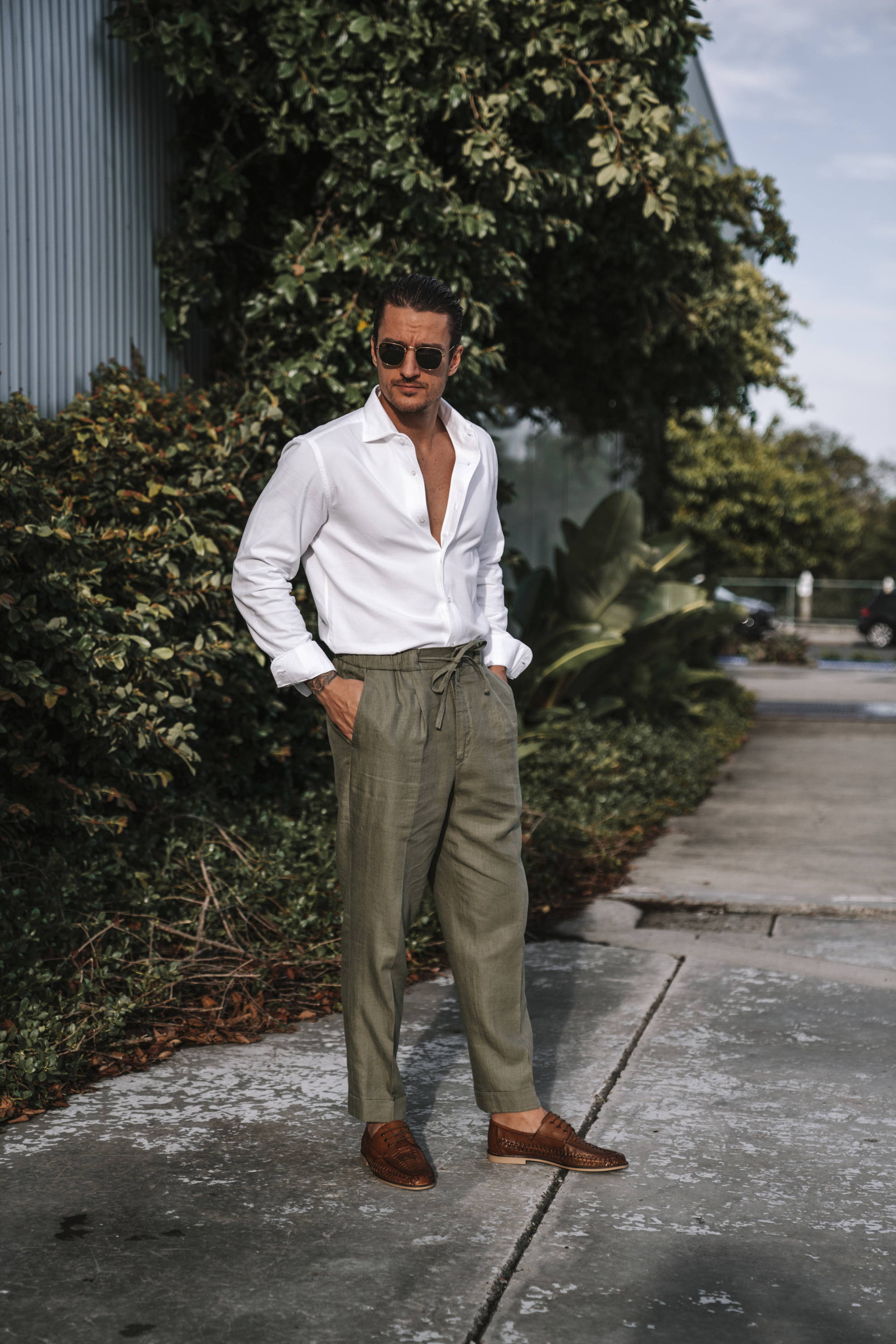 Don't: wear sneakers with everything
Men's sneakers are a great option for summer, especially low-top canvas or breathable leather sneakers, both of which look great with shorts. Every guy should have a clean, sharp pair of sneakers in the wardrobe. But (and here's the thing) don't wear them everywhere, or every day. First, leather needs time to recover and dry out, so you should be rotating your shoes at least every second day. More importantly, you're missing out on a whole world of exciting footwear, some of which can really elevate your overall aesthetic. Which brings us to…
If you're ever going to ditch the laces, do it in summer. Summer is the season for slides, slip-ons, moccasins, driving shoes, espadrilles and sandals. Shoes that let your feet breathe and don't weigh down your outfit. Aquila has a range of men's sandals in nubuck and suede, and we're expanding our range of pool slides, too. Summer men's fashion works best when it's light, effortless and breezy. Your shoes should complement your outfit and elongate your leg – not necessarily drag the eyes downwards. Stay away from heavy boots, chunky high-tops or anything loud and bulky.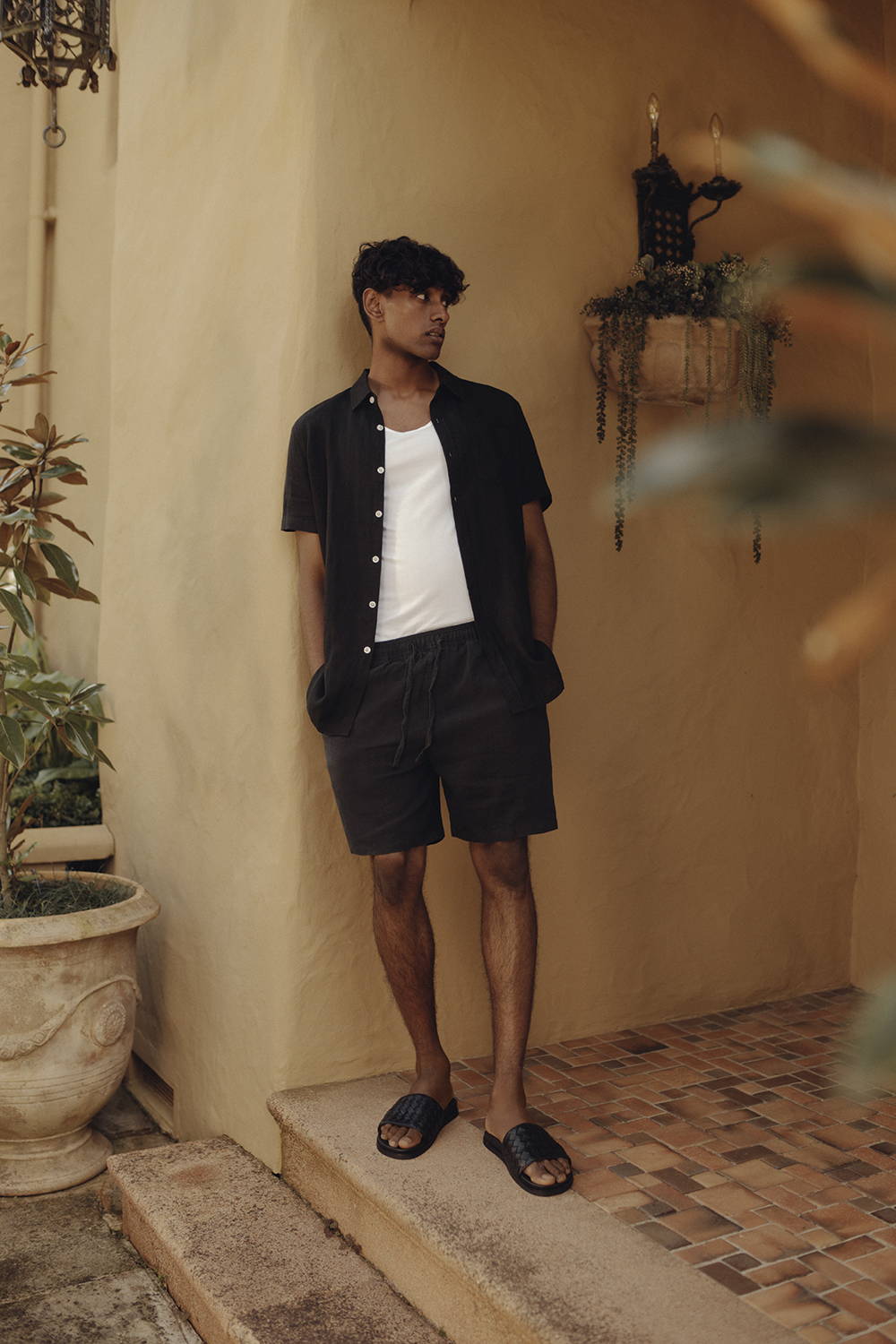 This goes for shirts and socks. Being too 'tucked in' will quickly lead to 'Dad Fashion' territory. The basic rule is: never tuck your t-shirt into your shorts. Polo shirts can be tucked if you're playing golf, but otherwise should flap free. There's a bit more flexibility with button-up shirts, especially if they're long-sleeve, but generally it's best to keep things loose and breezy. The same goes for socks: summer men's style works best when you flash some ankle, so ditch the tucked crew socks for invisible socks instead. You can wear these with your loafers, sneakers or slip-ons (as long as the slip-ons are closed around the ankle – socks and sandals are a definite no no).
---