Yes, it's an article all about socks. We assume you're here because you've run out of things to google, or you're genuinely interested in socks. Either way, welcome aboard. Today we're going to run through the various types of men's socks: the cuts, styles, fabrics and designs that live between your foot and your shoe.
Men's socks have become a surprisingly important bit of kit recently. They're not just for keeping your toes warm anymore. In their own way, your choice of sock is just as important as your shoe or your tie: socks can link your Oxfords to your suit, display your personality, or make your ankles really pop. It's all down to how you style them.
---
'Casual socks' is a pretty vague umbrella term. These are your basic, day-to-day socks. They're often made of cotton, and they're usually mini-crew or crew-length, which means they extend about two to five inches above your ankle. Most guys will stick with neutral shades for casual socks: black, white, navy and grey. And that's totally fine. It means you can grab any pair of socks and match them with pretty much any casual outfit. But don't discount patterned socks either. Some retro-style casual socks in navy, green, red, white or yellow can add a little punch of colour to your basic sneakers-and-jeans combo. Just double cuff your pants and throw on some low-rise leather sneakers.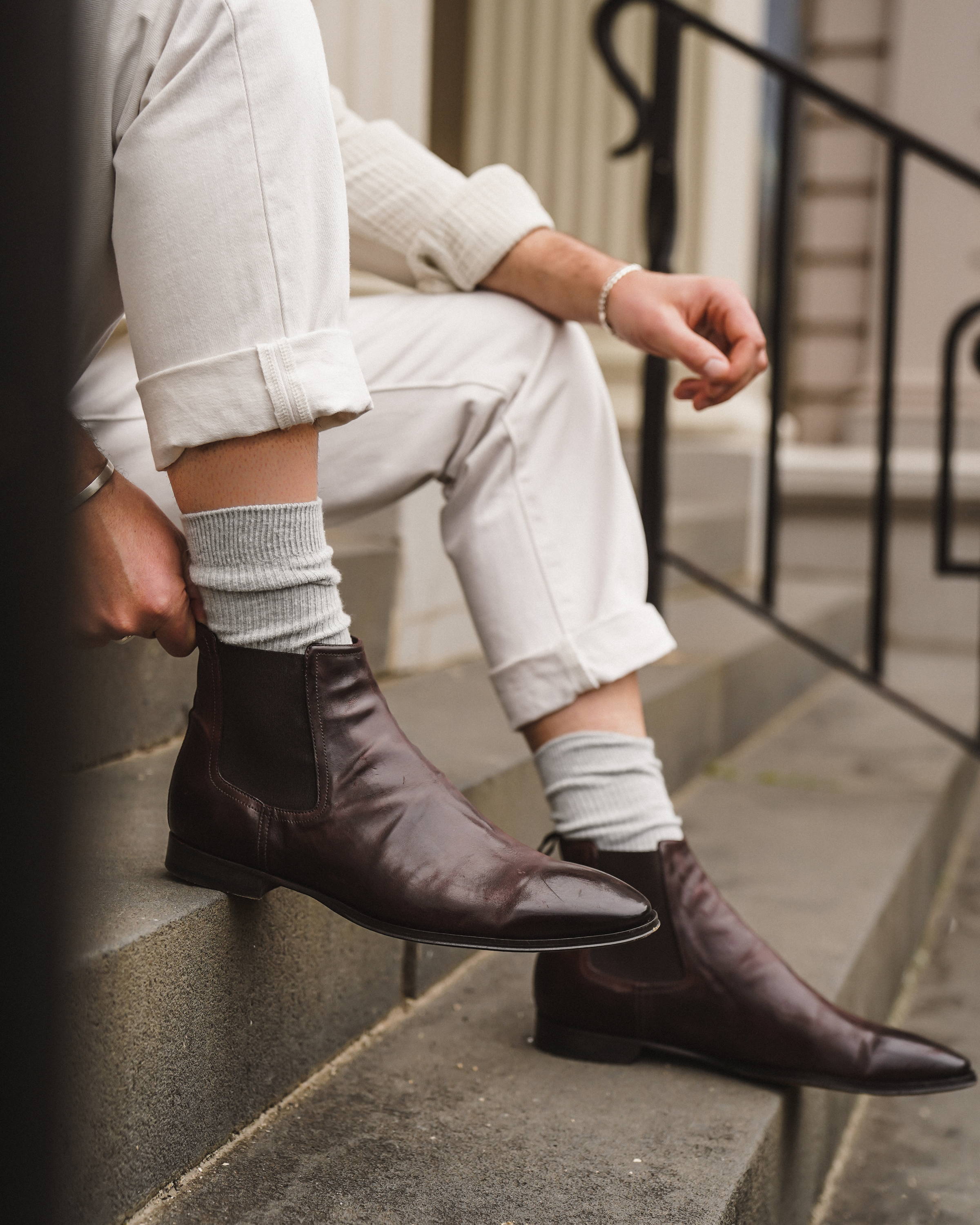 These guys are also known as 'ankle socks', for obvious reasons. They should sit just above the ankle, they're usually made from cotton or breathable bamboo fibre, and they're worn exclusively with sports trainers or athleisure-style sneakers. Nothing else. Athletic socks kind of fall in that awkward in-between zone: they're not high enough to make a statement (like crew socks) but they're not low enough to let your ankles show (like invisible socks). They're more functional, really: you can wear them to the gym, or while jogging, or while running down the shops where no-one will see you. A lot of guys fall into the trap of making these their go-to, everyday sock, but that's not a great look. If you do enjoy a low-rise sock, you should try…
Also known as 'no-show socks' or 'sockettes', these guys are the improved version of the ankle sock. They give you that contemporary sockless look – brilliant with sneakers, loafers, boat shoes and even lace-ups – without the practical downsides of actually going sockless (chafing, sweat, weird smells etc.) Invisible socks come in all colours and patterns but, unlike other socks, this is really more for you. No-one should see your invisible socks (the clue's in the title) so pick whatever makes you happy. When it comes to styling invisible socks, remember to cuff your chinos or jeans nice and high. We like a good, old-fashioned double cuff, but a pinroll cuff can also look smart. You want clean, sharp lines and plenty of bare ankle.
---