If you're diving into men's suiting for the first time, brace yourself. Heck, even if you've been wearing a suit since the age of 11, there's still an overwhelming number of fabric, colour and accessory combinations to wrap your head around. Navy, grey or charcoal? Wool or cotton blend? Pocket square or no pocket square? Black or brown leather? Oxfords, Derbies or Chelsea boots? The list goes on and on.

We're here to break down the basics when it comes to suit shoes and suit colour combinations. The good news is, you don't need to know everything about men's suiting. Once you've got some simple rules under your Italian leather belt, you can experiment and try new things. Suiting is all about confidence, and confidence comes with time. So let's dive right in. Here are the best men's shoe and suit combinations.
Guys like navy suits for their versatility. They can match with everything from black Chelsea boots and brown Derbies to white sneakers and burgundy loafers. Generally, the darker the blue, the darker the shoe. Dark navy suits work well with rich chocolate brown or black leather, while lighter shades look good with tan. The trick is finding your look and accessorizing to match. If you go for rich, brown BENNET brogues, double-down on those reddish hues with a brown leather belt and gold cufflinks. If you've chosen black WARNOCK Chelsea boots, stick to silver accessories and tonal blues. For the more informal office, try a clean white sneaker, like the DECO. Navy suits and white sneakers are a killer smart-casual look.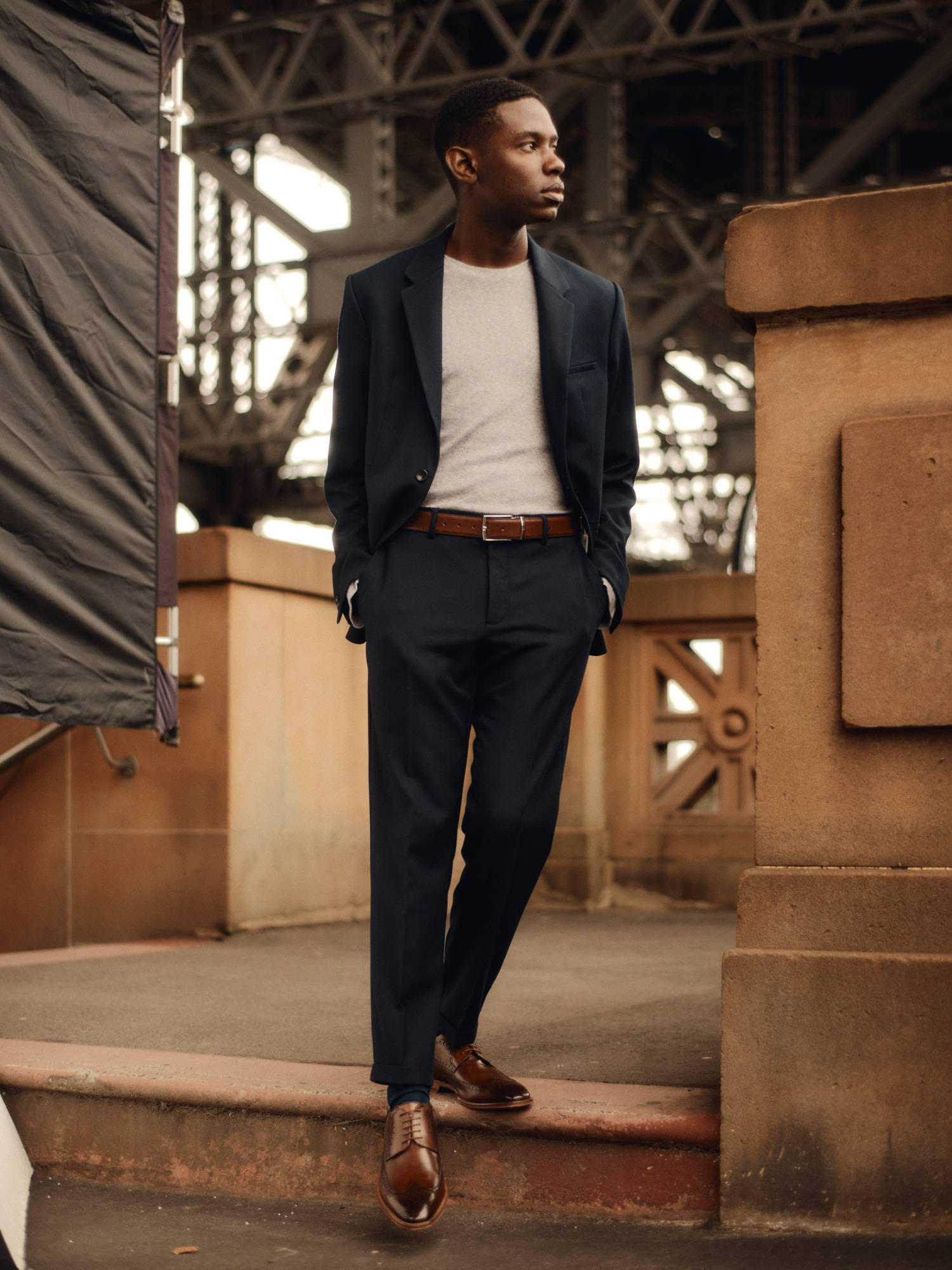 Black suits are the easiest, because there's only one rule to follow: black goes with black. Don't try and be a fashion maverick and wear your new brown Oxfords underneath a black wedding suit. People will be giving you odd looks all night. Of course, just because you're stuck with black doesn't mean you're stuck with boring. You can try black dress shoes, like the DYLAN, black monk straps, like the BRENNIN, or knock things back with some sharp BERESFORD Derbies. Black is a neutral shade, so when it comes to shirts and ties, you can choose pretty much anything. Monochromatic ties will play-up the black-tie/wedding vibe, or you can experiment with subtle textures in blue, gold and green.
There are a couple of ways to go with grey suits, and it kind of depends on the shade of grey. Dark charcoal suits work best with black leather shoes, or deep Oxblood in a pinch. Light grey gives you a bit more wiggle room: a light grey suit with DYLAN dress shoes or CAPRI tan lace-ups is a great spring/summer combo. When it comes to accessory colours, think about cool and warm tones. Grey is a neutral backdrop, so you can spin it several different ways. Oxblood leather shoes with a blue shirt or forest green tie creates some interesting contrast. Or you could match FERNANDO penny loafers with light pinks and reds for spring racing. And if in doubt, the Mad Men-style white-shirt-black-tie combination will always look good under a grey suit – no colour-matching required.
---
Tan suits are coming back into vogue, but a lot of guys don't know how to style them. One wrong move and you look like a Bond villain. We find it's best to keep things simple here: white dress shirt, blue tones and brown leather shoes. That'll bring out the warmth of the tan suit. Start with a pair of ALFREDO, BRENNIN or OSBOURNE and match them with a navy knitted tie, brown leather belt and pocket square. Tan suits are less formal by nature, so feel free to play around with textures, patterns and prints. The only colours you want to avoid are bright red (definite evil genius vibes) and green (it tends to wash out the tan). Don't overthink it either: sometimes a simple black tie and white shirt can work wonders.