Bar-hopping and clubbing have been tricky recently (let's be frank, there are hermits in the wilderness with more rocking social lives right now). But there's nothing wrong with being prepared. When the world opens up and life goes back to normal(ish), you're going to need shoes for going out. Every guy needs men's shoes that can take them from wine bar, to whisky bar, to after-hours club, to suspicious street kebab and, eventually, to bed.

That's what this guide is all about: nightclub outfits, going-out shoes, shoes that will get you past the bouncers. If you've ever had a 7-foot dude look down at your feet, then back at your face, and slowly shake their head, this one's for you.
This depends on the bar, obviously. Grungy dive bars don't really care what's on your feet, and you could probably get away with some chunky military boots, like the INGRAM. For upmarket wine bars, you want something a little more refined. Maybe a blazer, button-up shirt, dark jeans and Chelsea boots (styles like the OSBOURNE or BEAUMONT would be perfect). For everywhere else, you really can't go wrong with the humble Chukka or desert boot. A suede Chukka like the DORADO is perfect for trivia night with the guys, or you can kick things up a notch with the full leather BRODY. Sneakers in bars are also totally fine: just match some plain white trainers with slim-fit jeans, a dark t-shirt and your favourite bomber jacket. Remember, you want clean, full leather sneakers—not beaten-up tennis shoes.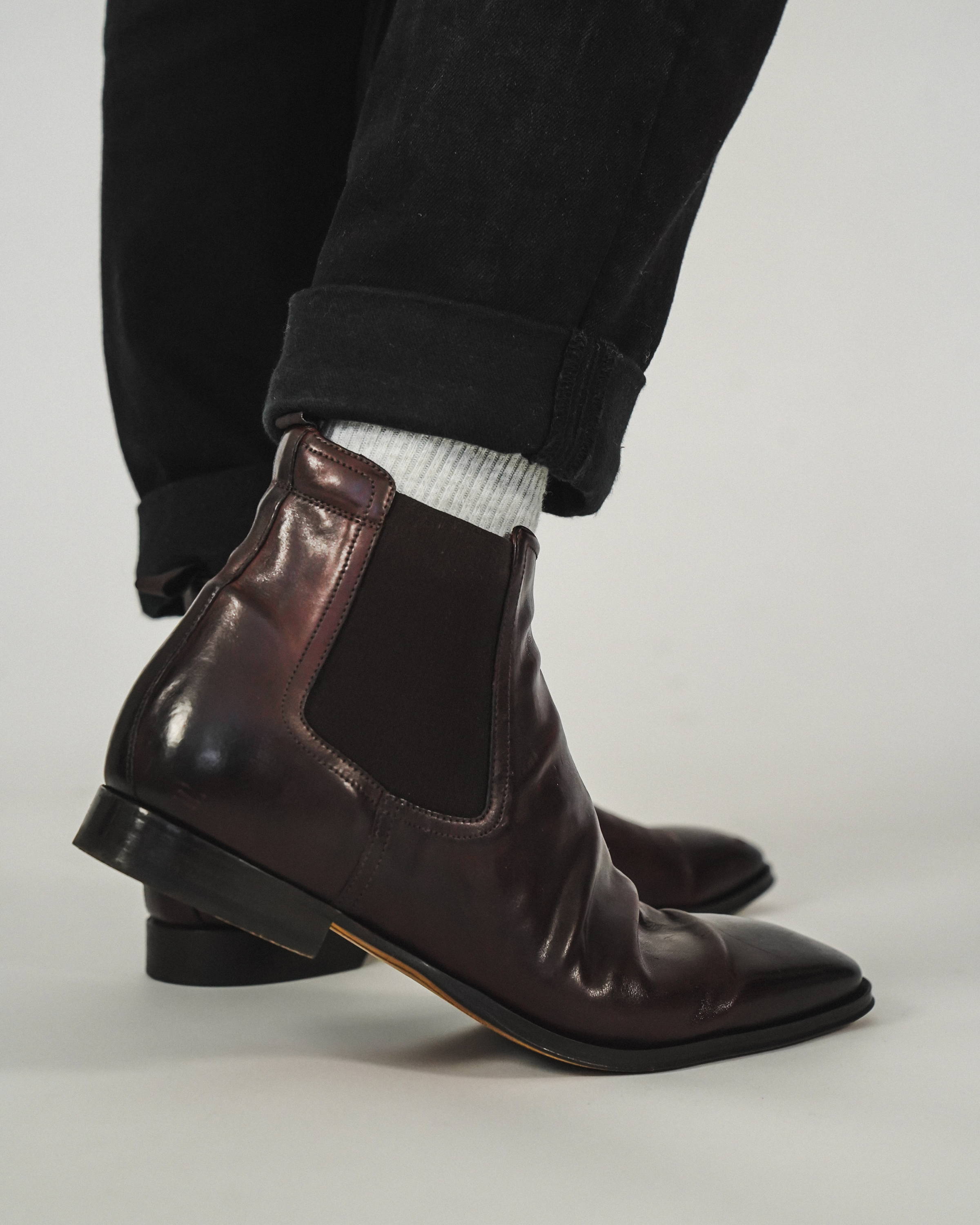 Nightclubs are one of the few places where you can actually be barred entry based on your footwear. So it pays to get this stuff right. The first thing you should do is check the club's dress code, which is usually on their website. If you've got friends who have been there before, that's also a good start. When it comes to nightclub outfits, you generally want to err on the more formal side, which means Oxfords, Brogues or loafers. Some dark, chisel-toed Chelsea boots are also appropriate. Keep in mind stuff like weather (Chelsea boots might be warmer for mid-winter clubbing) and your level of dance enthusiasm. Shuffling for five hours in brand new Oxfords is going to hurt: soft leather loafers, properly worn in, are usually better for the dance floor. Try something like the ALBERTO or the WARNOCK.
We're going to focus on fancy restaurants here. The kind with more than one fork on the table. Because no-one minds what you wear down to your local dumpling takeaway. A well-turned ankle boot is usually a safe play here—something like the UTAH or ADAMS. Just throw on some tan chinos and a button-up shirt, or maybe some dark jeans, crew neck tee and a slim, textured knit blazer. Chelsea boots are also great for restaurants (you might notice we recommend Chelsea boots a lot, and it's because they fit in practically everywhere). A pair of textured suede Chelsea boots, like the EASTWOOD, will work with black slim-fit jeans, indigo denim or dress chinos. It's all about how fancy you want to take it.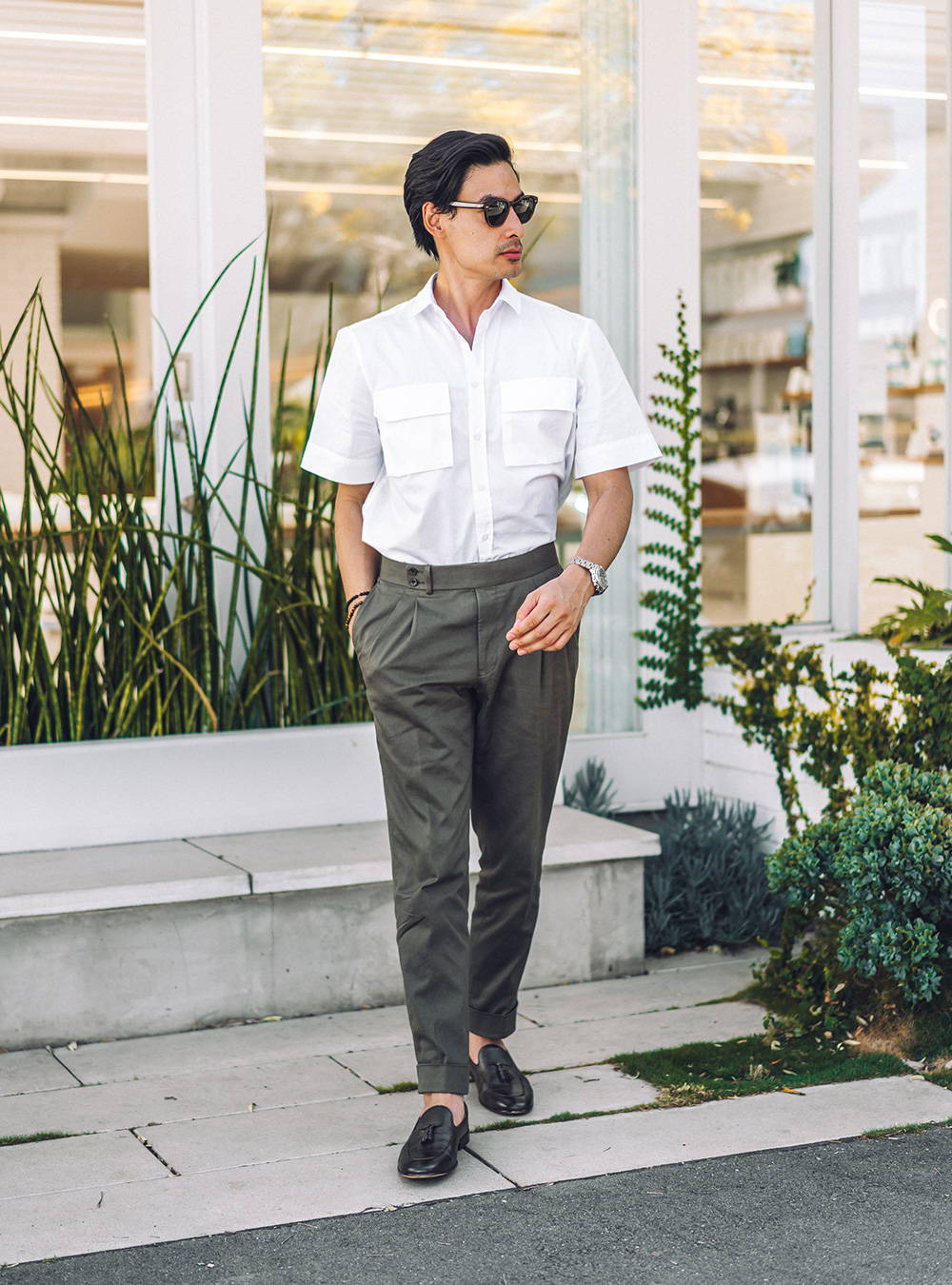 If you're invited to a black tie event, not just any shoes are going to cut it. Strictly speaking, 'black tie' means patent black leather dress shoes, without broguing. Something simple like the HADLEY or the STONEHAM. You wear them under a tux, and you try not to spill anything on them. But that's only the strictest possible interpretation. These days, 'black tie' has been loosened slightly, and you can experiment with velvet and leather dress shoes, like the ASCOTT, or even black brogues. For 'smart casual' events, ditch the patent leather all together and go for something more textured, like a suede Derby or Chelsea boot. The WERNER and the KEEGAN are good places to start. As always with events, double check the invite and make sure you understand the dress code. The only thing worse than being the only guy in a tux is being the only guy not in a tux.
---