For a long time, it didn't matter too much what slippers guys wore on their feet. Slippers were for movie nights on the couch, not Monday Zooms with the boss. But ever since most of the world started working from home, men's house slippers have become a much bigger deal. There's nothing wrong with working barefoot, but (as most of us have found) it's easier to concentrate and get things done at home when you dress the part. Dress sloppy, think sloppy. That's just how the human brain works.

With that in mind, we've put together a basic guide for men's slippers, so you never have to sacrifice comfort for style. Brew yourself a hot chocolate and let's get cracking.
Men's slippers come in open-toe and closed-toe varieties. They're basically comfort shoes, designed for warmth and indoor wear, and they're often made from lightweight, fuzzy materials. Slippers are a close cousin of the espadrille, the sandal and the moccasin. Except you'd happily wear espadrilles, sandals and moccasins on a roadtrip, or down to the beach. Slippers are (mostly) for home use, and occasionally picking up the paper or bringing in the bins. They come in all sorts of materials, and in various degrees of snuggliness. Aquila men's slippers are either made from suede uppers and faux fur lining (like the ANTWERP) or full-leather uppers and micro-suede lining (like the EDMONTON).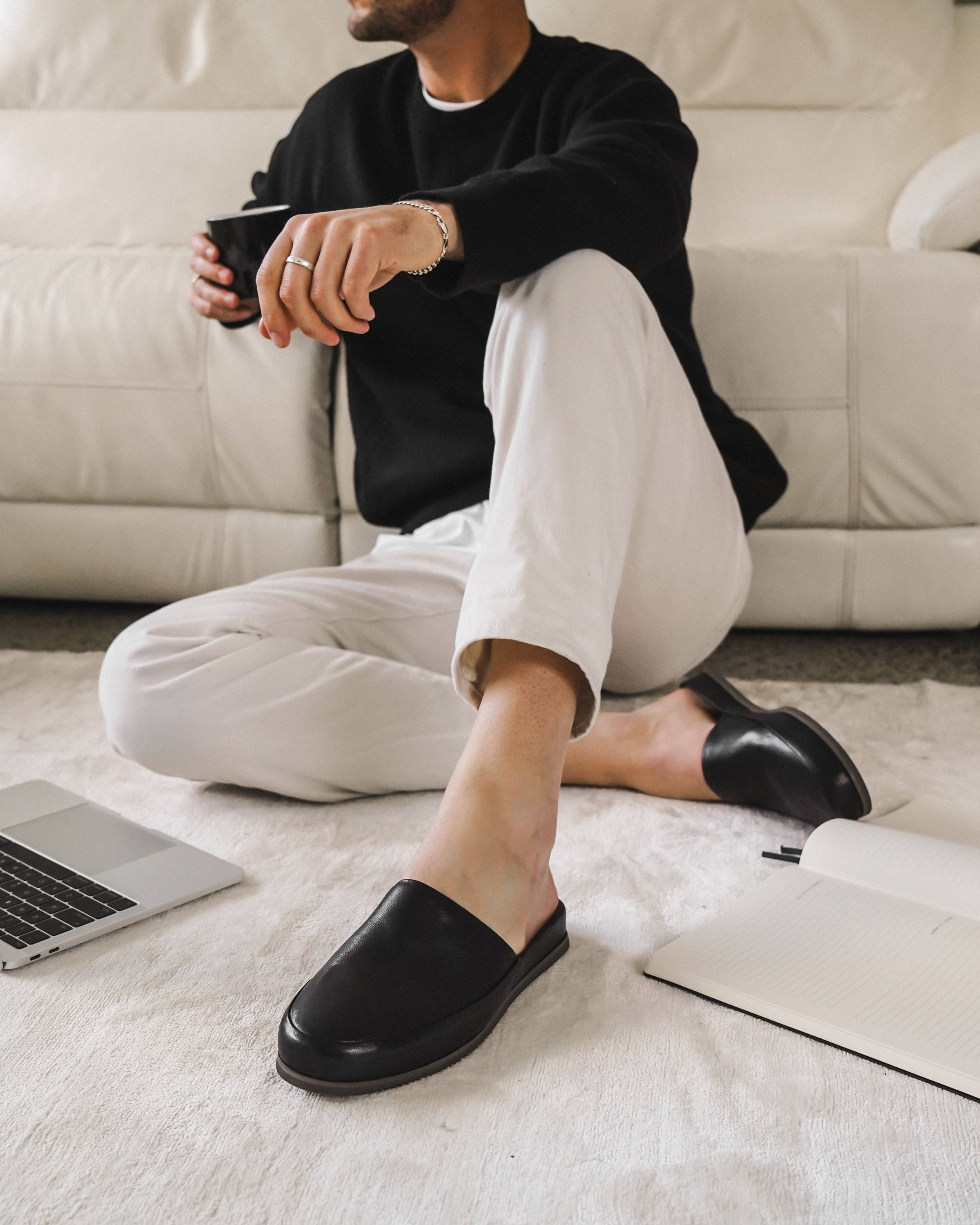 The slipper's two big benefits are comfort and convenience. They're warm on your toes and soft on your feet, and you can slip them on and off quite easily. Hence the name. They also ride that line of cosy-yet-professional in a way that Oxfords, Derbies and even Chelsea boots don't (let's face it, no-one wants to lace-up Oxfords in their living room). Slippers also help protect your feet from cuts, bruises and bacterial or fungus infections, which is always a good thing. Be honest: when was the last time you vacuumed?
Men's house slippers should be sturdy, comfortable and well-made. It's worth investing in a leather pair, if you haven't already. They'll usually outlast three or four pairs of cheap, synthetic slippers. After that, think about style. Do you prefer the sharp lines of full-leather, or the texture of Nubuck? How often will you be wearing your slippers? Are you happy to invest in some cleaning products to extend their lifespan? Give some thought to foot health, too. Slippers usually don't have much (or any) arch support, and wearing ankle-height slippers day-in, day-out can weaken your foot muscles over time. Orthopedic surgeons usually recommend open slippers for this reason – they make your feet 'grip' and work harder.
---
Men's leather slippers have an advantage over their outdoor cousins, in that they'll (probably) never get rained on. Still, leather is leather, and if you're going to splash out on a nice pair of slippers, it's worth spending a few extra bucks to take care of them. This is especially true for Nubuck slippers, where the nap is more fragile, and prone to drying out. You don't need much for this. A simple leather protector spray is a good place to start. That will repair moisture and dirt and keep the leather healthy. After that, a basic polish once a year should be fine, depending on how many times your slippers are exposed to spilled coffee/noodles/toast crumbs etc.
A quick word of warning on men's slippers. They're not really designed to be an all-day, everyday kind of shoe. Like we mentioned earlier, slippers don't usually come with much orthopedic support, so they can damage your posture and your feet over time with excessive wear. Even our slippers, which are made with full leather, rubber soles and cement construction, should not be worn all the time. Think of slippers as a 'sometimes shoe' – good for an early morning meeting, or reading the paper, or relaxing after a long day's work. They're not for long walks or extended periods on your feet.
---