Fortune favours the bold. That's true in life and it's true in men's footwear. There's nothing wrong with stacking your wardrobe full of brown and black shoes, but it's also hard to make a statement that way. Everyone owns brown shoes. The trick is colour and confidence: if you can expand your collection with a couple of coloured shoes, then style them properly, you'll notice a change in your entire outlook. You'll walk a bit taller. The world will seem brighter. Attractive strangers will give you compliments for no reason at all (we can't guarantee that last one, but good shoes can't hurt your chances).
So how do you dress boldly without looking like a children's entertainer? That's the real question. This is our guide to making bold footwear decisions.
The brighter your feet are, the more neutral your outfit should be. That's rule number one. Matching bright red shoes with your favourite Hawaiian shirt might sound fun, but you'll look like an extra from a Skittles commercial. If you're going bold down below, be sensible up top. The second rule is tone. Dark tones are going to be more formal, and more versatile, than light ones. The lighter the tone, the trickier it is to match and style. So if you're looking to break into the colour wheel, try beginner-friendly shades like Oxblood, navy and forest green, especially on more casual shoes, like Chukkas, Desert Boots and sneakers.
---
Dress shoes and blue don't really mix well. That's why you don't see many electric marine Oxfords walking around town. But casual shoes are another story, especially when you move into Nubuck and suede (Elvis was really onto something here). We like to recommend guys start with navy. It's a safe, no-nonsense blue, it's easy to style, and it can add personality to any outfit. Some soft blue NASON loafers under tan chinos is a great smart-casual look, or you could try DECO navy sneakers under pin-rolled black jeans. For summer, throw some navy MANLY boat shoes under khaki chino shorts and a light blue cotton shirt. Stick to colours like grey, khaki, black, white and tan and you can't go too far wrong.
Okay, we should clarify here. By red, we don't mean Ronald McDonald red. No amount of style tips will save you from bright red clown shoes. We're talking about richer, darker hues like Oxblood and Cognac (that usually means red mixed with burgundy, black or brown). What's great about these colours is that they tend to work a lot like brown – but a bolder, smarter, more confident brown. So you don't need to overthink things. Some GODFRY cognac dress shoes will look sharp under your navy or charcoal suit, while Oxblood MARSELLO Chelsea boots can match with pretty much anything, from indigo denim to dark chinos and a sports jacket. Think of these guys as Brown With Benefits.
White can be bold, but it can also be a little too bold. It all depends on the shoe. White sneakers are cool. White leather Oxfords are…weird. Seriously, people will move away from you on the train. Let's start with the basics: every guy should own one good pair of full-leather white sneakers. There are a few ways to go here. You could opt for a textured street style, like the SMITH; a clean, no-nonsense sneaker, like the DECO; or something with athletic edge, like the TRACER. You could wear any of these under a sharp navy suit, dark jeans, khaki chinos, or pretty much anything in your wardrobe. That's the beauty of white. It's bold and versatile at the same time.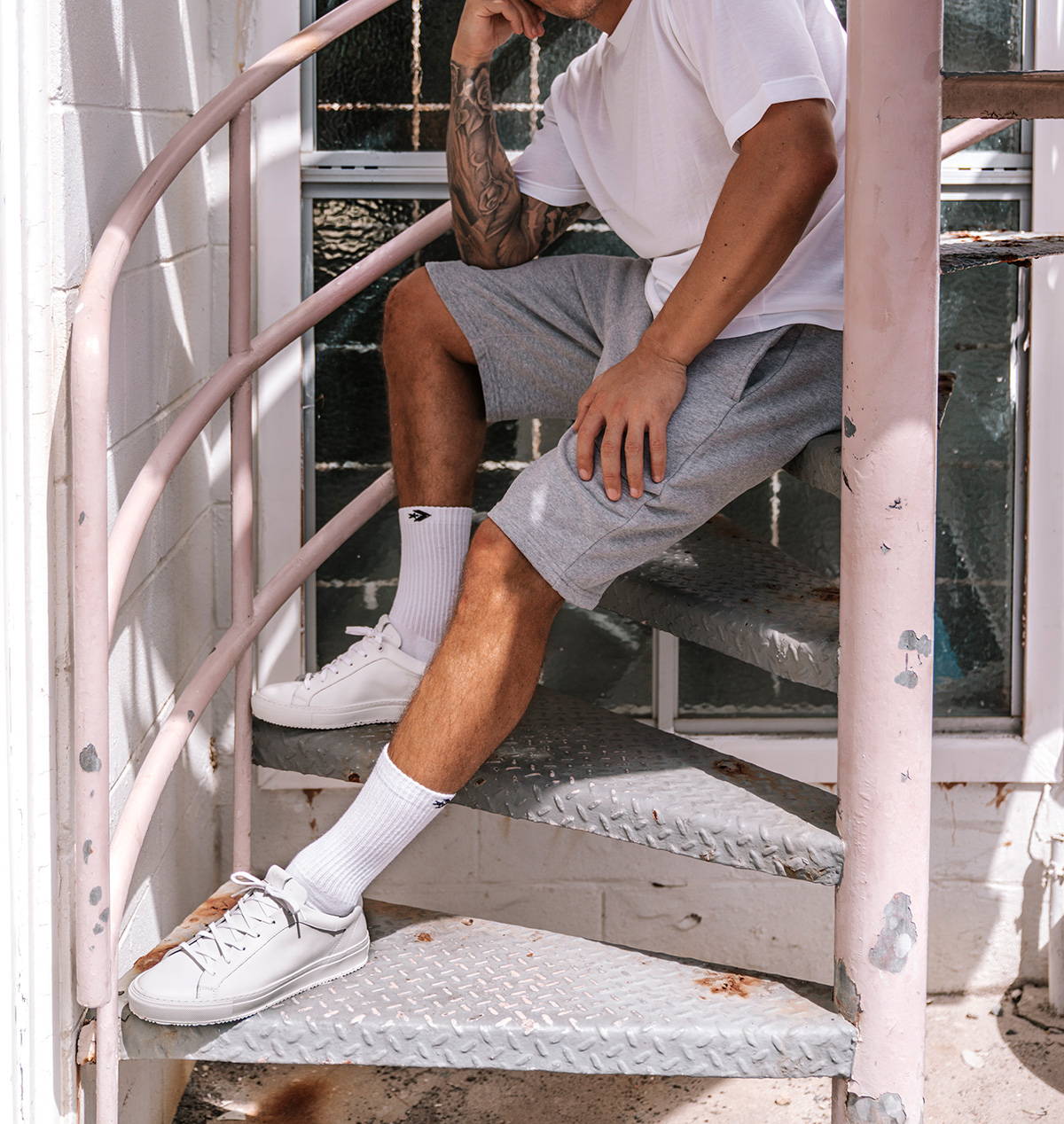 ---