With the transition to online work growing all the time, chances are you're going to need a laptop. And if you own a laptop, you need a laptop bag. Investing in a leather laptop bag makes a lot of sense: you want to protect your investment and look good at the same time.

But there's a surprising amount of choice when it comes to laptop cases. Do you want a hands-free backpack or an old-school briefcase? The flexibility of a messenger bag or the slim-line profile of a sleeve? In this article, we're going to run through the five key styles you need to consider, as well as the pros and cons of each.

These are our favourite laptop bags for men.
A briefcase is basically any rectangular bag with a handle. They've been a men's commuter staple since the 1920s (in fact, you can trace their origins all the way back to Roman legionnaires). Men's briefcases have evolved over time, from boxy 1950s models to the rounded, soft-leather style you see today. They're hands down the sharpest, most professional laptop bag, and they'll keep your computer safe and snug, along with books, documents and A4 files. We like the MONTARO briefcase for everyday use, or the MONTARO SLIM if you're trying to cut down on weight. We've written a more in-depth briefcase guide over here.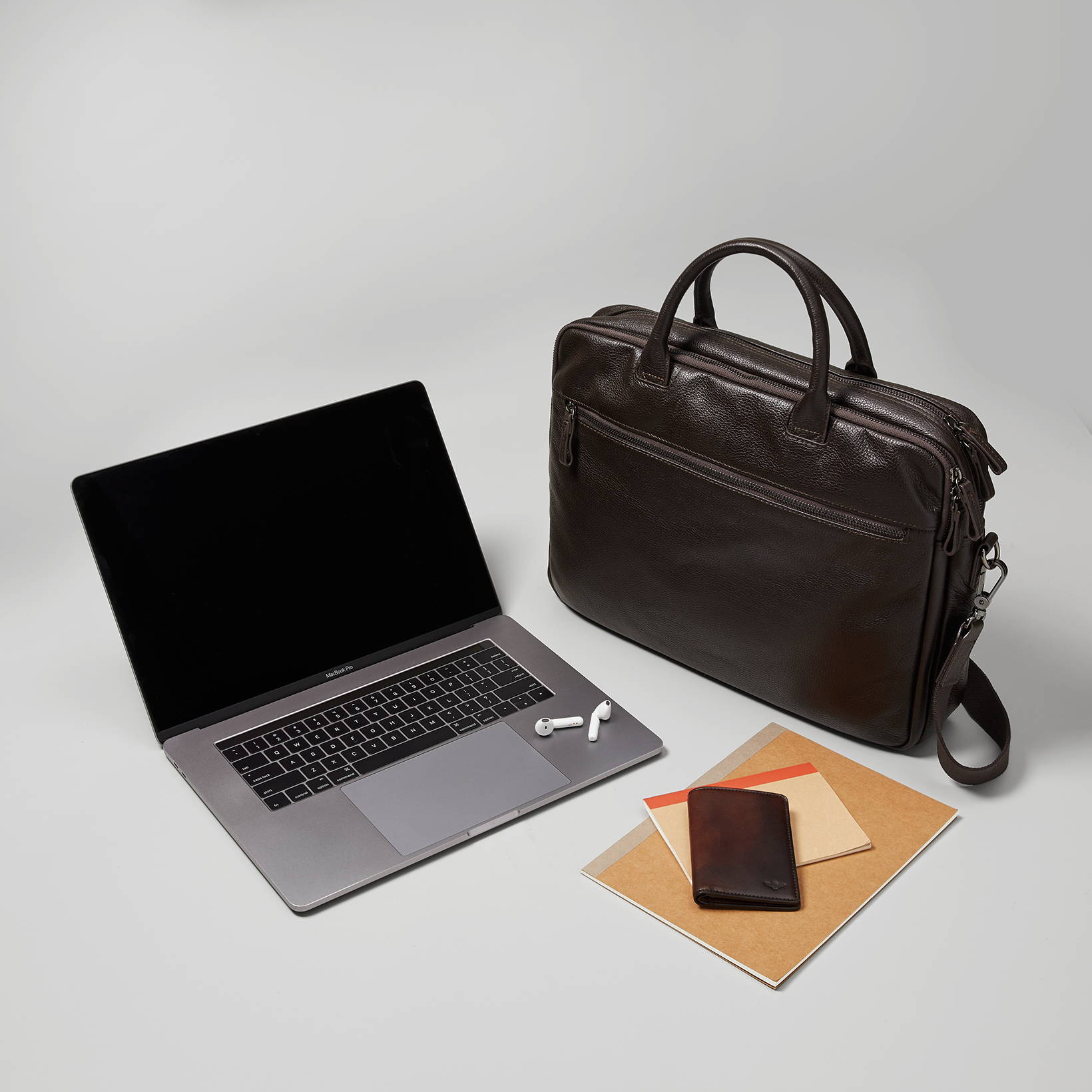 The advantage of the laptop sleeve is obvious: size. It's the thinnest, slimmest, most discreet way to carry a laptop, which makes it perfect for nipping out of the office to attend a meeting. When you need to carry you laptop, and nothing else, a sleeve is generally your best option. You can even leave a sleeve in the office for lunch meetings and daytime appointments – most of them can fit inside the average desk drawer. The sleeve's handicap is also obvious: space. There won't be room for much else besides a 13-inch laptop and some loose-leaf A4 pages. If you can leave your laptop charger at work, this won't be a big deal, but it's definitely something to consider.
Men's satchels and messenger bags have become hugely popular in the corporate world. And for good reason. They look good, with their classic rectangular shape and shoulder strap, and they leave your hands free for eating, working, texting or anything else. Most modern satchels will also feature a dedicated, padded laptop sleeve, which makes them excellent laptop bags. This sleeve is crucial: if your messenger doesn't have one, we don't recommend using it as a laptop bag. There's just too much chance your laptop will get damaged, sat on, or contaminated with dust and grit.
Most leather briefcases have a handle, but not a shoulder strap. And most satchels have a shoulder strap, but no handle. The CRUISER briefcase comes with both, making it an incredibly flexible laptop bag. You can fit a 15-inch laptop in here, plus all your office gadgets. There's dedicated storage for your wallet, phone, passport and keys, and plenty of space for documents, files and folders. The CRUISER is made from a durable canvas outer with cow-hide leather trim, so it'll stand up to plenty of punishment, and the double handle means you can use this as your office commuter or a casual weekend bag.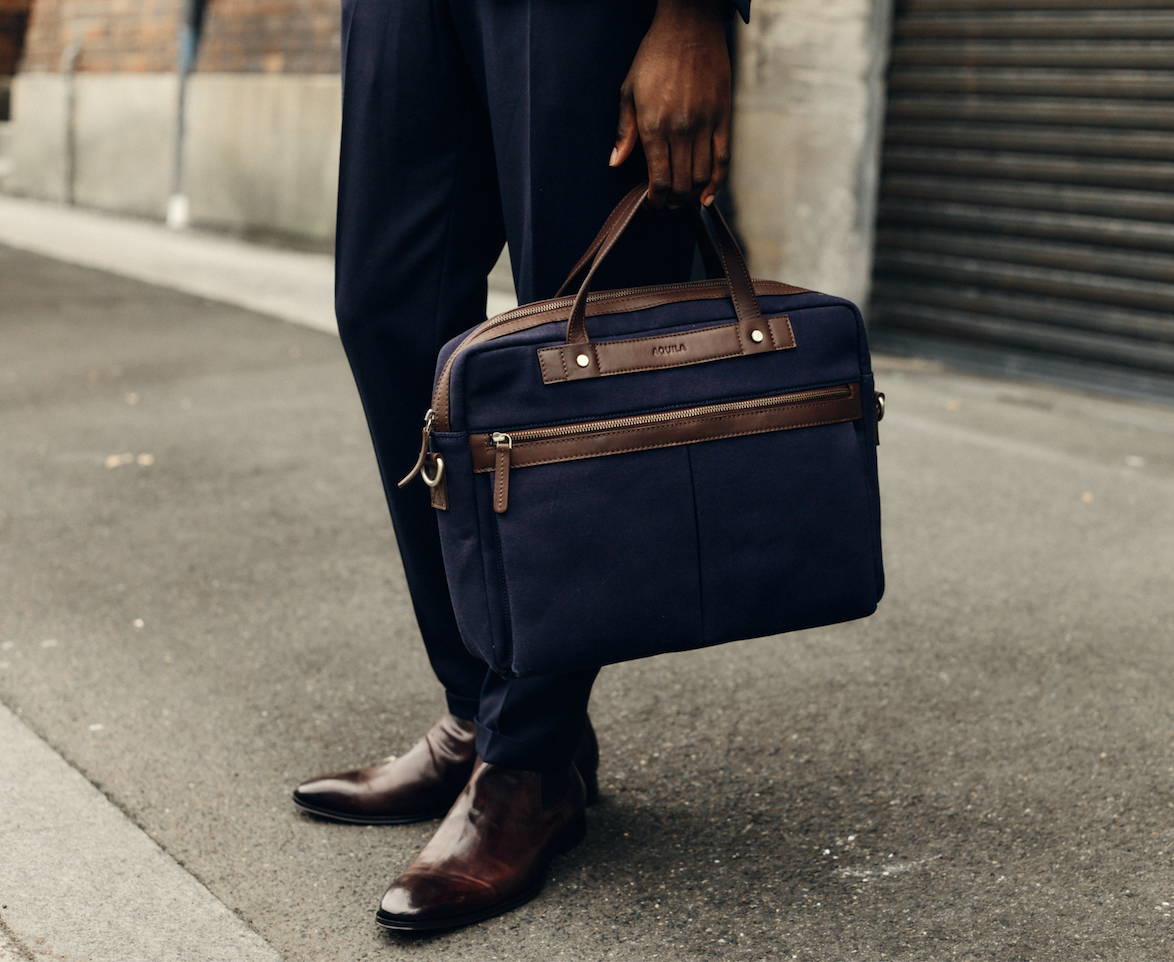 You don't hear a lot of talk about men's folios, but they're one of our favourite laptop bags. A leather folio is basically a laptop sleeve with a zip and a little extra storage. The thick tumbled leather keeps your laptop nice and safe, and there's a dedicated sleeve on the outside for loose documents, phones and files. The folio is sort of the compromise laptop bag: thicker than a sleeve, thinner than a briefcase, and lighter than a messenger. Just like the sleeve, it's a good idea to keep a folio in the office (for lunch meetings) and supplement it with a slightly bigger bag. Our MONTORO folio is compatible with most 13-inch laptops, including the MacBook Pro.