If you're reading this, you probably know how to wear a belt already. Loop it round the back, buckle in the front and so on. But when it comes to matching belts with jeans, there's more to it than simply keeping your pants up. Men's belts come in different widths, different materials, different colours and different patterns, and each one is going to work better with particular jeans. We've already written about which belts work best for certain occasions. In this article, we'll be diving into different belt-and-denim combos and how to style them properly. Buckle up (sorry).
You can roughly divide men's belts into two categories: leather and everything else. Leather belts tend to be more formal (but not always) and 'everything else' can cover canvas, woven cotton, hemp or synthetic elastic. As a general rule, leather belts will look better with more conservative jeans. That means darker denim, slim-fit or straight cut, usually with a clean cuff and some Chelsea boots. Woven or synthetic belts are better for more casual jeans, which means anything distressed, stacked or lighter in colour. If you get this bit wrong, things can look weird.
Width is one of those belt factors that a lot of guys miss, and it can really unbalance your outfit. Men's belts come in all sorts of widths, but generally 'narrow belts' (that's anything under 3 centimetres) are for formal occasions, and 'wide belts' (anything over 3.8 centimetres) are strictly for casual wear. Denim is actually the one material with a bit of wiggle room here, but it's still good to remember the fundamentals. Another good rule of thumb is: dark denim goes with narrow belts, light denim goes with wider belts. Use your eye to judge this one, or play it safe and find a belt that swings both ways. A width of 3.3 centimetres is a good sweet spot.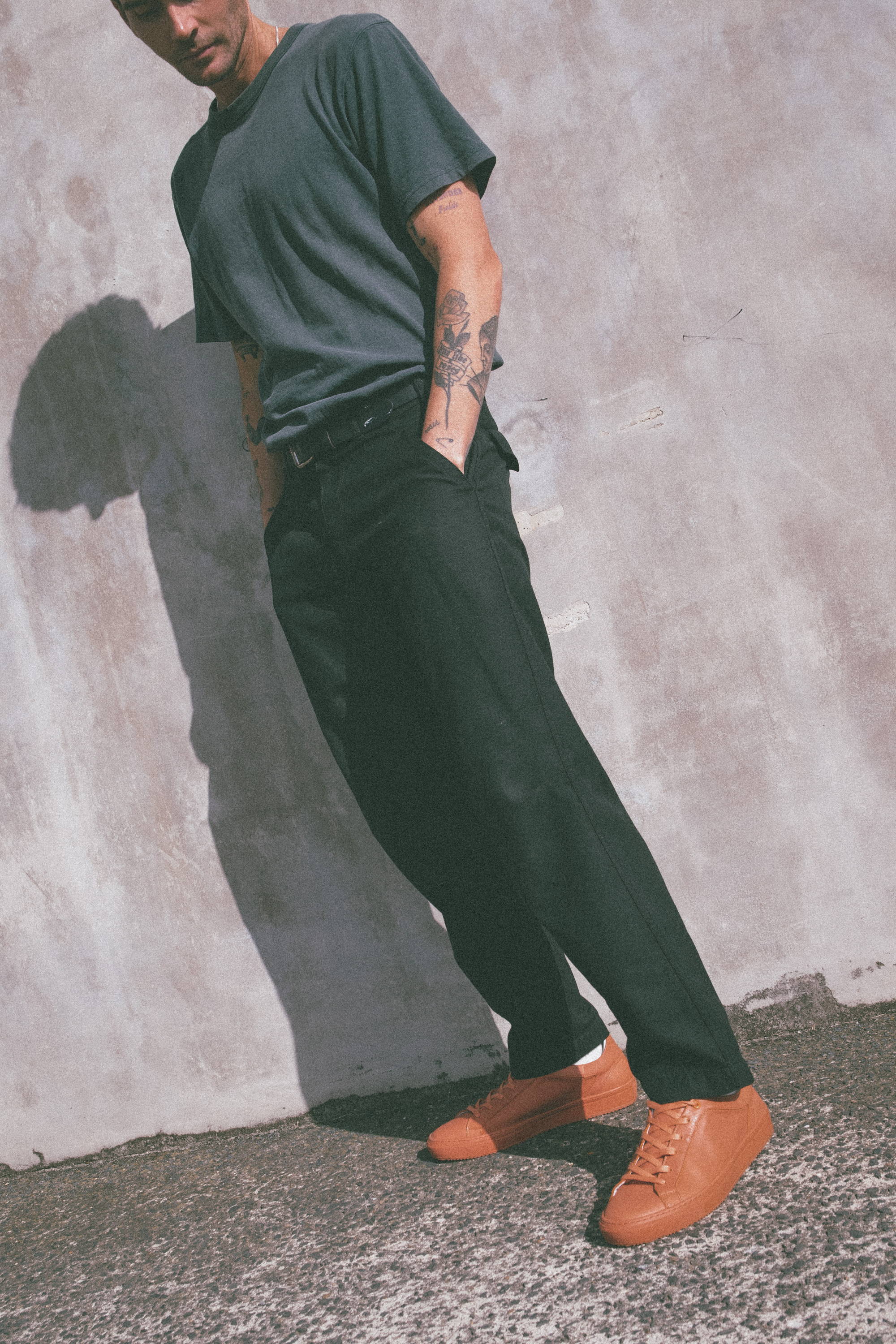 Like we always say, your leather needs to colour match. If you're buying a men's leather belt, just give some thought to your leather shoes and other leather accessories. Black goes with black, brown goes with brown, and you really shouldn't mix the two together. Light brown leather belts will look better with lighter denim, and vice versa for dark. Don't match indigo with a light tan belt, and keep black leather far away from your faded ripped jeans. Other than that, you're free to experiment! It's good to pick up some casual belts in grey, navy or dark brown – they should match with pretty much any outfit.
Okay, men's leather belts. How many do you really need? That's hard to say, but at the very least you should probably get one in brown and one in black, so you've always got a colour match handy. The RENFORD brown belt and TODD black belt are good places to start. Keep in mind, your buckle and the width of the belt will determine how formal it is. Brushed metal or dull copper will give your belt a more casual vibe (perfect with jeans and sneakers) while polished silver or gold will obviously work better with dark denim and a good pair of loafers.
---
Patterned leather belts tend to skew more formal, but not always. It's probably unnecessary (and a little odd) to turn up to a backyard barbecue with an embossed leather belt. But when it comes to picking your pattern, there are no hard-and-fast rules. Just go with anything that catches your eye. There are woven leather belts, like the DEN, embossed designs like the COLTON, and wraparound patterns like the HUNTLEY. Any of these would look great with some dark, slim fit jeans, Chelsea boots or woven loafers, and a knit blazer on top. Patterns are a good way to add texture and visual interest, without being too showy or distracting.
'Casual men's belts' is a pretty broad umbrella, and it can even include leather belts (the wider and lighter the better). Most of the time though, a casual belt is going to be woven cotton or elastic. These will be your go-to weekend belts, perfect with slim-fit, straight cut or relaxed tapered jeans. There are obviously way fewer rules when it comes to casual belts. It's more down to your personal style. We recommend two or three belts on rotation, in a variety of colours and widths. That way you'll have something suitable for any pair of jeans. The only guide to follow here is: slim with slim, wide with wide. The skinnier your jeans, the thinner you want your belt to be, and vice versa.
---