Ready to make the jump to high-top sneakers? Us too. In fact, we just released the DECO HI TOP (in white and black). It's a good time to look at some basic high-top rules, starting with Lesson One: Don't tuck your jeans into your shoes.
Men's high-top sneakers surged to popularity in the 1980s, but you can trace their history all the way back to 1891, when Spalding released the first men's basketball shoe: a canvas high-top. Converse All Stars (also known as Chuck Taylors) came along in 1917. By the end of the 20th century, high-tops were the essence of indie-rock style. And they're still one of the coolest things you can put on your feet.
High-tops are technically any sneaker that covers your ankles, and they usually fall into two categories: 'thin high-tops' (your classic canvas sneaker), and 'mid high-tops' (a chunkier, athleisure-style sneaker). Our DECO high-tops sit somewhere in-between: they have the sharp lines of a 'thin high-top', but they're made from 100% leather, not canvas.
Here's how to wear men's high-top sneakers.
The reason high-tops work is because they make your feet pop. Instead of hiding underneath your cuffs, like regular sneakers, they draw attention to your ankle and frame your entire outfit. The first thing you need to decide is style. Thin high-tops will make your feet and ankles look smaller, especially if you tie them all the way up. (It's usually better to stop halfway and tuck the excess laces under the collar.) Thick, basketball-style high-tops will make your ankles look wider. Neither look is good or bad—it all comes down to styling. Find the fit that makes you feel comfortable. Uncomfortable sneakers are an oxymoron.
High-tops have a kind of special relationship with your pants. They need to work together, more-so than regular sneakers. Stick to slim-fit jeans or chinos, and cuff them high, above the tongue of your shoes. Don't be afraid to show a little sock, either. Skinny jeans can work on the right frame, but slim-fit is usually the way to go. Either roll the cuffs high, or let the fabric bunch naturally around the collar. The big mistakes people make are either tucking their jeans into their shoes, or wearing baggy, loose-fitting pants that obscure the high-tops. You don't want a traditional 'break' here. Think clean, simple, natural lines. High-tops are made to be seen.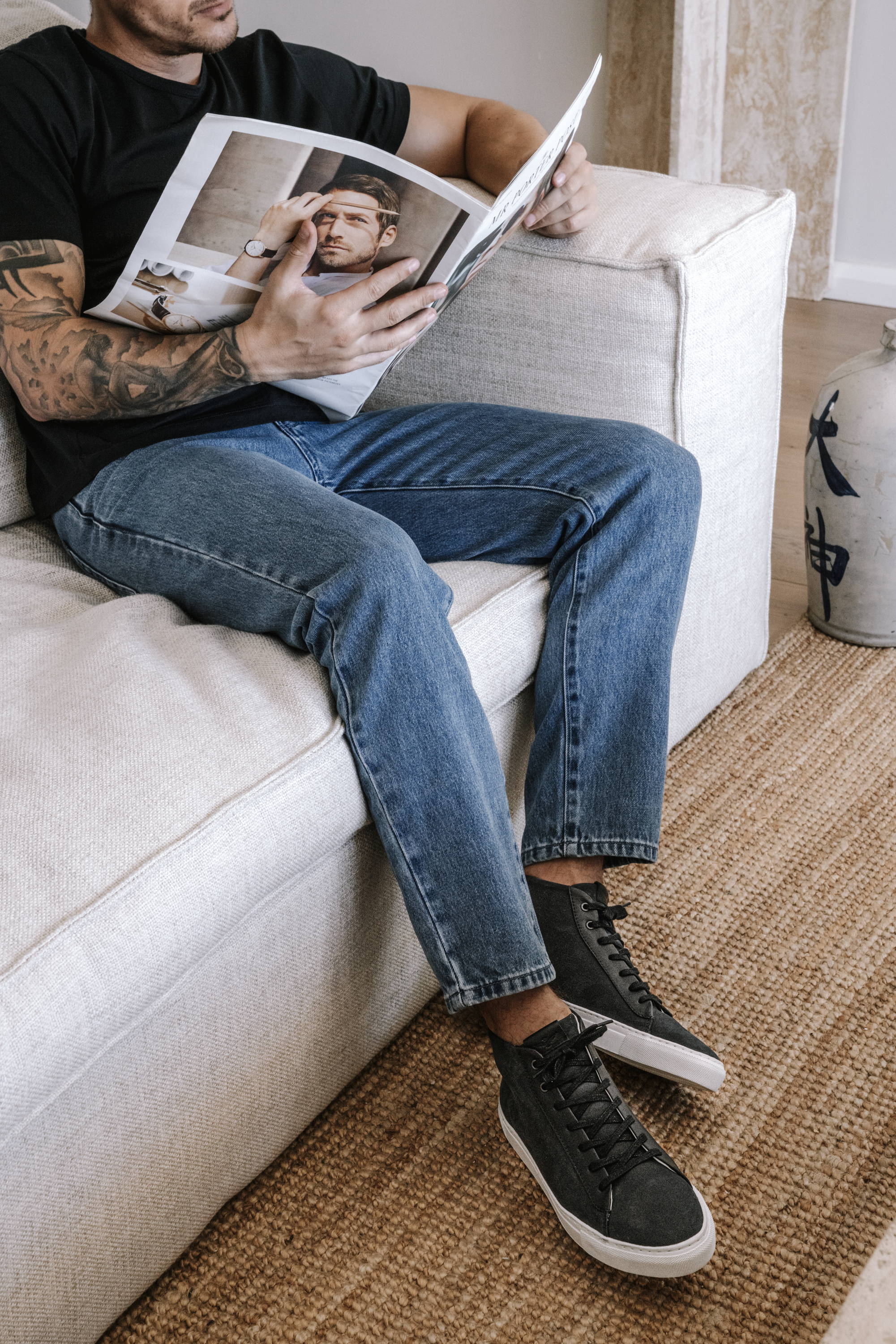 As a general rule, your high-tops shouldn't be the exact same colour as your pants. That kind of defeats the purpose of high-tops: you want your feet to stand out, not blend in. The only exception are black high-tops with black jeans, which is a classic indie rocker look. If you're wearing colourful chinos, pick a neutral high-top sneaker, like white or black. If you're wearing neutral pants, or blue jeans, there are basically no rules: WHITE or BLACK, you can't go wrong.
High-tops have stayed popular because they're so versatile. You can wear them with jeans, chinos or even shorts (if you're going the short route, stick to baggy fits and loose tees). High-tops with jeans are your classic weekender vibe, and it's really hard to style them wrong. Just throw on some blue-wash denim and a crew neck tee, or a two-tone denim shirt. Remember: your feet are kind of bottom-loaded, so keep the rest of the outfit simple and clean. You don't need 17 layers and a coat. For high-tops with chinos, try and channel a smart, urban style. Think khaki chinos with a sharp polo shirt, or even an untucked, open Oxford. Again, you want slim, natural fits for the pants: nothing too skinny or too baggy.
Canvas high-tops with a suit is definitely not on, but you can totally get away with a sleek full leather high-top, like the DECO. Still, this is a delicate balancing act. It requires an easygoing boss (and a good tailor). For starters, your high-tops can't be more than two colours: one for the upper, and preferably white on the sole. Make sure to lace your shoes up all the way. You don't want your suit pants catching on the tongue. Lastly, the pants need to be slim, tailored and perfectly hemmed, with a slightly higher cuff than usual. But don't go too high: if you can see your pink business socks, you're doing it wrong. Also, you want zero break here: these aren't your dad's brogues.