If you're new to shoes, all men's leather lace-ups might look kind of the same. But when you peer closer you'll spot some differences. Enter the Derby shoe: arguably the most versatile men's dress shoe going around. Derbies are not the same thing as Oxfords. They're a separate beast. And every guy should have at least one pair kicking around in his wardrobe. So what defines the Derby shoe? Where does it come from? And how do you style it correctly? This is our ultimate guide to men's leather Derby shoes.
You've probably spotted Derby shoes all over the place without realising. You might be wearing some right now. Derbies (also known as Bluchers) are men's lace-up dress shoes, but unlike the Oxford, they have an open lacing system. That means the eyelets are sewn on top of the vamp. This gives Derbies a much looser, more relaxed vibe. It's what makes them a more versatile shoe. Derbies began as a hunting shoe in the 1850s but entered regular wear in the early 20th century. The legend goes that the 14th Earl of Derby had unusually wide feet, and got his cobbler to design an open-laced boot to make life easier. And thus the Derby was born.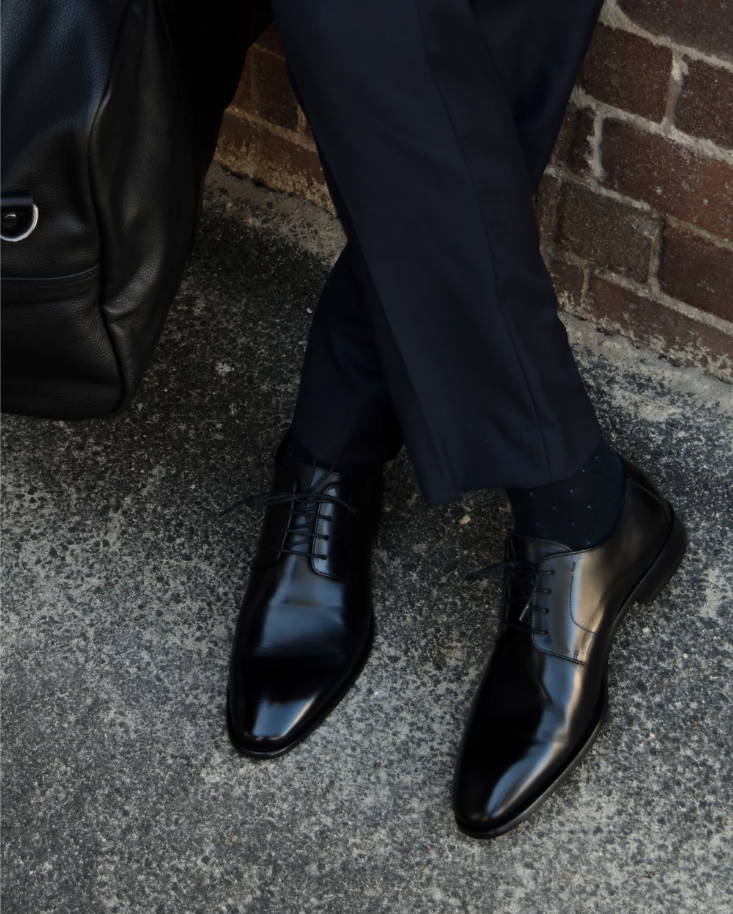 The big difference here is the one we already mentioned: Oxfords have closed laces, and Derbies have open laces. This makes them more flexible and less formal than Oxfords. They're both dress shoes, of course, but you can think of Derbies as the Oxford's laid-back cousin. You're also likely to find Derbies in all sorts of colours and materials, including suede and Nubuck. Oxfords, on the other hand, are almost always traditional leather, or high-shine patent leather, if we're talking black tie. There's nothing wrong with having both in our collection. In fact, it's probably a smart move.
First things first, Derbies can be worn to every formal occasion, providing they're the right Derbies. The only time you need to step up to Oxfords is black tie with a fancy tux. For weddings, work and everything in between, Derbies will do just fine. We recommend a pair of tan leather Derbies with a rounded toe, and maybe some black dress Derbies with toe cap detailing. Those two pairs will see you through pretty much any formal occasion. Just make sure to match your leather accessories and your shoes. Brown Derbies go with a brown belt and brown watch strap. Same idea for black. Derby dress shoes also match well with statement socks, so don't be afraid to splash some colour down there.
---
This is where Derbies leave Oxfords in the dust. Because of their open lace system, you can dress Derby shoes down with chinos, jeans or even shorts in some cases (just don't forget the invisible socks). To do this, pick a pair of Derbies with a chunkier profile, thicker heel, or some broguing. Give some thought to colour and material, too. Suede Derbies in khaki, sky blue or salmon pink are all great smart-casual shoes. To style these, keep your pants cuffed and more relaxed around the calf. Skinny jeans and Derby shoes don't really mix. After that, layer up with knitwear, casual jackets or a woolen trench.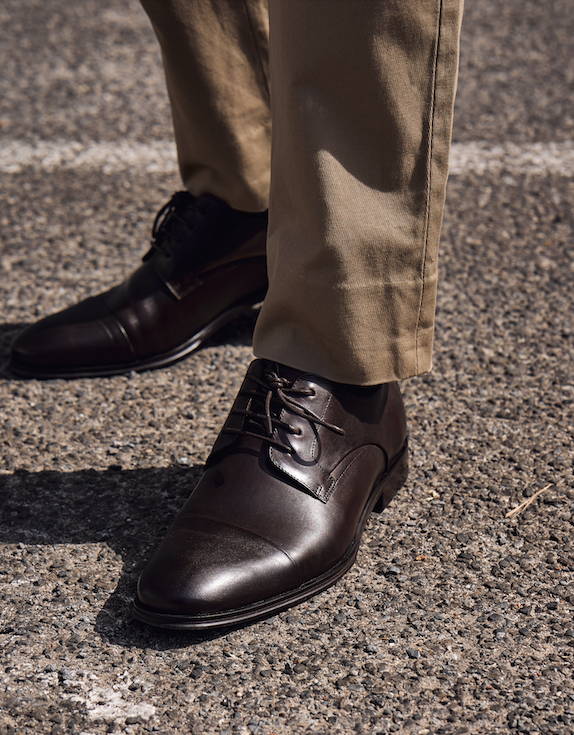 Suede and nubuck Derby shoes are a pretty big family, but most of them sit somewhere in the world of 'smart casual'. These days we're seeing some interesting Derby-sneaker hybrids, like the COOPER and the HANSON. These can be worn under work suits, for a more casual vibe, or teamed up with cuffed denim. Try some tan HANSON Derbies underneath dark jeans, a crew knit and camel overcoat. On the super casual end of the spectrum you have the CAMINO, which is probably more sneaker than Derby, but still features that open lacing system on the vamp. These make a nice alternative to traditional leather sneakers. You can wear them with chino shorts or your weekend jeans-and-tee combo.
Can you wear Derby shoes with shorts? Yes. Should you? Well, it depends. Derby shoes with shorts is definitely a risky play. The Derby's formal silhouette can look a bit weird underneath all that bare skin. If you're going to go down this route, stick to suede or Nubuck derbies in more casual styles (the rubber soles on the HANSON are a good example) and wear invisible socks. Treat these the same way you would penny loafers. That means crisp chino shorts, a nice belt and a button-up shirt. Accessorise with vintage sunnies and a men's dress watch.