Most guys have one trusty pair of winter shoes in the cupboard (usually some beaten-up Chukkas that are coming apart at the seams). For day-to-day wear, this is totally fine, but surviving the Australian winter usually takes more than one pair of shoes. Especially if you want to keep your toes dry.
Leather and winter are not best mates: when your shoes get wet, or muddy, or scoured by wind, they need time to recover. They need a little TLC. And that means it's worth building a collection of three or four winter shoes—ideally one for every occasion. That way you stay warm, your feet look sharp, and your winter shoes keep trucking year after year after year.
So how do you build a winter shoe collection? We've got you covered right here.
If you're a suit-and-tie kind of guy, Oxfords will probably be your go-to winter business shoe. They're what we call 'closed lace' dress shoes. That means the eyelets are attached under the vamp (unlike 'open laced' Derbies, which are attached on top). Oxfords have remained popular ever since they popped up in England in the 1800s. For winter, you really want a full leather upper and a solid, Blake-stitched sole. Leather soles are totally fine, but you'll get better wear out of a leather-rubber composite. Patent leather will also help repel moisture (although keep in mind humans haven't yet invented a waterproof Oxford shoe).
For winter weddings, we prefer a sharp pair of leather Derby shoes. Because Derbies are 'open laced', with the eyelets on top of the vamp, they don't have that stuffy corporate vibe. Derbies can be dressy, like BARCLAYS, or more casual, like the DOBIN. If you really want to tone things down, try a white rubber-soled variant, like the HEATON hybrid Derby. In winter, you should stick to full leather Derbies, rather than suede or nubuck. Just make sure you treat them with some water-repellent spray beforehand. Styling these guys is easy, too. For 'smart-casual' weddings, just throw some tan Derbies under dress chinos, a patterned shirt and knit blazer. Job done.

The winery | Chelsea boots
For us, winter is bunking down next to a crackling fire in some country winery—preferably with a good glass of pinot close by. For weekend getaways like this, Oxfords and Derbies can come across as a bit stuffy. You still want to look sharp, but not black-tie-board-room sharp. This is where Chelsea boots can really shine. In fact, they're probably our favourite versatile winter shoe: you can dress them up with suit pants, or right down with jeans. The round-toed LUCCA Chelsea boot has got smart-casual written all over it, but we also like the high ankle-profile of styles like OSBOURNE. Just match these guys with dark slim-fit denim and lots of cosy knitwear.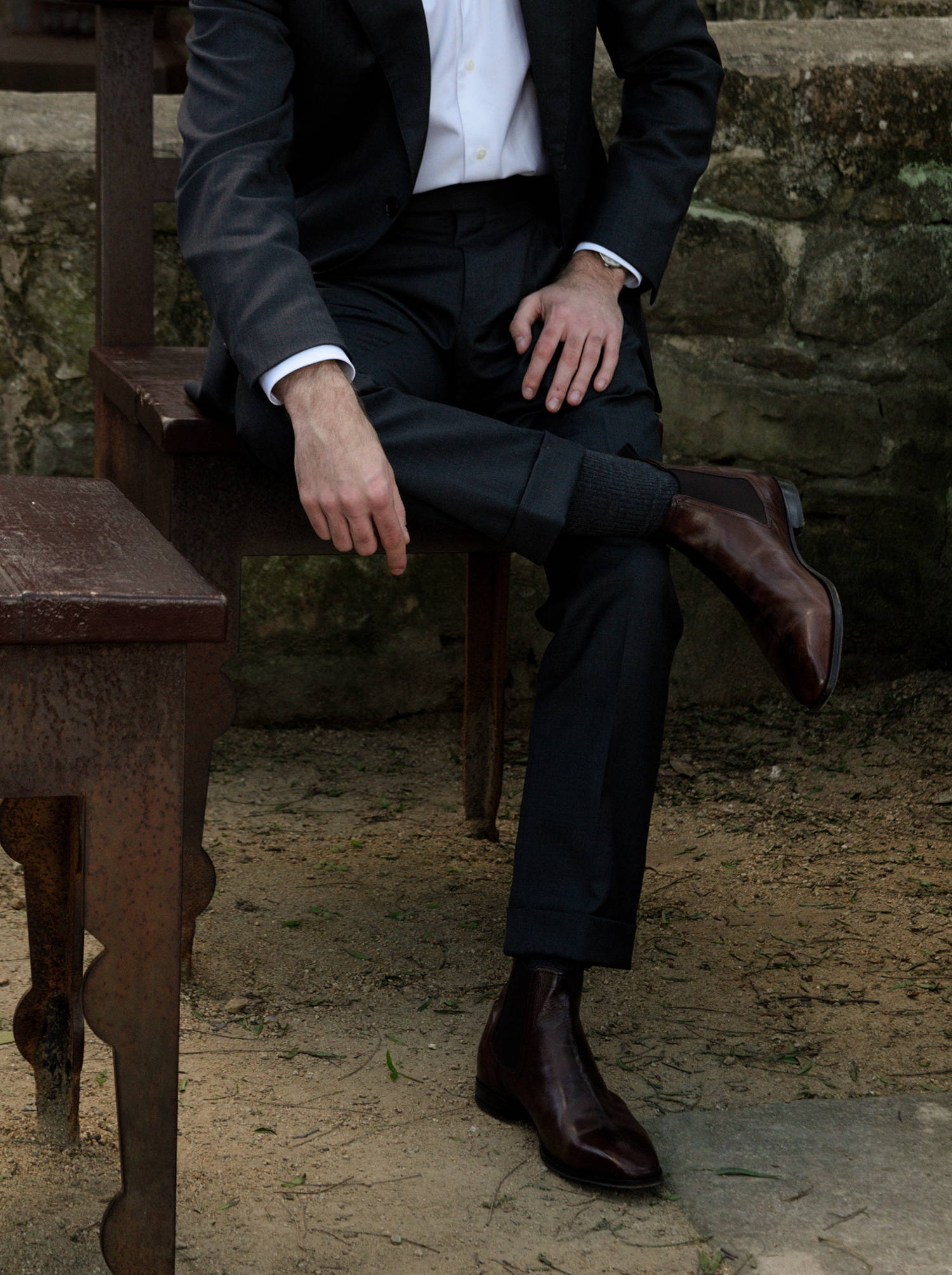 Chukkas and desert boots are close cousins of the Chelsea, and they're perfect for winter footy games. With Chukkas in winter, you probably want to steer clear of crepe soles (you'll see these more often on desert boots). They're a bit flimsier than synthetic rubber, and they don't give you much grip on wet surfaces. Instead, look for mid-height, full leather, rubber-soled shoes like the ELLIAS. These guys feature leather uppers, cement construction and hard-wearing rubber soles. They also clean up fine if you accidentally spill sauce on them (very handy at the footy). Chukkas generally look best under denim: just throw on your favourite jeans, a chambray or flannel shirt, and a chunky puffer jacket. And again, save your suede Chukkas for spring and summer. You don't to run and hide every time there's a light shower.
Canvas sneakers look great, but they're not really winter-proof. When the weather gets wild, and you're running down the shops, you want pure leather sneakers with good traction and thick rubber soles. Men's sneakers come in all shapes, colours and styles, and picking a new pair is mostly down to preference. Starting your collection with white DECO sneakers is a smart play (they go with literally everything) but in winter you might want to opt for something darker. A pair of navy SMITH sneakers, dark green SPECTRE sneakers, or black TRACER sneakers will see you through the chilly months, no problem. Styling these guys is also a no-brainer: they look good under jogger chinos, slim-fit jeans and grey sweat pants. Heck, sneakers can even work under a charcoal or navy suit.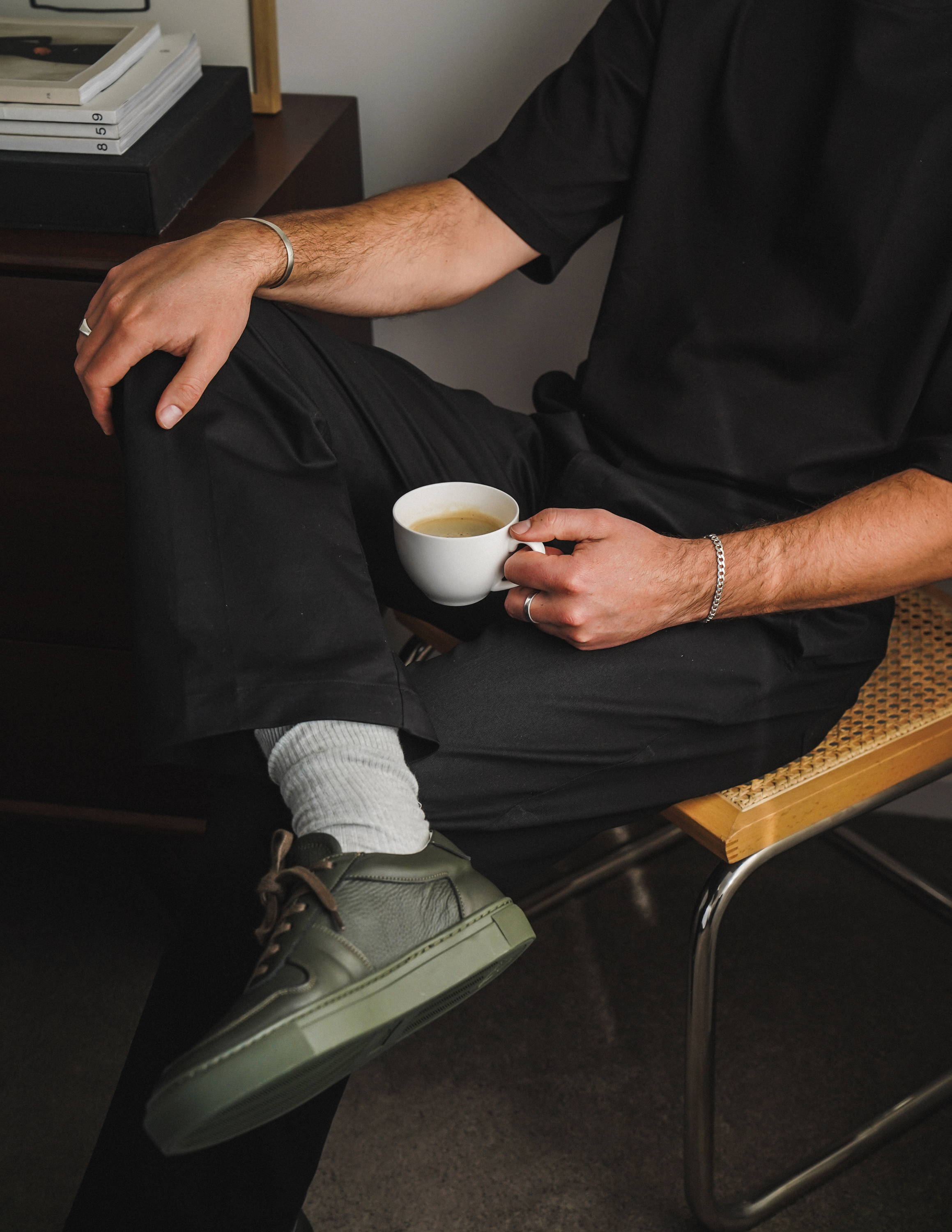 It's easy to fly through spring and summer without giving your shoes much thought. But winter is different. Your shoes will probably be exposed to wind, rain, dirt, grime and mud (not to mention the occasional splodge of molten meat pie), and leather isn't really designed to stand-up to that kind of treatment. At least, not without a little help. Winter shoe care doesn't have to be crazy: treating your shoes with a water repellent spray is a good start. Rotating your winter shoes (and resting them on shoe trees) will also help the leather recover. And finally, give your shoes a scrub with warm soapy water once every few weeks, just to loosen the dirt, and finish with a quick coat of shoe polish. If you do all that, your winter shoes will be keeping your toes warm for years to come.