Without a doubt, you're reading this very piece in a panic, as you've scoured the internet for the best ways to style yourself and your trusted groomsmen for the big dance, knowing you have under three months to get everything prepared.
Are we right, fellas?
Fret less, as you have come to the right place. We've done the hard yards and put together a simple style guide to ensure you're well and truly differentiated from your groomsmen, whilst still ensuring your ensemble looks the part.
Look a million bucks (and put the better half at ease) by heeding the following advice.

Grooms v Groomsmen: Part 1
The Suit
One of the most important tools for a man on his wedding day is the suit he wears, but it's important that it not only looks different to his groomsmen and attendees, but that it is well thought out.
The easiest and most effective way is by choosing a suit with a subtle difference to the gents standing next to you at the altar. Depending on the formality of your wedding, break it up by opting for a black or white tuxedo or dinner suit, while putting the groomsmen in a classic black suit. Looking to wear a navy suit on your big day? Simple differences like a vest or bow tie will go a long way into making sure you stand out from the rest.
Ensure that the fit of your suit is on point. If you're going made-to-measure, it's all smooth sailing as your suit will be perfected to your body. If it's off-the-rack, have it altered by a knowledgeable tailor (avoid those shopping mall tailors, guys).
Look a million bucks (and put the better half at ease) by heeding the following advice.

Grooms v Groomsmen: Part 2
The Shoe
Another integral accessory for the perfect wedding outfit is the perfect shoe. However, flexibility can lends itself in this department. By that we mean that there are a couple of different routes you can take when buying the shoes for you and the wedding party.
Option A). Match your shoes. This is an obvious option and one that many men take. Opting for the same black leather Oxford or Derby dress shoe can look smart and sophisticated and shows some unity between the grooms and groomsmen.
Option B). Similar style, different price point. As a groom, opt for a classic pair of Italian Black leather Oxfords. This is an elegant and smart shoe that will see you putting your best foot forward. For the groomsmen, put them in a black leather Derby for that subtle point of difference. These can be Italian-made or simply in the 'classic' department. Same can be done for other styles of shoes, like monkstraps or, like below, different brown loafers.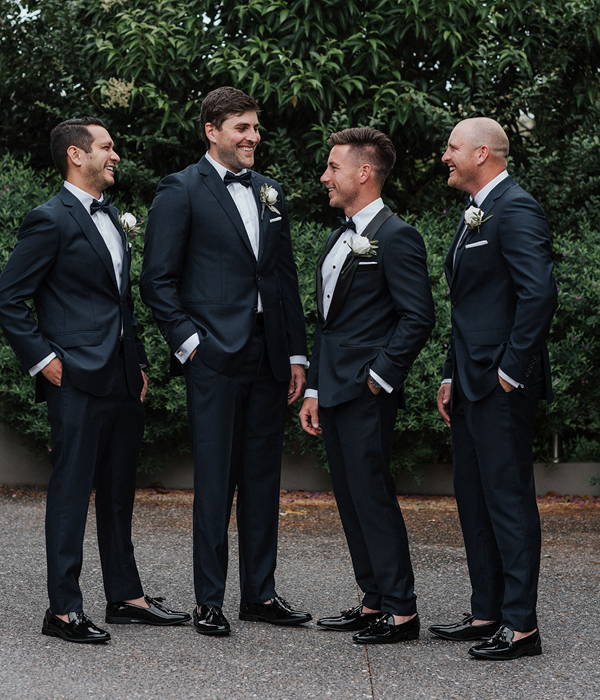 Image courtesy of @immersephotography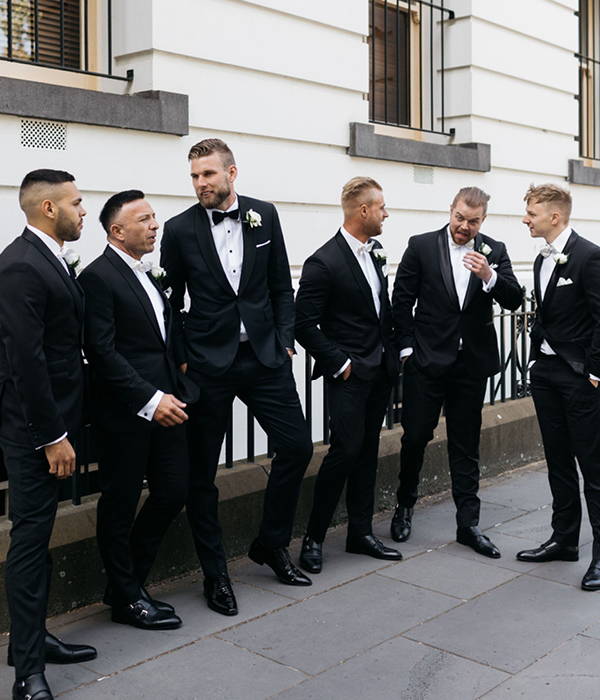 Image courtesy of @hellochlosemay | Styling @styledbyramzy
Option C). Different style. Should you be wearing a tuxedo, it's a must that you go with a patent leather Oxford, Derby or even a loafer. The groomsmen can be put in anything from a Derby to a brogue, as the patent leather will definitely stand its own.
Option D). Casual. Should your wedding be taking the casual route, go for a classic pair of Italian leather tassel loafers. The groomsmen can follow suit with a pair of leather penny loafers.

Grooms v Groomsmen: Part 3
Accessories
Again, depending on the formality of your wedding, you might decide to go for a bow tie, tie or open-shirt. Should the wedding be formal, a great way to style a groom and groomsmen different is by opting for a black velvet bow tie, whilst the groomsmen go for a classic tie that doesn't draw too much attention - play with colour and pattern but keep it subtle.
Should a groom and their groomsmen all decide to wear ties, the leading man should opt for a different tie all together.
There are simple ways to not only look amazing on your wedding day (it's not all about the women, gents) but to look the part and differentiate yourself from the wedding party. It's easy to fall in the trap of buying the same suits, shoes and accessories, but with a little effort and know-how, you'll be well on your way. Period.
Can't decide what you want? Visit the Aquila Wedding Collection.