Shoes with shorts has always been a notoriously tricky combination. All that bare leg, ghostly pale after four months of cold weather…and then you've got the shorts themselves. How short do they really need to be? What socks should you wear? Are boat shoes just for people who own yachts? These are the questions.
The problem with shoes and shorts is that, unlike chinos or slim-fit jeans (which tend to go with almost anything) shorts are not very forgiving. Get it right and you'll look like Matt Damon on holiday. Get it wrong and you'll look like you dressed yourself in the dark.
Here's our ultimate guide to styling men's shoes with shorts
Oh yes, formal shorts exist. They're also known as 'tailored shorts', and they're a great alternative to formal pants at summer garden parties or polo matches (if you somehow happen to find yourself at a polo match). Generally, when you've got a smart short, you want to match it with a smart shoe. Brogues, loafers and derbies tend to work well here. If you're worried about looking like a schoolboy, try something more textured, like suede WERNER derby shoes. A simple brown ALBERTO loafer also solves this problem. Whatever you choose, for the love of god, please use shoe liners or invisible socks. We can't be held responsible for what happens if you wear business socks with shorts.
Okay, we're probably in more familiar territory here. Most guys know what shoes to wear with board shorts. But if you'd like to take things past the traditional Australian flip-flop, there are several ways to go. A pair of men's sneakers, or some smart leather sandals, will take you from the beach to the beach bar pretty comfortably. Or you could try a lightweight espadrille, for that Caribbean island vibe. All of these options match well with good quality board shorts – and the board shorts are important. They should ideally be cut above the knee, and if they come with a detachable Velcro wallet, please put them back on the rack.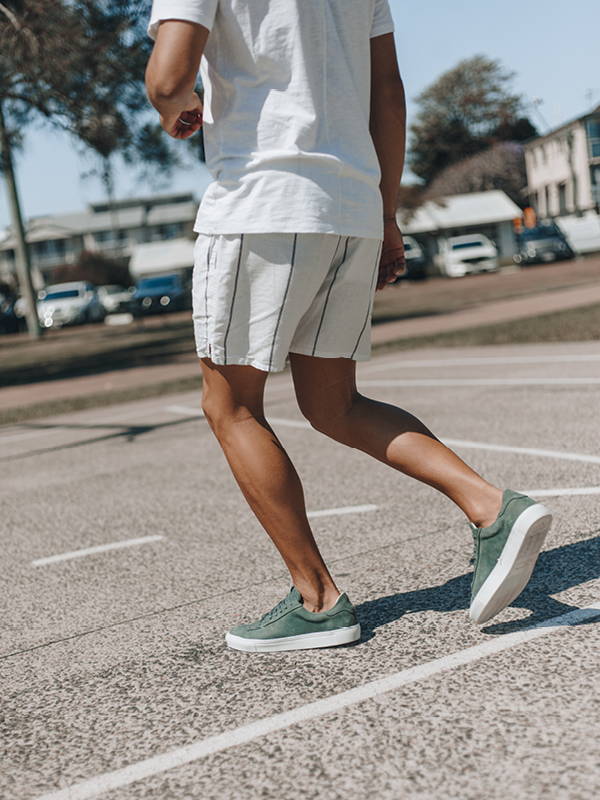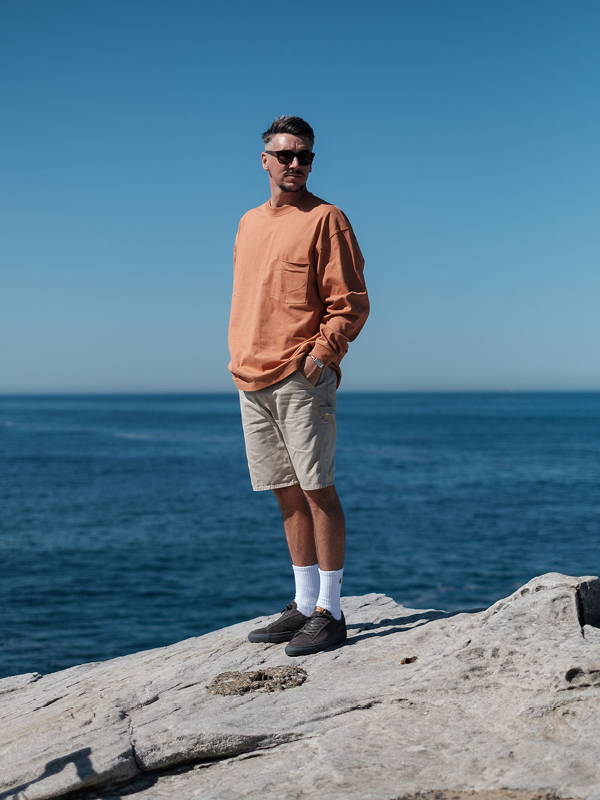 Thanks to the sports luxe and athleisure trends, it's become totally acceptable to walk down the street wearing gym shorts these days. You just need the shoes to match. Again, this one's fairly obvious: stay clear of Oxfords, loafers, or anything you'd wear with a suit. Men's sneakers are going to be your best friend here, but avoid anything too 'smart casual'. A plain DECO white sneaker will look good under almost any shorts, but particularly athletic shorts. For a more textured spin, try perforated leather SMITH sneakers (again in white). Lastly, for more of a streetwear vibe, match some green DECO NUBUCK DARK GREY sneakers with black or dark navy sports shorts. Finish the look with some high-top socks, or invisible ankle socks.
Chino shorts are one step down from formal shorts. They live firmly in the murky world of 'smart casual', which means there are dozens of different ways to style them, depending on the occasion. This is great in some ways, and confusing in others. Some white DECO sneakers are going to work well for day-to-day wear. For beachside summer vibes, a pair of tan MANLY boat shoes will take you a long way. Invited to a spring garden party? Whack some FERNANDO loafers underneath dark blue chino shorts. And finally, for the curve-ball option, we have the suede CORTES Chukka boot. This one's a bit left-field, but with the right shorts, and a crisp linen shirt, desert boots can look quite smart. Just remember, with all these options, invisible socks are almost mandatory.