Blue can be a tricky colour. It's a staple everywhere else in the wardrobe—jeans, shirts, denim jackets etc.—but when it comes to shoes, blue is hard to pull off. Luckily, sneakers give you a bit more latitude. Electric blue Oxfords or Brogues might look kind of weird, but blue sneakers are totally acceptable. In fact, they're a nice change from standard black and white trainers.
Blue is also a fantastic colour for suede and Nubuck shoes (Elvis was onto something here). The raised nap adds some visual interest, and knocks the colour right down. If you're looking to expand your sneaker collection, blue suede sneakers are a great way to go.
So what colours match well with blue sneakers? And which styles should you go for? We've broken down the basics here.
Picking pants and shirts to match your sneakers really comes down to shades. How blue are your blue shoes? Royal blue, ocean blue or electric blue match better with dark chinos and black denim (bonus points: try and find a jumper or cap to match your shoes). Navy sneakers work with pretty much anything, especially if they've got white soles. Navy men's sneakers with cuffed khaki chinos and a simple white tee is a great weekend look. Light blue or sky blue sneakers tend to match with shades of pale grey and tan. Remember: never go full blue. Finding pants and tops that exactly match your blue shoes will make you look like a smurf. Think tonal combinations, not Dulux colour-matching.
Who doesn't love a high-top? Our VADAR suede high-tops come in rich petrol blue, and (like all high-tops) make you look three times sharper without even trying. With high-top sneakers, it's best to offset the shape with loose-fitting denim or high-cuffed chinos. Boot-cut jeans can work really well here, but slim-fit chinos will give you the same result. Just stay away from anything 'skinny'. Blue high-top sneakers with shorts is tougher, but still possible. For this combo, try loose-fitting chino shorts or ripped denim, and stick to neutral tones: grey, white, black or beige. The golden rule with high-tops is: slim down low, baggy up top.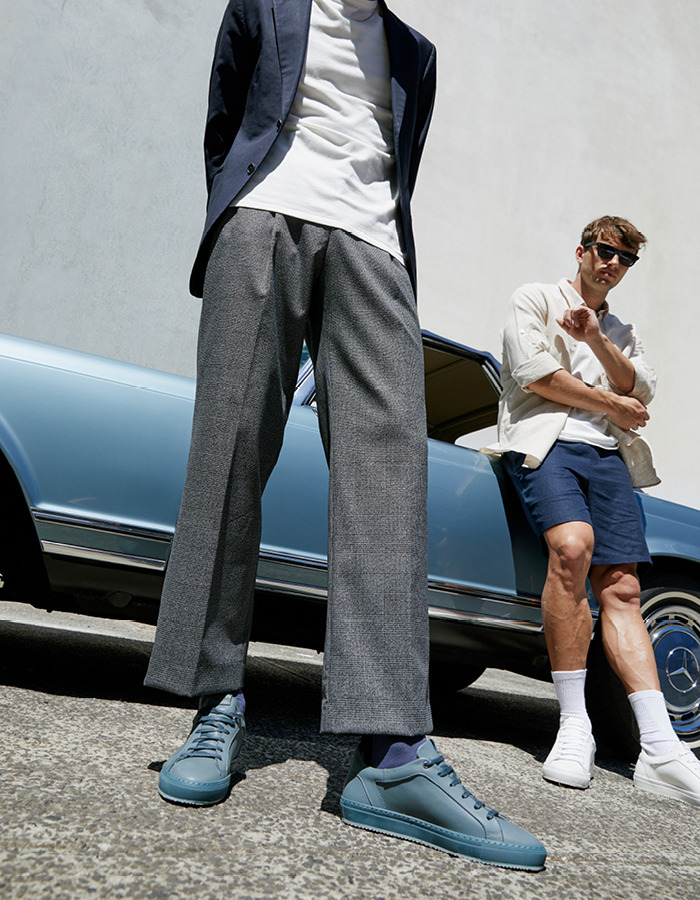 Blue suede and Nubuck sneakers
If we could only recommend one pair of men's sneakers, it'd be classic white leather, like the DECO. But for your second or third pair, it really pays to branch out. Ditch the full-grain leather and try suede or Nubuck instead. These fabrics have more warmth and texture, thanks to the raised nap, and they work really well with tonal colours—like blue. We've got a few blue suede sneakers to choose from. There's the VADAR high-top, the perforated LONIE, and the street-style DECO. These all make fantastic weekend styles: just pair them with slim-fit black denim, or maybe some tan chinos. Again, you don't want your trousers to match your shoes too closely.
Last but not least, we've got traditional blue leather sneakers. These don't have the same texture as suede or Nubuck, but you also won't have to run for cover every time it rains. If you want to play it safe here, a pair of navy blue DECO sneakers are the way to go—they'll work with pretty much any trousers on the colour spectrum. For something slightly bolder, try a pair of grey-blue TRACER sneakers, with matching soles. These blue-on-blue shoes are slightly riskier, but they look fantastic underneath some pale grey jeans and a dark bomber jacket. Definite date night material. As always with full leather sneakers, you need to look after these guys with shoe cream. Just remember to pick a neutral colour—black shoe cream and blue sneakers don't mix.

Blue suede sneakers and suits
If your work is relaxing the dress code, you can totally get away with blue sneakers under your suit. But they need to be the right sneakers…and the right suit. The big mistake here is pairing navy sneakers with a navy suit. In general, stay away from blue-on-blue—it can work on certain guys, but your margin for error is razor-thin. Blue sneakers tend to work best under colours like olive, chocolate brown and grey. Again, this comes back to tones and textures. Try suede or Nubuck if you're worried about drawing too much attention to your feet, and stick to navy and pale blue (leave royal blue to the pros). If you're really stuck, there's nothing wrong with going back to plain old white.